Tonight
Windy with some patchy rain for a time across the far northwest of Scotland, before clearing overnight to join all parts to a dry night with clear spells, temperatures will fall close to or below zero in many places, leading to a widespread frost forming.
Tomorrow
Friday will be another generally dry day with sunny spells, after a frosty start. High pressure building over Scandinavia will be in control, bringing an easterly flow – which will make it feel on the cold side and will bring a few light wintry showers to eastern coasts. With the breeze tomorrow coming off a cold near continent, temperatures will reach 4-5C at best, perhaps 6C in the far west.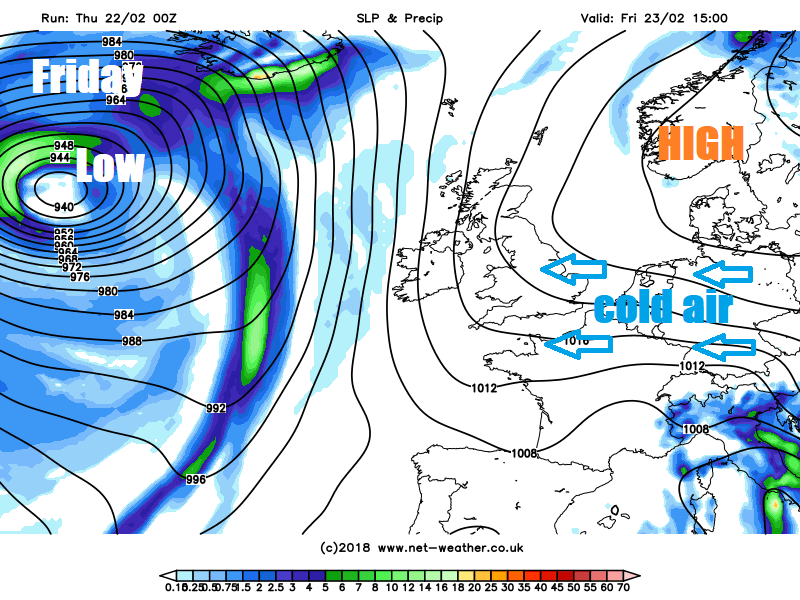 Weekend
Similar conditions as we head through the weekend, with high pressure over Scandinavia continuing to build and keeping Atlantic frontal systems at bay to the west of the British Isles, so it will be mostly dry and sunny by day, but with a widespread frost developing overnight where skies clear. The easterly wind will be a noticeable feature as it strengthens further through the weekend, bringing more in the way of cloud and perhaps snow flurries to eastern coastal areas, but generally making it feel raw in the wind. Temperatures will struggle to reach 3-5C generally, despite the sunshine. Risk of snow showers developing later on Sunday towards eastern coastal areas, perhaps giving a dusting overnight.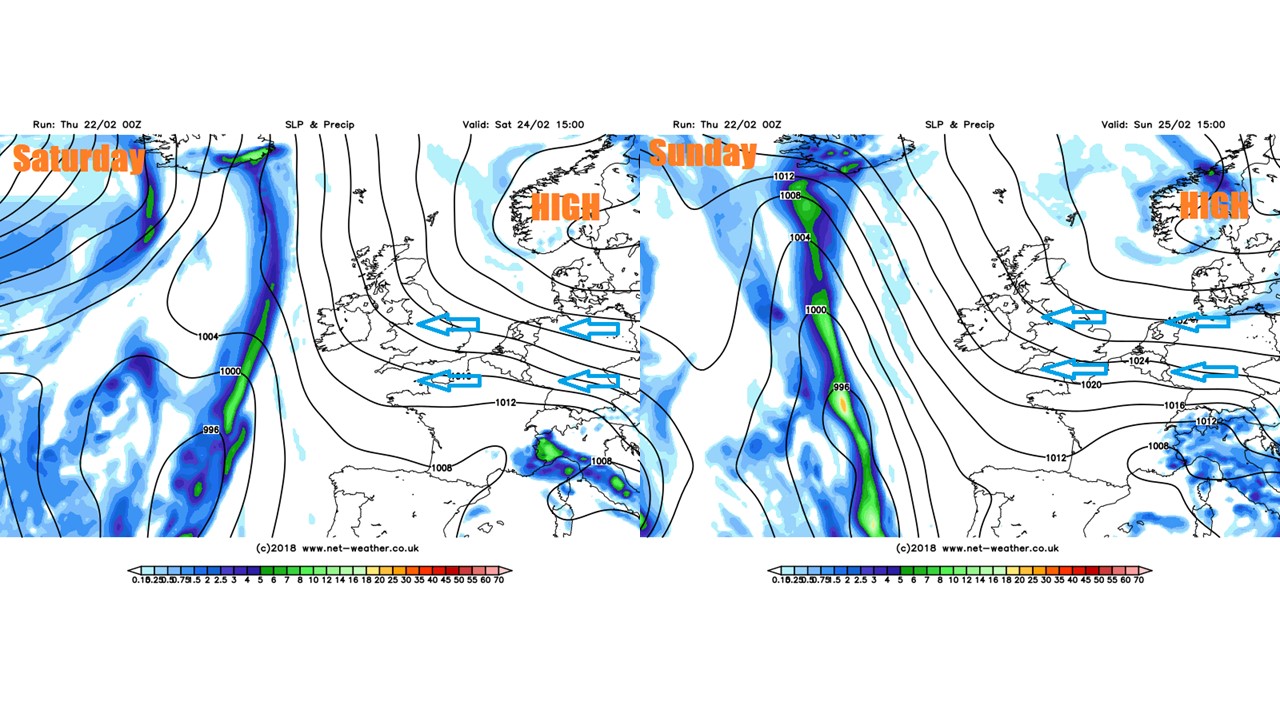 Next week the Beast From The East Arrives
The start of next week will see bitterly cold air arrive all the way from Siberia, where temperatures are below -30C currently. We won't see temperatures this low but they will like struggle to get above freezing during the day and in some places staying below, while overnight temperatures fall well below freezing, perhaps into minus double digits in sheltered areas where winds fall light.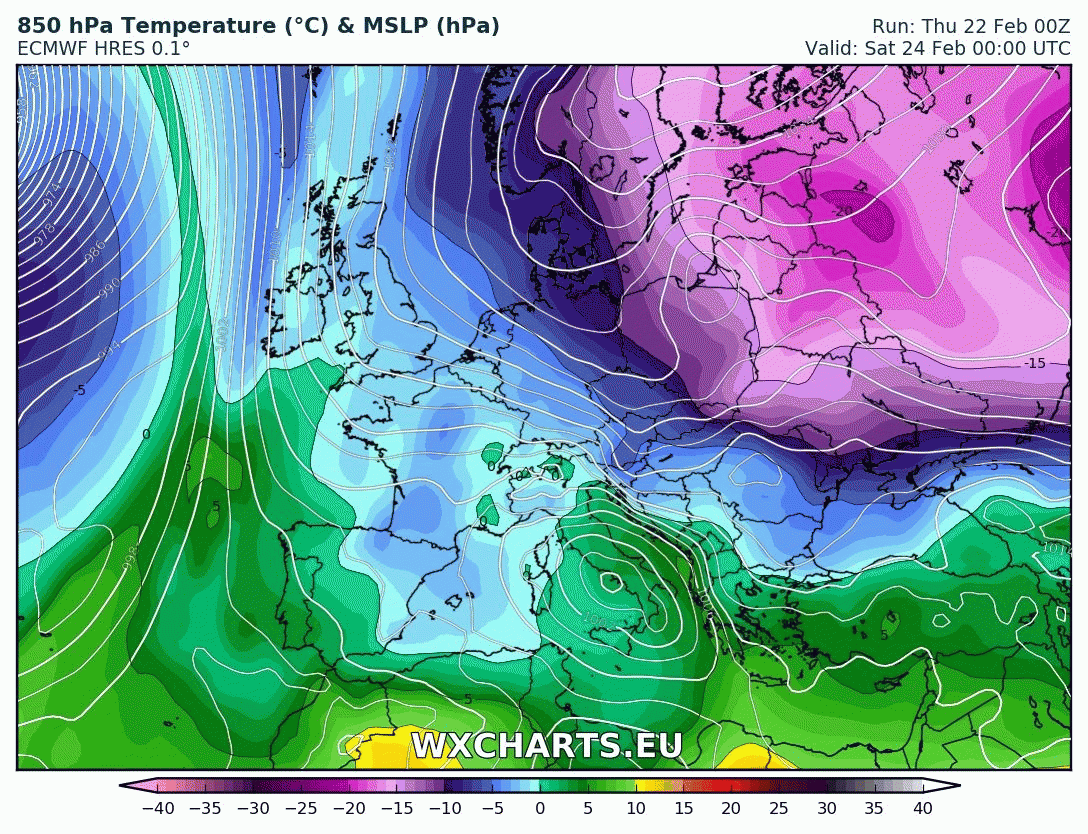 Credit: wxcharts.eu
Snow showers will affect eastern coastal areas initially on Monday and Tuesday, perhaps forming bands of frequent snow showers that move further inland at times, a few disturbances in the easterly flow may bring more organised snowfall. Snow will readily settle given the low temperatures and very dry air. So there is potential for snowfall to become disruptive in places, particularly towards the east, though it's too far away to pinpoint any detail to where.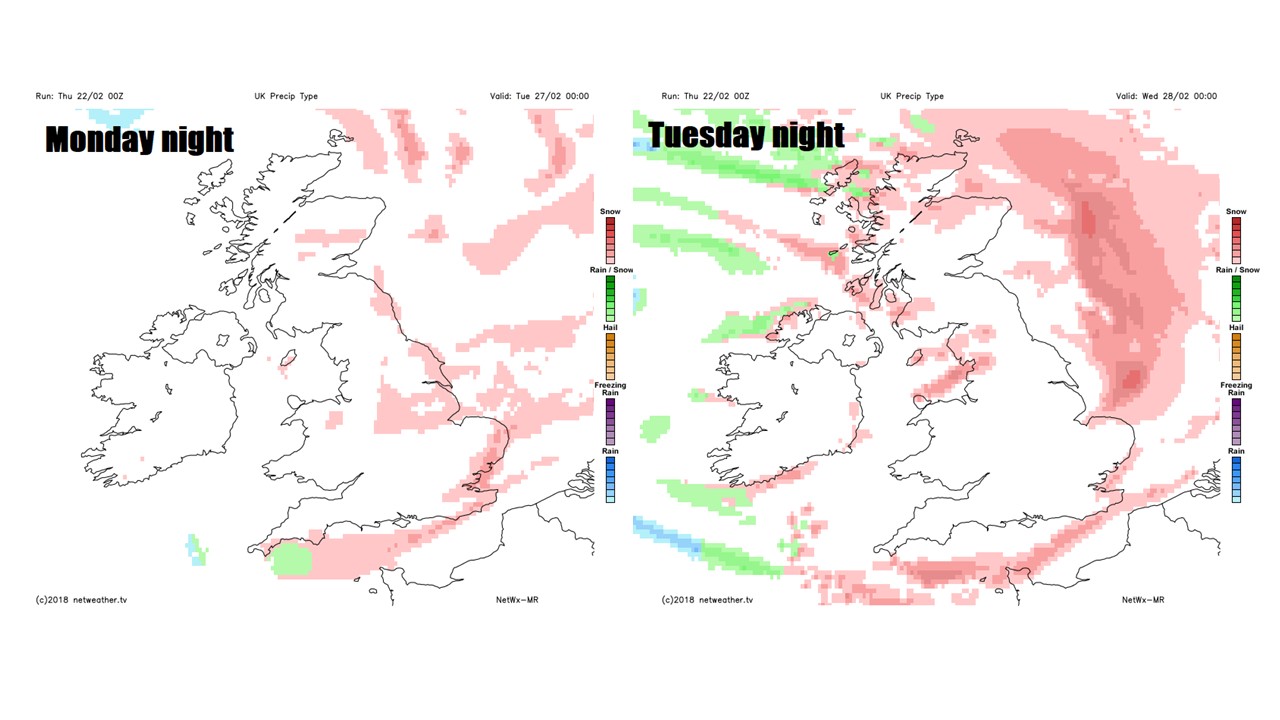 There is potential that later in the week, Atlantic low pressure systems moving in across France to perhaps drift far enough northeast to bring further snow along associated frontal systems across southern and central areas, but low confidence on this for now.