So that's it, yesterday saw the last of any significant Atlantic weather for a while, as a weather front cleared the east of the country. Now we're into a blocked pattern, initially with high pressure drifting up over the UK today, but then it's going to head over into Scandinavia and start to draw increasingly cold easterly winds our way.
The cold will be ramping up fairly slowly, giving us a bit of a chance to acclimatise to it. But by early next week, we're all set to meet the full 'Beast from the East' with bitterly cold Siberian air and an increased risk of snow. The details on any potential snow are still very difficult to pin down, but it's eastern, central and perhaps southern regions most likely to be at the highest risk of seeing some significant, disruptive falls.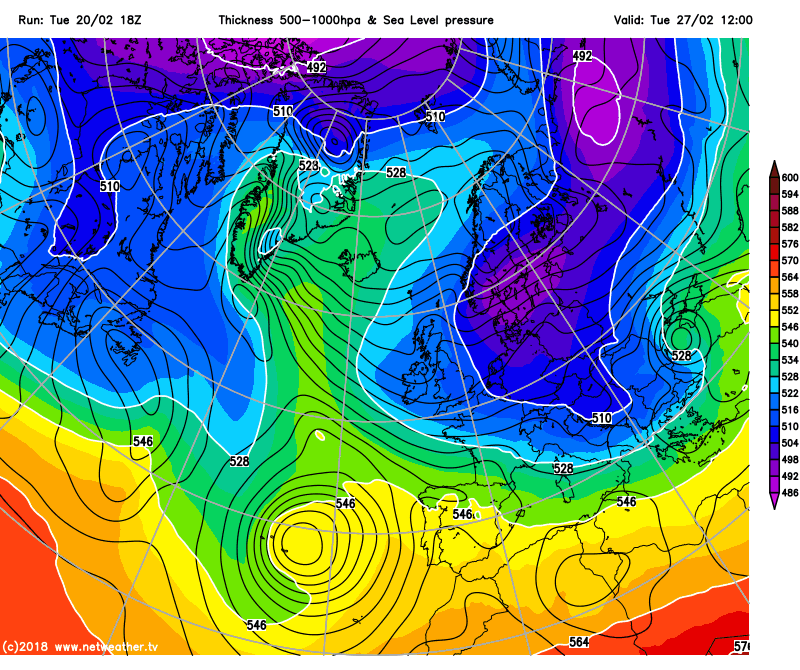 For now though, although it's cooler today than it has been, it's all quite benign and quiet. There is a fair bit of cloud across the country, with one or two showers affecting eastern and central England which'll continue until later in the day. Best spots for more sunshine will be in the west and perhaps also the north. The wind will be light in the main, but a cooler northeasterly breeze will be kicking in across southern England. Temperatures today will range from 5-7c pretty typically, although Ireland (both south and north) will be milder at 7-9c.
Overnight, a more widespread frost is more likely than last night, but there'll still be a reasonable amount of cloud drifting around to stop everywhere falling below zero.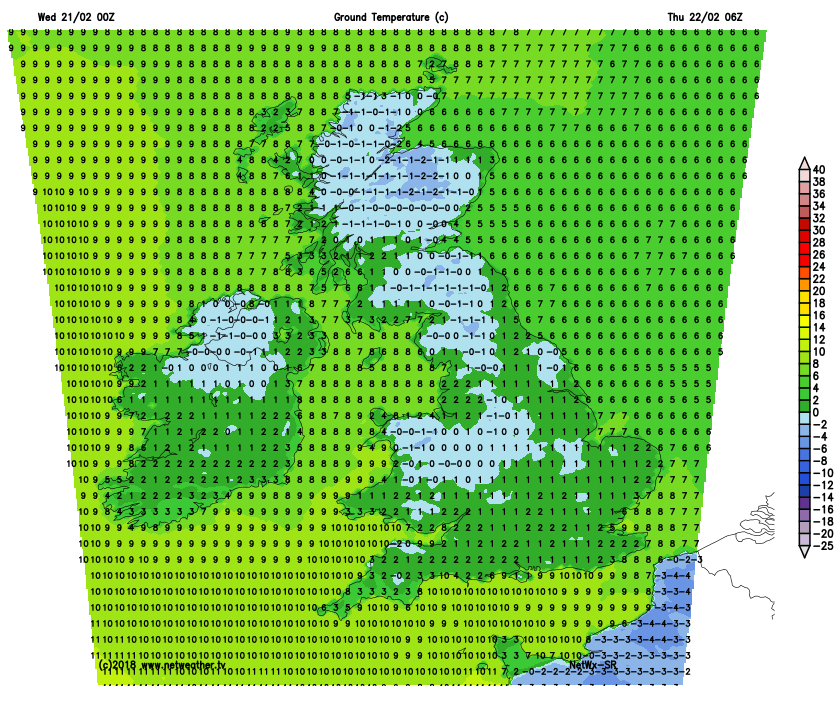 Tomorrow, once any fog and frost patches have cleared, it'll be a similar day, albeit with a few subtle differences. There'll be more in the way of sunshine, but it'll be starting to feel a touch colder with stronger winds. These'll be blowing in from the east across the southern half of the country, and from the south elsewhere.
Thursday night will bring a widespread frost, although bucking the cold, clearer trend will be the far northwest of Scotland where some rain may just graze into the Western Isles. Friday keeps with the settled theme, but temperatures will be down a notch at 3-5c for much of the country. The north of Scotland and good part of Ireland will be milder at 5-7c though.
Into the weekend and that east wind will become ever more noticeable, and increasingly raw. There will be plenty of sunshine to be had, although you'll need plenty of shelter from the wind to feel the benefits of it. There'll be widespread frosts early and late.