After a couple of fine days especially in central and eastern areas, cloud amounts are more variable today due to a weak front straddling central parts of the country. This'll move into eastern areas, but with pressure relatively high over England will give only patchy light rain or drizzle, before 'fizzling-out'. Either side of the front, it's brighter with some sunshine and mainly dry.
It's a fine but frosty start towards East Anglia and the South East, where there'll be sunny spells once morning mist and patchy fog have cleared. It'll tend to cloud over from the West though, and there could be light rain or drizzle in places later, but most parts stay dry, with much of the day fine towards Kent, Essex and Suffolk. Across much of northern England, the Midlands, East Wales and the West Country, you're waking to dull and in places misty conditions with some rain. There's also a little snow on the Pennines, but much of the rainfall is light and patchy, that'll clear from the West to let the sun come through in places by the afternoon. Elsewhere apart from a few showers mostly over Highland where they'll fall as snow on hills, it'll be dry with sunny spells, once mist and pockets of frost have cleared.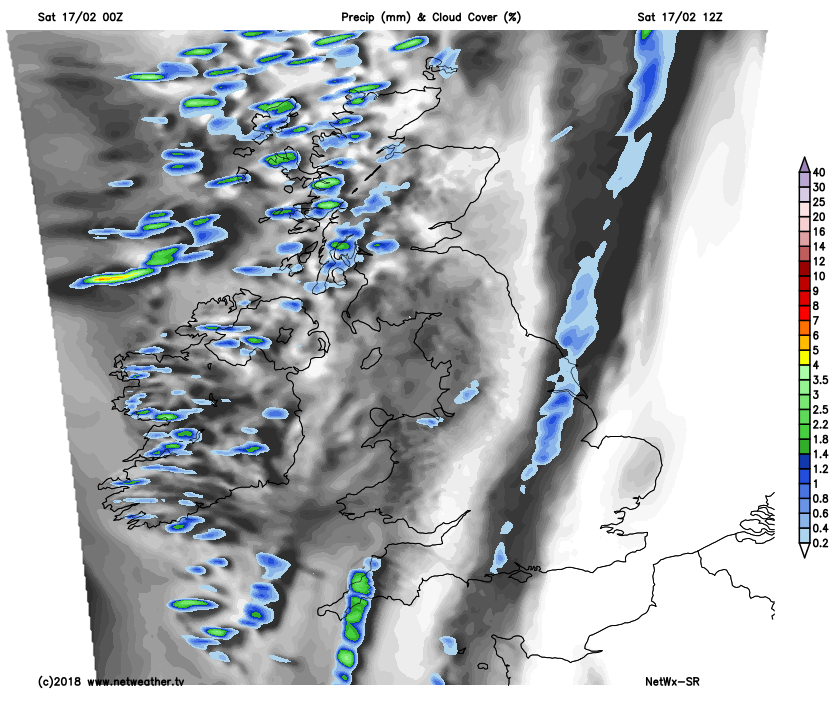 A Southerly breeze will be mostly light over England and Wales, while Scotland and Northern Ireland see a somewhat fresher breeze from the South West. Here temperatures will eventually reach 6 to 8C, but it'll become relatively mild across England and Wales, where 9 to 11C more likely.
After a dry start to the evening, Wales mostly the West, the South West and Northern Ireland see cloud and some rain moving in overnight, but much of it towards Cornwall and Devon should be light. It'll turn misty, with patches of hill and coastal fog forming later in the night, in a southerly breeze that'll freshen a little especially across Northern Ireland. Elsewhere it'll stay dry, with a mix of cloud and clear spells. It'll turn misty, and with light winds, patchy fog and a slight frost will form where skies stay clear. Lowest temperatures will be about zero to -1C, but where you keep cloud, it'll be milder, with the thermometer probably not falling below 5 or 6C across most of Northern Ireland and the South West.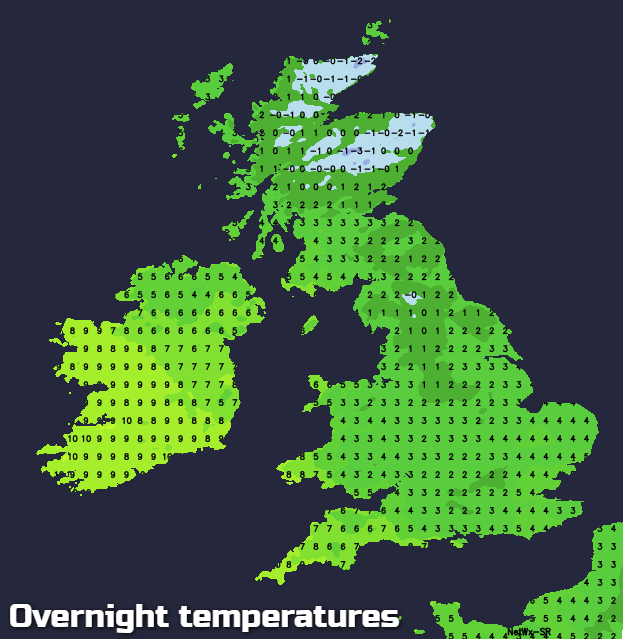 Sunday should dawn dry and bright over much of Scotland and in central and eastern areas, but it'll be cold, with a slight frost, mist and patchy fog to clear first thing. You'll see some sunshine particularly in the East and over the North of Scotland at first, but cloud will eventually move in. This'll bring some patchy light rain or drizzle turning it misty through the afternoon especially on hills, but you're more likely to stay dry and brighter the further East you are. Remaining areas further West see cloud and mist from the word go, with hill and coastal fog particularly in the West and South West. Northern Ireland, northern England and the West and South of Scotland seem most likely to see some rain, but elsewhere the rain should generally be lighter and patchy.
Although light in the East at first, a South to South West wind will freshen a little. This'll be introducing much milder air to Northern Ireland, Wales and western half of England, where temperatures should eventually reach 10 to 12C. In the East and over Scotland where the rain may be preceded by snow on hills it'll be colder, with top temperatures here probably no higher than 6 to 8C.