There will be some cold wintry sunshine in the east this morning, but this won't last, as it will turn wet and windy from the west across all areas. Today's rain will clear away overnight to leave a windy Thursday, with sunny spells for most and wintry showers in the north and west. Wintry showers confined to Scotland on Friday, dry and sunny further south after a frosty start. Then the weekend is looking generally dry and sunny by day across England and Wales as high pressure builds, with widespread frost and local fog patches forming overnight, Scotland prone to cloudier skies and rain at times. Looking further ahead into next week, it looks like high pressure will be in control, bringing dry and bright weather by day and widespread overnight frost and fog, still hints of it turning much colder from the east later in the week, with a risk of snow.
Today
In more detail for today, central and eastern areas of England along with eastern Scotland are off to a sunny but cold and frosty start, temperatures fell as low as -7.6C at Topcliffe in North Yorkshire and -6.4C at Benson in Oxfordshire overnight. In contrast, across the far west, it's cloudy, wet and windy, as a band of rain, sleet, snow and strong southerly winds spreads in across SW England, Wales, N. Ireland and western Scotland for the morning commute, turning to snow across western Scotland. Gales blowing up across Cornwall, Irish Sea coasts and coasts of western Scotland, with gusts of 50-60mph, isolated up to 70mph with exposure in the far northwest.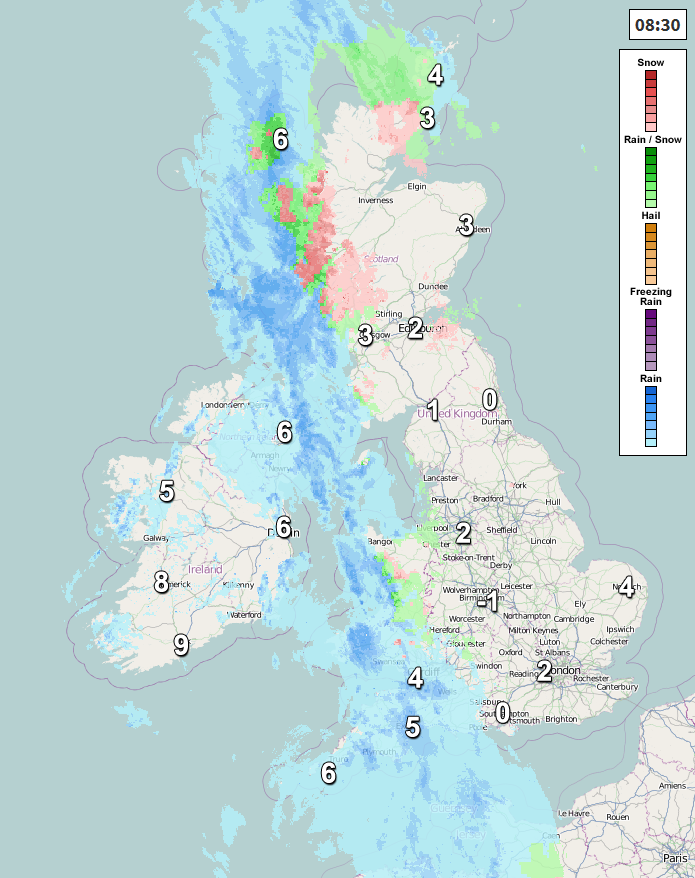 The band of rain and strong southerly winds, with gales in places, will then spread east across all parts by late afternoon, turning to snow across higher ground of northern England and Scotland as the rain bumps into colder air and falling as snow in these areas to lower levels for a time, before turning back to rain. Not feeling particularly mild in the strong southerly wind this afternoon, temperatures ranging from 3-6C in the north to 6-7C in the south, but across SW England, west Wales and N. Ireland reaching 9-12C as milder air floods in from the southwest here.
Tonight
Wind and rain will eventually clear east out into the North Sea tonight, though may linger during the night across the far southeast, otherwise most areas seeing clearer skies moving in but still windy, with wintry showers pushing in across the northwest, bringing a risk of ice, as temperatures fall close to freezing where skies clear here.
Thursday
Thursday should start sunny across many areas, chilly too, with a local frost in the north. There will be wintry showers from the word go across northern and western areas and continuing here through much of the day, falling as snow over the hills, most frequent towards the northwest. Staying mostly dry in the east through the day, with the best of the sunshine here, though the odd wintry shower passing through can't be ruled out. Temperatures ranging from 4-6C in the north to 6-9C in the south, though the brisk westerly wind will make it feel colder than this, especially in the north, where it will be strongest, with gales near western coasts.
Friday
On Friday, a ridge of high pressure builds in across the southern half of the British Isles, bringing a mostly fine and dry day for England and Wales, with lighter winds too. Atlantic fronts grazing the north will mean there will be cloud and rain accompanied by a brisk southwesterly breeze affecting Northern Ireland, northern and western Scotland through the day. Temperatures ranging from 7C in the north to 10C in the south, so milder than recently.