It remains mostly on the cold side for the rest of the week, but more unsettled over the next few days, with a band of squally rain, sleet, snow and even hail move east across all parts today, then wet and windy weather returns from the west on Wednesday, with hill snow in the north, but turning briefly milder in the south. Then it's back to a cold polar westerly flow on Thursday and Friday, bringing sunny spells and wintry showers, with a risk of widespread overnight frost. The weekend is looking mostly dry for England and Wales as high pressure builds, cloud and rain at times for Scotland, N. Ireland and perhaps northern England, temperatures close to average but feeling chilly after frosty starts. High pressure continues to build north next week, perhaps eventually allowing a bitterly cold easterly flow to develop, as a sudden stratospheric warming that started yesterday triggers high latitude blocking.
Today
In more detail for today, it's a windy start to Tuesday, with a band of rain, sleet and snow moving in across northern and western areas for the morning commute. Heavy rain and hill snow across Wales and western areas of England, while across the north of England and much of Scotland it's snow falling away from coasts, which is bringing some issues on the roads across Scotland this morning, with some accidents on some major routes as traffic negotiates tricky conditions with heavy snow settling, though snow accumulations are patchy, with some areas seeing no settling snow.
The rain, sleet and snow will continue towards eastern England this morning after a dry but dull start here, then a cold and wet afternoon here, while sleet and snow perhaps lingering across the east of Scotland too, continuing to bring some travel disruption here, but drier and brighter conditions following across many western areas this afternoon, though with scattered wintry showers across the west.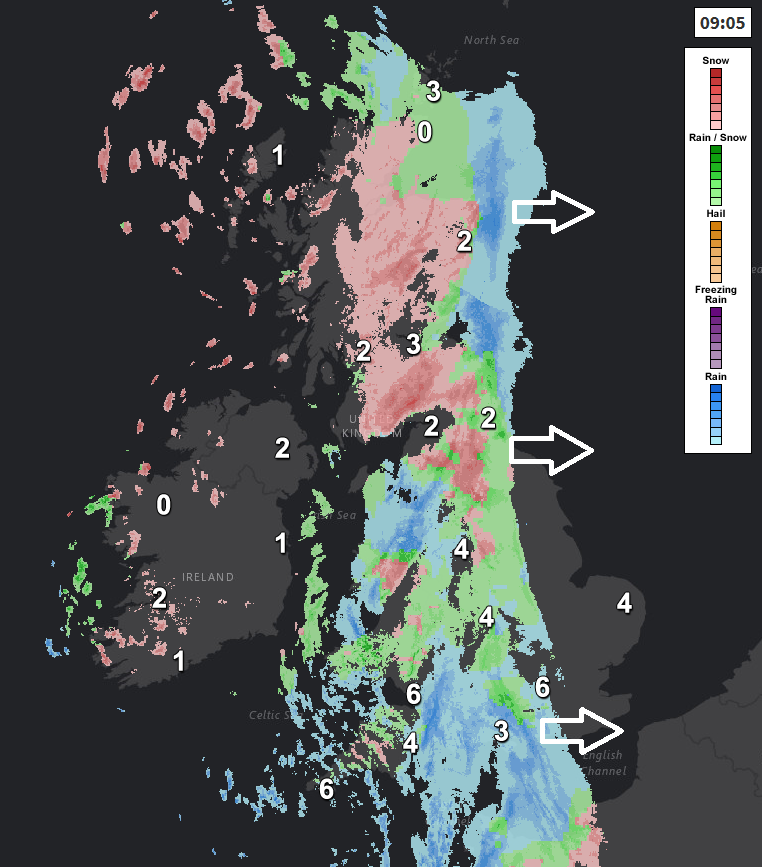 Temperatures struggling today, reaching 4-6C generally, feeling colder than this in the strong wind, which will be southerly initially before veering westerly and easing as the rain, sleet and snow clears.
Tonight
Today's band of rain, sleet and snow will slowly pull away from eastern areas this evening, leaving clear skies overnight and as the airmass will be polar, temperatures will fall close to or below freezing, leading to widespread frost developing and risk of ice on untreated wet surfaces following today's wet or snowy weather. Cloudier skies with rain and hill snow arriving across Ireland and N. Ireland by the end of the night though.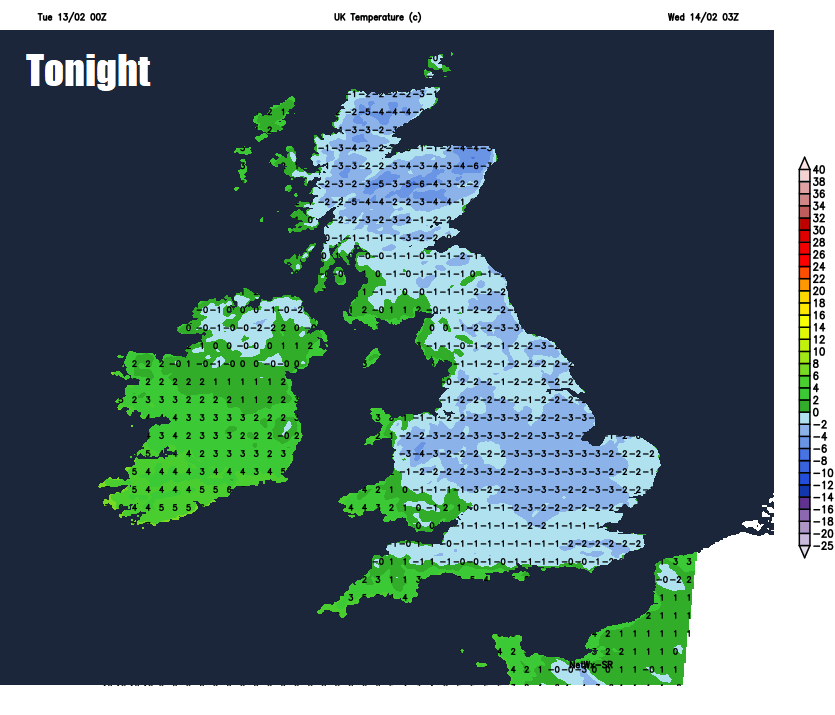 Wednesday
The next Atlantic frontal system arriving from the west will bring outbreaks of heavy rain and strong winds in across the north and west during the morning, preceded by snow across the north, which could again cause some travel disruption for Scotland and northern England. Snow turning back to rain at lower levels as milder air tries to move in from the southwest through the afternoon, rain and hill snow lingering through much of the day, though winds easing. Rain perhaps not reaching SE England and East Anglia until the afternoon. Milder in the south, where temperatures could reach 8-10C, in the north reaching 5-7C.