Ignoring the wind for the moment, we have much milder air moving over the UK on Tuesday 23rd, lifting the temperatures into double figures. Around 13C for Chester and Gloucester by 11am. Check your air temperature here. Northern Scotland stayed at 7C.
The fresh SW winds are causing high gusts over parts of the UK, around 60mph for higher level routes, so do take care. The wind is making it feel less mild but at least it isn't bitter like when the wind was in the North.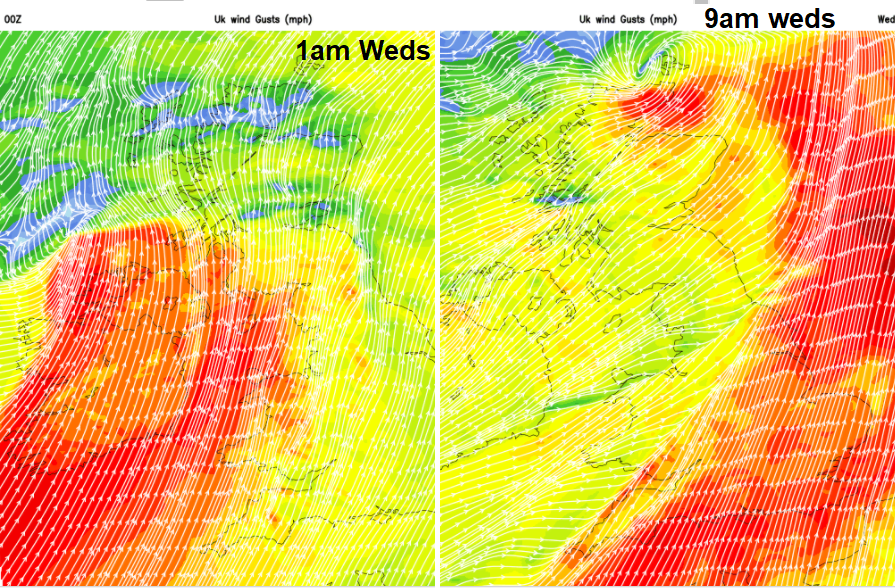 Wednesday winds
As a deepening area of low pressure heads in Tuesday night into Wednesday morning, there will be even stronger SW winds. Gales and gusts of 50 to 70mph are expected. As the frontal bands move through there will be heavy rain and gusts. The main area of potentially severe weather will be on the cold front hitting Wales and western England ready for rush hour and a curl of severe gales with gusts around 70mph for Caithness and Orkney about 9/10am. More details in the Netweather watch, about newly named #Storm Georgina.
Wind Warning for Ireland- Met Eireann

A depression now named Storm Georgina will track to the northwest of the country tonight. Southwest winds will reach mean speeds between 65 and 80 km/h, gusting up to 120 km/h for a time tonight. (75mph) Issued: Tuesday 23 January 2018 14:00
Valid: Wednesday 24 January 2018 00:01 to Wednesday 24 January 2018 05:00
Netweather Watch for strong winds Wednesday