January Temperatures
Temperatures reached 14.6C today, Tues 23rd in Exeter. 13.7C in London and W.Yorkshire. That's not what you would expect for January and remembering a few days ago with bitter winds, lying snow and ice, once more the UK weather is chopping and changing.
Average temperatures- January (Met Office data)
S England 7.3C
N.England 6.4C
Wales 6.8C
Northern Ireland 7.0C
Scotland 5.3C
The highest daily maximum in January for the UK is +18.3C, which has occurred a few times, most recently on 26th Jan 2003 in Aberdeenshire and Kincardineshire. In 1982 West Linton in the Scottish Borders only reached a top temperature of -13C by day. imagine that! It was also that January when the lowest UK temperature was reached -27.2C in Braemar.
Two years ago County Londonderry saw it's mildest January night with a minimum of +13.1C. The temperatures some places saw today, that max. is equivalent to the lowest temperature that day in Northern Ireland.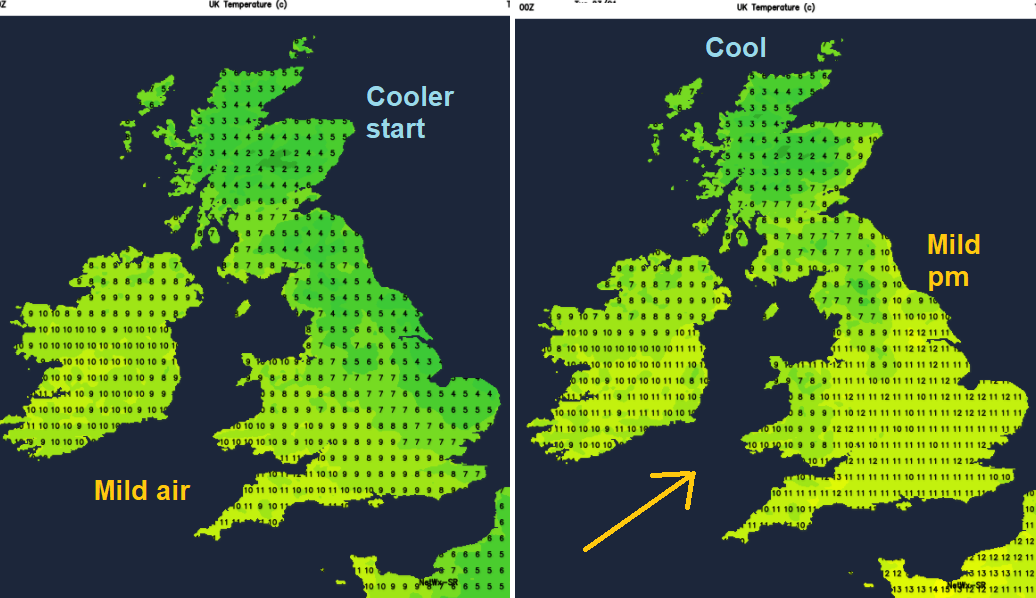 Ignoring the wind for the moment, we have much milder air moving over the UK on Tuesday 23rd, lifting the temperatures into double figures. Around 13C for Chester and Gloucester by 11am. Check your air temperature here. Northern Scotland stayed at 7C.