The cold of last week will seem like a distant memory for the next few days, as south to southwesterly winds bring in mild air across all areas, in fact today is looking like the mildest day of the week, with a few spots perhaps hitting 15C. There will be some rain around too today and tomorrow, with a deepening low passing the north of Britain tomorrow bring a squally band of heavy rain and gales southeastwards along an active cold front. Following will be sunshine and showers on Thursday, still windy and turning colder too from the west. After a cold start, frosty in the north, Friday will be a chilly day, dry and bright for many, but rain arrives in the west late in the day before spreading east on Saturday. Sunday, for now, is looking mostly dry and bright.
Today
For now, a cloudy, damp, mild and frost-free start across the UK, temperatures in the west as far north as western Scotland already 10-11C. The mild air coupled with heavy and persistent rain affecting Scotland and Northern Ireland this morning bringing a rapid thaw of lying snow up here, so some standing water to watch out for on the roads. Away from the far northwest, there are patchy outbreaks of rain spreading northeast across many areas.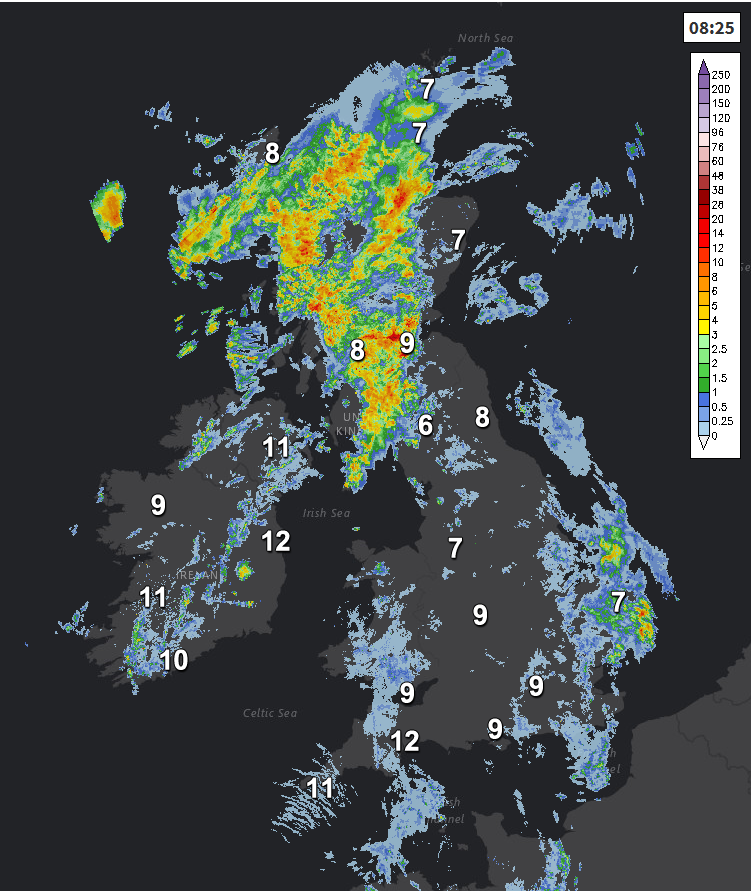 It looks like staying generally cloudy and breezy for much of the day, an area of patchy rain across central and eastern England clearing away this morning which may allow some breaks in the cloud to allow some brightness or sunshine, but generally further north and west it will remain dull with patchy rain over SW England, Wales and northern England, more persistent rain spreading east across Scotland followed by brighter but showery conditions across the northwest and far west later.
Temperatures of 7-10C across Scotland and Northern Ireland, 11-13C across England and Wales, we could see 14-15C in a few places. A strong southwesterly wind across all parts.
Tonight
As we head into the evening and overnight, showers easing across the northwest and many parts becoming dry with winds easing for a time, but staying generally cloudy and mild, before winds strengthen from the west and outbreaks of persistent rain arrive across the north and northwest to end the night.
Wednesday
A deepening area of low pressure clipping the north of Scotland tomorrow will bring a spell of disturbed weather during the day, with the potential for disruption, with heavy rain spreading east and strong winds potentially gusting to 70mph for a time across Scotland, with widespread gales accompanying a band of heavy squally rain sweeping southeast across England and Wales. Brighter but showery conditions following across northern, central and western areas in the afternoon. Temperatures reaching 10-13C across much of England and Wales, cooling down to 7-9C across Scotland, Northern Ireland and the far north of England.