The weather has certainly made headlines during the past week, with snow and ice causing problems in the north for much of the week, especially across Scotland and Northern Ireland, and high winds from an un-named storm causing damage and disruption across the south mid-week. Scotland again had heavy snow on Friday, with Tulloch Bridge in the Highlands recording a snow depth of 38cm. Snow will continue to cause some issues this weekend, some falling over hills of England, Wales and Norther Ireland today, but not causing too much issue, but a greater chance early Sunday for snow across northern areas, before turning back to rain. As Sunday's rain and snow clears, it will turn milder for all early next week, with temperatures reaching double figures, but it looks to turn colder again later in the week.
Today
For now, it's a grey, damp and murky start for many, with outbreaks of rain sliding northwest to southeast along a weather front across Northern Ireland, Wales and England, snow falling over higher ground in the north and west as the weather front bringing the precipitation bumps into cold air, perhaps to lower levels across the northern edge of the rain. The rain and snow quite heavy for a time across Northern Ireland and north Wales, giving a few 3-5cm of snow over high ground. However, across the far north of England and much of Scotland we have drier and sunnier start, with clearer skies here overnight leading to widespread and hard frost over lying snow, with temperatures as low as -9C in the Highlands.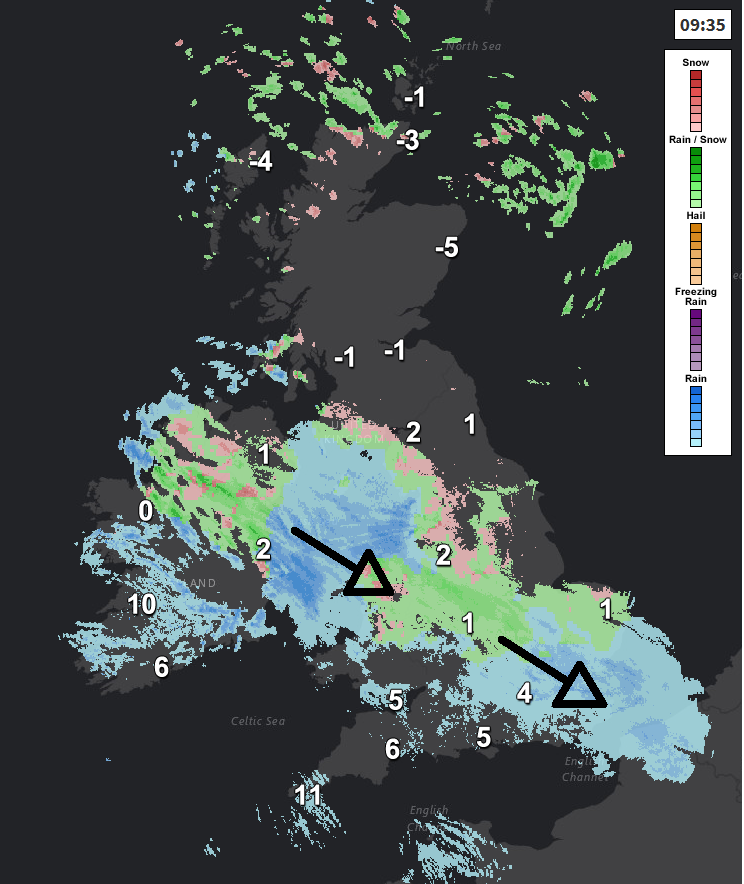 It will remain a dull and damp day across much of England and Wales during daylight hours, the rain will tend to ease and become lighter and patchy in nature from the northwest through the afternoon though, Northern Ireland joining northern England to drier and brighter conditions spreading down from the north in the afternoon. Scotland having a bright but cold day, further sleet and snow showers towards the west, dry and sunny in the east.
Temperatures reaching 2-3C at best across Scotland, 4-5C across Northern Ireland, north Wales, Midlands and down to SE England and East Anglia, while south Wales and SW England become milder with 7C in Cardiff and perhaps 12C in Plymouth.
Tonight
Saturday night sees the next Atlantic frontal system with rain move in across Ireland, Northern Ireland, Wales and SW England, turning to snow across N. Ireland and Welsh hills as it bumps into colder air. Further east, clearer skies will allow a widespread frost to develop, more especially northern England northwards, with temperatures falling well below freezing over the snowfields to perhaps bring one of the coldest nights of the year for Scotland, with temperatures falling to -8 to -10C in the Highlands. A risk of ice on untreated surfaces to watch out for, as result. Central, southern and eastern England perhaps staying generally cloudy but dry, though frost not ruled out if the cloud breaks.
Sunday
Frontal system bringing rain and hill snow in the west overnight will continue to spread east on Sunday morning, turning to snow across Scotland and northern England as it bumps into the cold air, with higher parts of the Pennines, southern uplands and Highlands of Scotland perhaps seeing as much as 10-15cm through the day as the front stalls here as it hits the cold air, so some treacherous conditions for higher routes. Snow to lower levels in the north and east for a time, before turning back to rain, rain for the Midlands southwards before clearing in the afternoon, with brighter skies in the west. Cold with the rain and snow in the north and east, reaching 2-5C at best, much milder air flooding in across southern and western areas, with temperatures reaching 8C in London, 11C in Belfast and Cardiff, 12C in Plymouth.