The middle part of next week is looking mostly settled with High Pressure over the Alps and remaining mild with the airmass originating from the South West.
Towards next weekend, Low Pressure set to edge in from the North West and turning somewhat colder.
Temperatures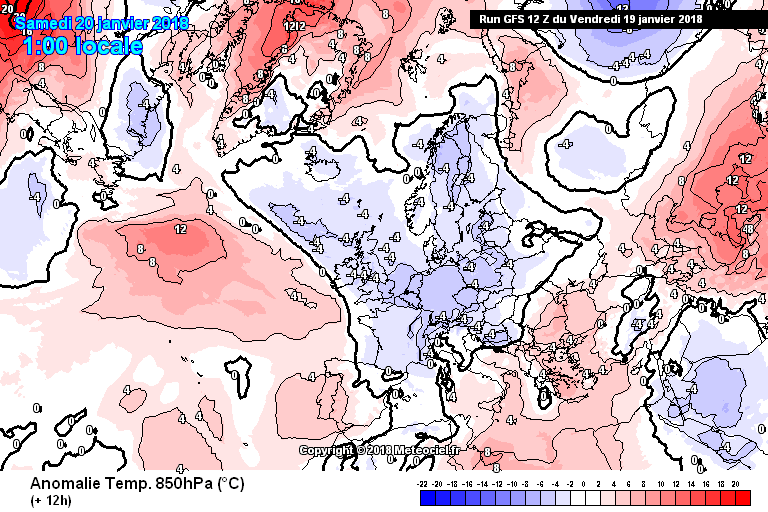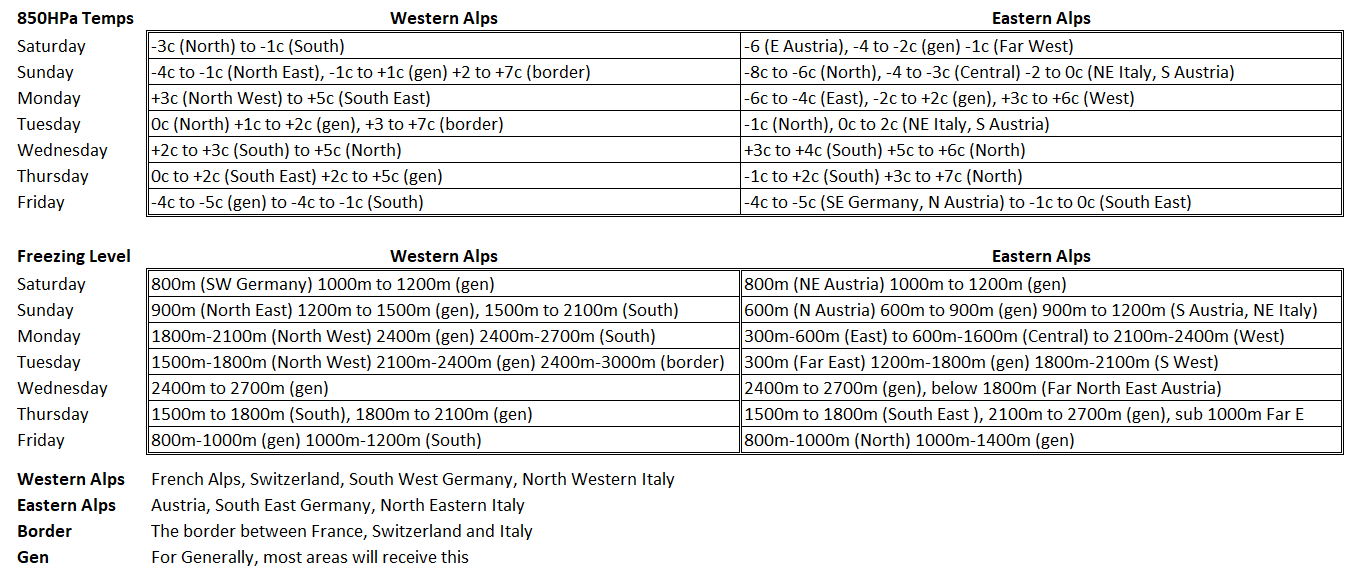 Precipitation
Moderate snow to start the day in NW Austria, but this clearing away quickly.
Low Pressure is then expected to linger over the Alps with over 72 hours of precipitation expected, this heavy at times, so very large precipitation totals are likely.
In detail, precipitation starts to develop during the afternoon for the French Alps, Switzerland, SW Germany and NW Italy and this continues through the evening and overnight before spreading into W Austria. The Snowline generally around 1200-1400m, lower in Eastern parts.
Sunday sees the precipitation continuing throughout the day through a large swathe of Switzerland, the French Alps, and Western Austria and initially for NW Italy but this transferring a bit further north into SW Germany. Substantial precipitation totals are likely over much of Switzerland. The Snowline generally around 1200-1400m, 900m in Austria and much of South Germany. Late in the day the snow level rises sharply in Western parts rising to 1800m-2100m.
Monday starts with heavy precipitation again for Switzerland, the French Alps, Western Austria and SW Germany. Finally the precipitation starts to move Eastwards during the afternoon into Austria and SE Germany, patchy precipitation is expected at times for NW areas. The Snowline generally around 1800m-2000m.
Tuesday sees heavy precipitation over Austria initially widespread before becoming confined to Western Austria, before fading completely. The Snowline generally around 1200m-1500m.
For Wednesday and most of Thursday, high Pressure looks to settle things down a little and a drier interlude is currently projected.
Late on Thursday and into Friday, further precipitation is expected to spread in from the North West, this spreading across the Alps on Friday. Snow to lower levels to around 800m.
Heavy snowfalls are possible over the Alps with over 1 metre of snow possible in places above 2000m.
Summary
Heavy Snow over the weekend, this becoming confined to higher slopes into next week, Turning Settled for a time midweek, before the potential of further snow to lower levels before Next Weekend.