The snow showers ease off slightly this evening with clear skies and another cold frosty night away from the SW. Here cloud will increase, milder air will arrive and after some backlog of the winds a strong West wind will set in for Cornwall. A cold night further NE with a hard frost.
This is a warm front bringing rain to the far SW. It may turn to sleet and hill snow if it reaches the Brecon Beacons or over the Cotswolds. Further north more snow showers for the NW Highlands and a scattering elsewhere.
The Weekend
The frontal band in the far south, which will bring cloud, rain, maybe a wintry tinge and strong winds through the Channel should pull away to the south as the associated low pressure deepens over France on Saturday. This front will then plunge down over the Alps and bring plenty of new snowfall to the mountains to end the weekend.
For the UK the trailing front could keep cloud and dampness over SW Britain on Saturday with brighter, sunnier skies elsewhere. Southern England will be milder at 7 to 9C, but it will feel bitterly cold in the NE with a brisk wind and temperatures only around 1 or 2C. For most, it will look like a fine bright day.
Saturday Night
It will be cold and frosty again for the NE half of the UK. Another warm front pushes in over Ireland bringing cloud, rain and milder air with freshening winds. This will come up against the cold air and turn to snow with the main risk over northern Britain.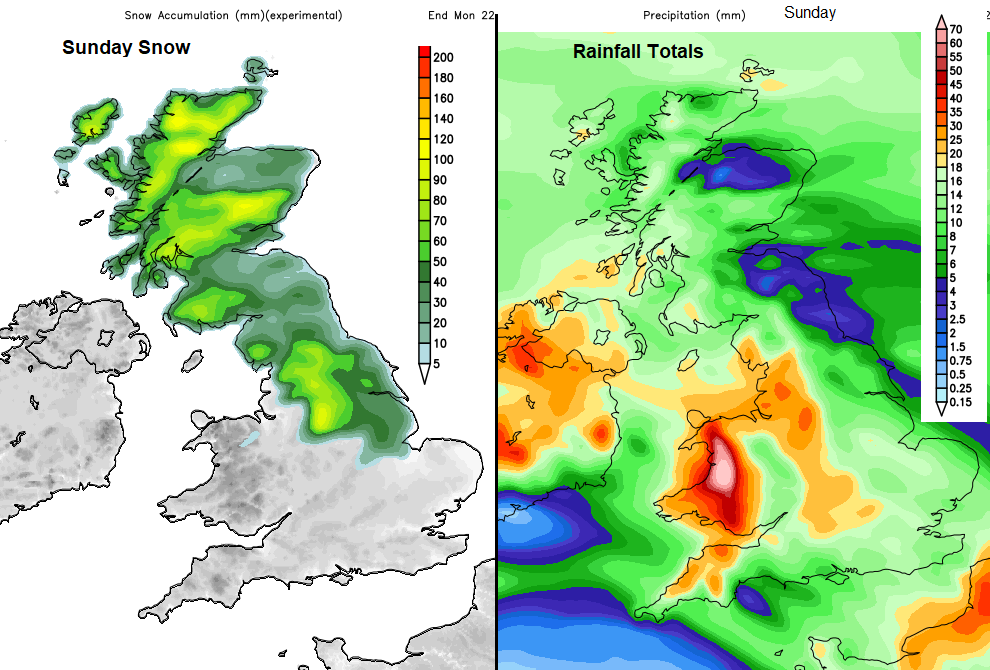 There could be problems on Sunday. We've got the cold, frosty start, the incoming frontal band with heavy and persistent rain forecast, particularly over Wales. There will be snowmelt to add to the water levels, so flooding is possible. Snow is also likely on the leading edge of the rain band, with northern and eastern areas looking most at risk. Areas with snow could see it turn to rain by the afternoon, so bear that in mind if you want to go sledging. It will be windy and feel cold in the north, but much milder air will reach the SW half of the UK by the afternoon.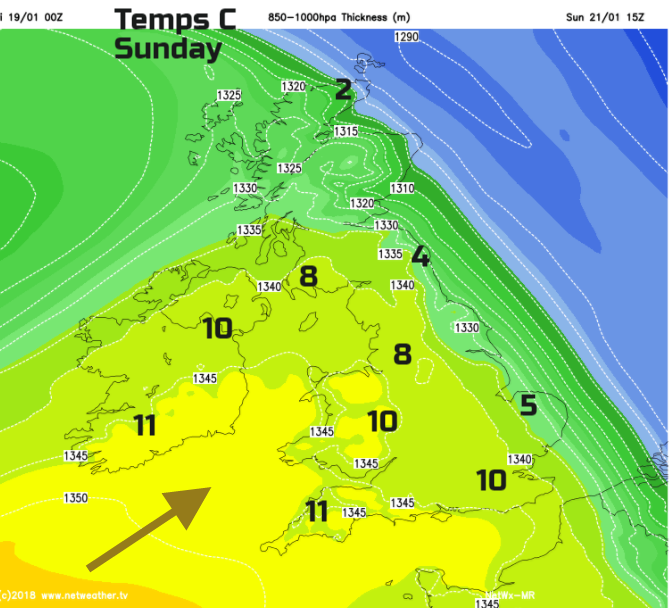 Next week - Monday could start with rain in the south but with milder air and the start of next week looks blustery and unsettled.