We've had a quiet and settled spell of weather over recent days, thanks to high pressure over Scandinavia keeping Atlantic low pressure systems at bay. Atlantic fronts will push in across the west today, bringing outbreaks of rain and stronger winds, but for eastern areas today and for most on Sunday it will remain dry but rather cloudy with limited sunshine. A big change into the start of next week though, with wind and rain arriving across the far northwest on Sunday sweeping southeast across all parts Sunday night. As the rain clears on Monday, increasingly colder polar air will spread east early next week, with wintry showers arriving across northern and western areas driven in by a strong and cold westerly wind, though at least there should be more in the way of sunshine. The cold weather should last the whole week, with a continued risk of snow over northern and western hills.
Today
For now, it's a cloudy and murky scene again for many this morning, with Atlantic fronts bringing outbreaks of rain across the far southwest of England, west Wales, Northern Ireland and western Scotland, drier further east. The rain across the far west will make little progress eastwards, due to high pressure over Scandinavia, the outbreaks of rain perhaps getting a little further east across SW England, Wales and the west of Scotland, while easing across Northern Ireland. Eastern Scotland and the rest of England mostly dry but rather cloudy, thick enough for some patchy drizzle over the hills, perhaps some brightness or limited sunshine breaking through in the east.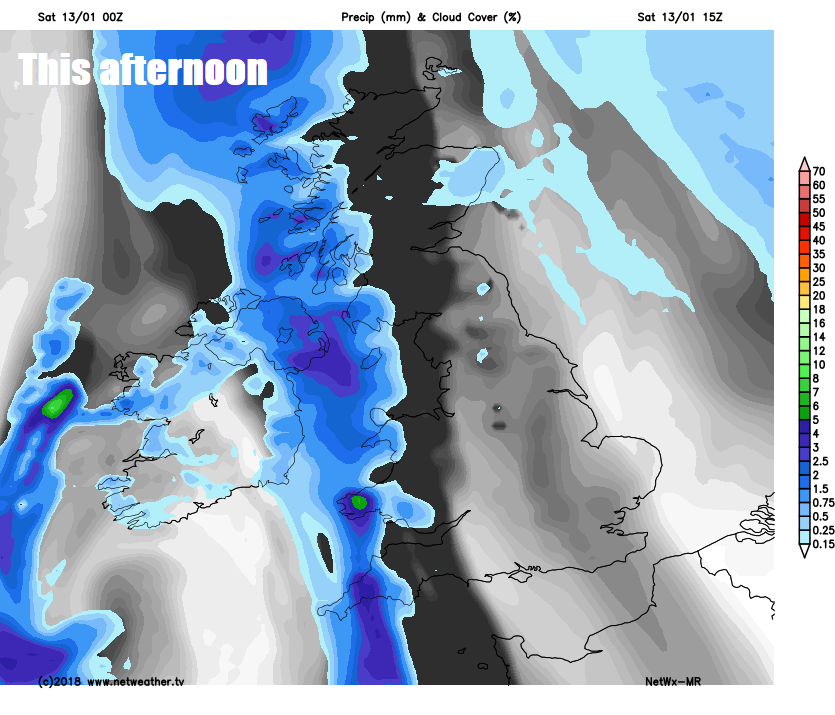 Temperatures close to average for the time of year today, though the southeasterly breeze will make it feel chilly, particularly in the west under the rain and where the wind will be strongest, highs of 5-7C across the north, 7-8C in the south.
Tonight
Outbreaks of rain across the west will drift a little further east across Scotland and NW England, but tending to fizzle out from the south. Generally dry and cloudy elsewhere, with the odd patch of drizzle, though some breaks in the cloud likely to develop across the south and east of England and with the breeze easing we could see mist, fog and perhaps a local frost develop by the end of the night.
Sunday
Another rather cloudy day on Sunday, but for most it will be dry with some breaks allowing brighter skies and some limited sunny spells to develop. The exception will be across Northern Ireland, Ireland, northern and western Scotland – where after a dry start we will see wet and windy weather arrive from the northwest through the afternoon. Milder in the west, temperatures reaching 7-9C, in the east reaching 4-6C.