A mild & green Christmas Day for much of England and Wales, turning colder through the day across Scotland, cold enough for snow over higher ground as rain clears.
Colder for all on Boxing Day, but mostly dry and sunny, wintry showers in the far north and western coasts.
Risk of more peristent snowfall Boxing Day night into Wednesday morning across England and Wales, mostly over the hills in the north and west.
Staying cold thereafter until Friday, with a risk of widespread overnight frost and some wintry showers around coasts.
Turning milder on Friday, as cloud and rain moves in off the Atlantic, preceded by snow in the north.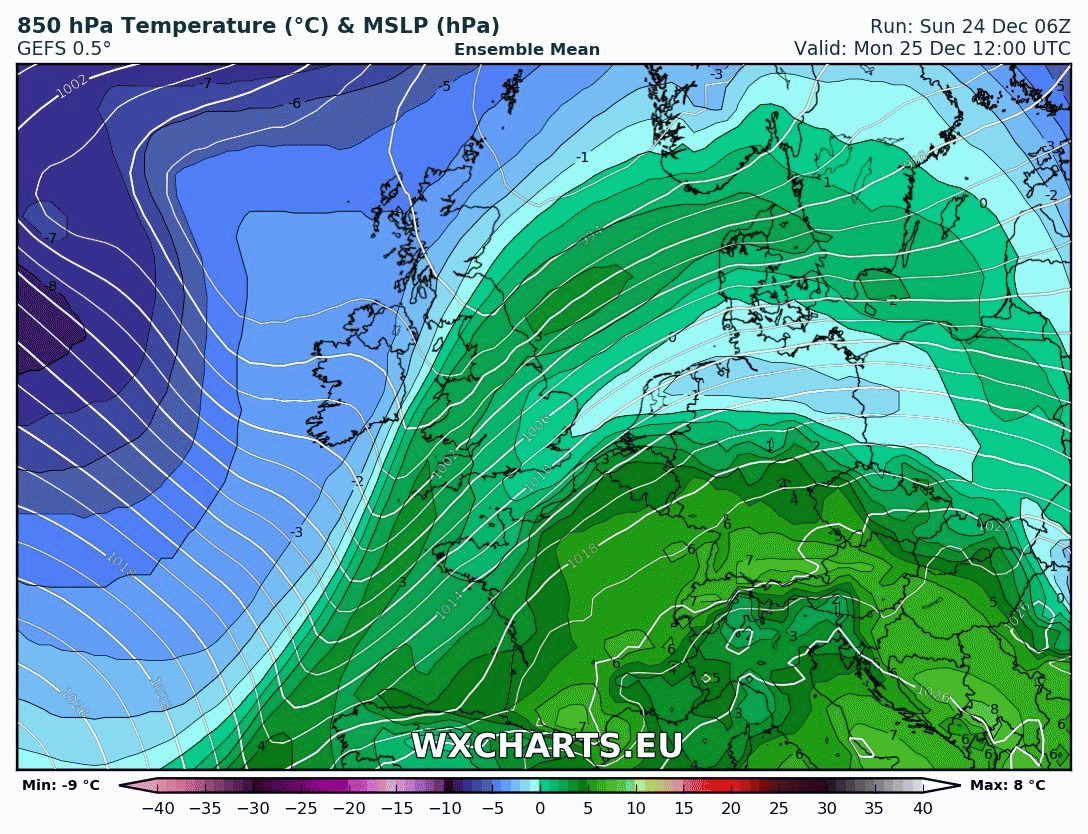 Turning colder from the northwest by Boxing Day, low running across south Boxing Day night could bring snow too. Credit: wxcharts.eu
For many it will be a mild and green Christmas Day, thanks to a southwesterly flow all the way from the Azores. However, a cold front across the far north and west sweeping east during the afternoon and evening, which will introduce colder air across all parts by Boxing Day, will bring cold enough air into Scotland tomorrow to turn the rain increasingly to snow over the Southern Uplands and Highlands on the back edge of the areas of rain clearing southeast through the afternoon and evening – so could be a White Christmas for some in Scotland with some elevation.
The colder polar air sweeps southeast across all parts to start Boxing Day, as that cold front clears the east Christmas night. So a colder but brighter day for all and dry for many too, ideal to get outside for a walk to burn off the Christmas Day excesses. However, everywhere will see maximum temperatures in single figures, coldest in the north with 3-5C the highs, 6-8C in the south and there'll be a few wintry showers across northern Scotland and around western coasts.
Jet stream sinks south over next few days, with all of the UK move under the cold polar side of the jet
At the moment, the jet stream is flowing across the north of Scotland, but by Boxing Day it will have sunk south to be close to or to the south of the UK. This means the next low pressure system coming off the Atlantic will track across southern England or through the English Channel – the track not yet agreed by models. But we are keeping a close eye on this low, because as temperatures drop rapidly after Boxing Day evening under clear skies, the low arrives across the south overnight, rain spreading in with the system will likely to turn to snow on the northern edge initially, then on the rear side as the low clears as cold air is pulled south.