At the moment, the jet stream is flowing across the north of Scotland, but by Boxing Day it will have sunk south to be close to or to the south of the UK. This means the next low pressure system coming off the Atlantic will track across southern England or through the English Channel – the track not yet agreed by models. But we are keeping a close eye on this low, because as temperatures drop rapidly after Boxing Day evening under clear skies, the low arrives across the south overnight, rain spreading in with the system will likely to turn to snow on the northern edge initially, then on the rear side as the low clears as cold air is pulled south.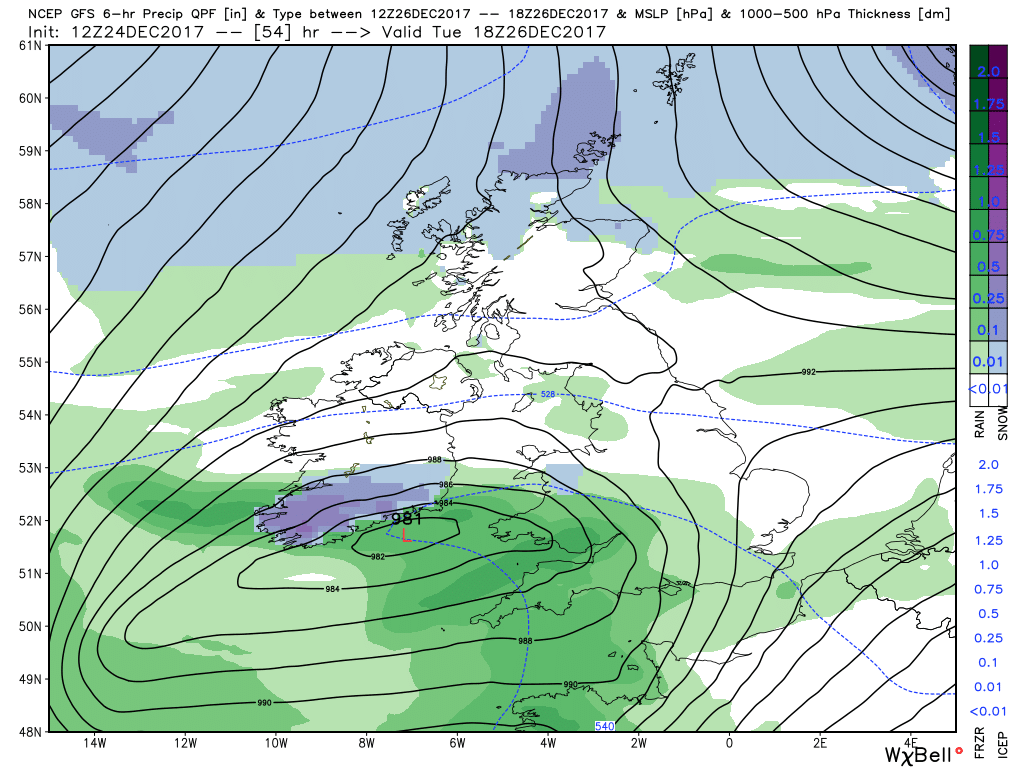 12z GFS today one of various differing evolutions and tracks of a low moving east 26th/27th bringing risk of snow. Credit: weatherbell.com
Exactly where it will snow and whether it will fall to lower elevations is not quite clear, with models varying in track. With 00z/06z/12z GFS furthest north with the low, 00z UKMET-G, ECMWF, ARPEGE further south, though the 12z UKMET-G just updated is further north compared to previous 00z run. Suffice to say higher ground of Ireland, Wales, northern and western England will most likely see some snow falling and settling, but some snow can't be ruled out at lower levels in these areas too, but may or may not stick. There could be some travel disruption from this snowfall Boxing Day night into early Wednesday, particularly over higher routes. Rain, sleet and snow clearing Wednesday morning with a cold and brisk or strong northerly veering northwesterly flow to follow across all areas, with wintry showers around north and west facing coasts. Temperatures in low single figures widely, coldest in the north.
After a widespread frost Wednesday night, Thursday could turn out another cold but bright and mostly dry day, with just a few wintry showers around northern coasts. After perhaps another frosty night, Friday looks to turn milder from the west though, as Atlantic fronts move in bringing cloud and rain eastwards across many parts, though preceded by some snow across Scotland and perhaps far north of England before turning back to rain.