Today into Tuesday – A continuation of the current theme of High Pressure with a mild Tropical Maritime air mass originating from the West, this is likely to give a sunny daytime, with a thaw of snow into the afternoon, but with severe overnight temperatures refreezing the snow. Turning slightly cooler into midweek as the Tropical Maritime air mass becomes mixed out.
Early Wednesday to Friday - Low Pressure is set to edge in over North Western Europe and over the Alps for the middle of the week. This is likely to being much colder conditions and moderate levels of precipitations and given the much colder air from the North, much of this will be of snow especially from Thursday.
Weekend – Turning milder from the West as the winds revert back to the West. However this is likely to give sunnier conditions over the weekend, and after the midweek snow, some very good conditions can be expected.
Temperatures
A mild start, before turning much colder midweek from the North West.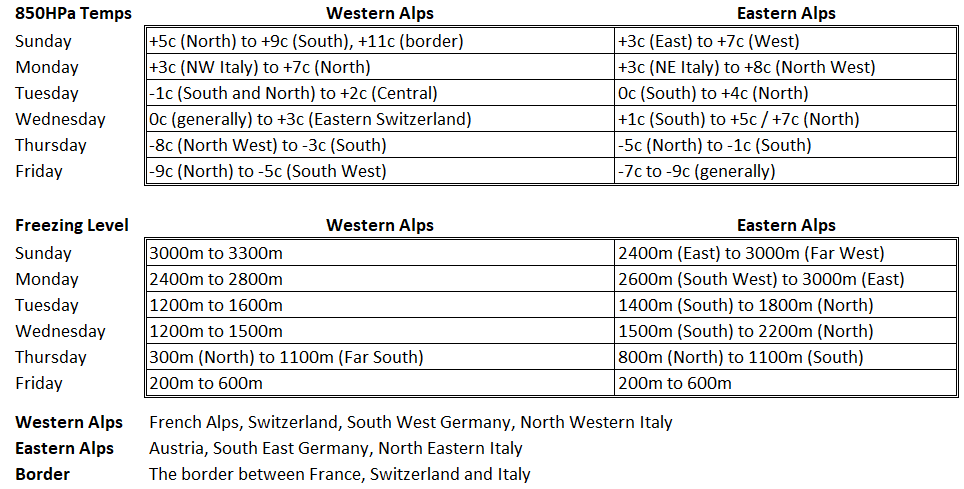 Precipitation
The next 60 hours is looking predominately dry over the Alps.
However as the cold front edges south, precipitation will become persistent and heavy for Wednesday into Thursday. In the charts below the distinction between the colder air on the North West of the front can clearly be seen. So increasingly the snow will fall to lower elevations. So on a rough basis, snow will fall on Wednesday to around 1000-1400m, this dropping back on Thursday to around 600m-800m with the main temperature fall occurring overnight into Thursday on current projections.
Wednesday - Midday
Wednesday - Midnight
Thursday - Midday
Snow Totals (based on snow-forecast.com) 60-70cm of fresh snow seems very possible over a wide area of the Western Alps Wednesday into Thursday above 1500m, with 30cm possible in Austria, with more than this for Western Austria.
Summary
A mild Sunny start, heavy snow midweek, before turning drier, brighter and milder from the West next weekend.