It's another frosty, icy start to the weekend, but change is on the way as winds swing into the southwest by tomorrow, bringing a spell of milder weather with them. By tonight, the process will already be well underway, with only the eastern half of the country likely to see a frost, and that'll lift from the west as the night goes on too.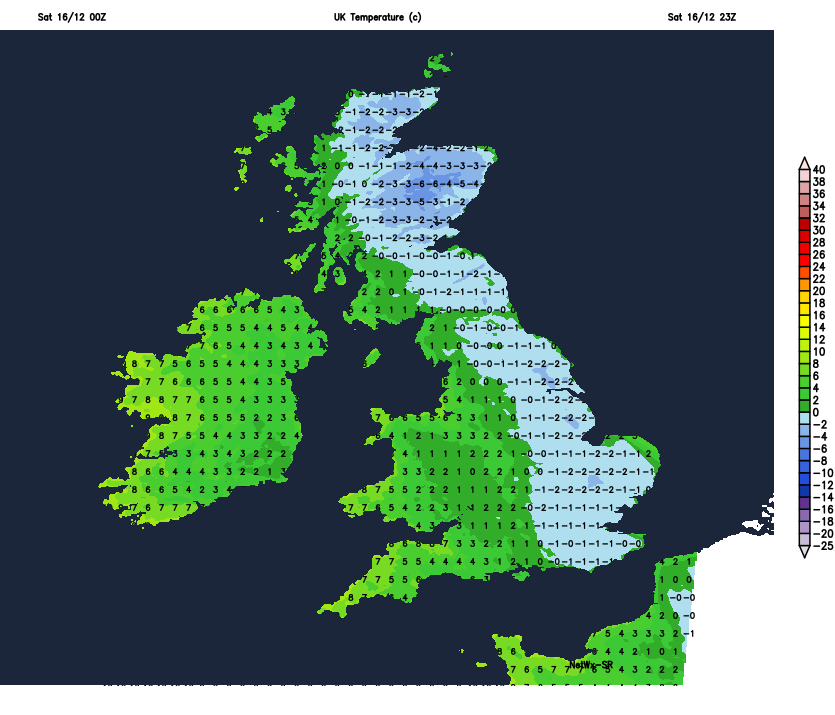 If you're braving the high street today, it's going to be a pretty chilly one, but with the sun coming out in many areas, it'll not be too bad. We do have some showers in the north and also running down from the northwest into Wales, the Midlands and later perhaps also southern England. But for the majority, it stays dry. Temperatures will peak at 4-7c for most, slowly recovering from the cold start, and quickly falling back down below zero across the eastern half of the country once the sun sets. The northwest wind will make it feel colder still - especially down the eastern side of the country along with much of Wales and southern England.
This evening and overnight, winds turn round to the southwest and strengthen across the north of the country. At the same time, the cloud will thicken and a band of rain will start to move down from the northwest, with some showers breaking out ahead of it into northwest England, Wales and Southwest England. By morning it'll be affecting a good part of Scotland along with Ireland, it then continues southeast during the day, reaching the southeast of England by early evening. Although by this point, it'll be mostly light and patchy.
Behind it, a few showers, plenty of cloud and milder air. Much of Ireland will see highs of 10-12c tomorrow, with the southwest of England joining it into double figures. Elsewhere it's a west to east split, 6-9c typically in the west, still 4-7c further east, after another frosty start here.
It'll still be chilly enough for some patches of frost in the north and east of the country overnight and into Monday morning. Then it's a fairly quiet day to follow, there'll be a fair bit of cloud and a few bits and pieces of rain in western parts, but for central regions especially, the sun should break through fairly regularly.