For this weekend, there is a cold Northerly feed across the Alps bringing some very cold conditions and with Low pressure nearby, further snow can be expected.
Into next Week, High Pressure is set to edge in from the South West feeding in some less cold conditions over much of Central and Northern Europe, but also much more settled and drier weather over the Alps.
By midweek, the High pressure is likely to become centred in Central Europe (1040mb), so a dry and quieter period of weather is likely especially for Western parts of the Alps.
Towards next weekend, the High pressure is currently suggested to edge back westwards allowing a Northerly to become established over the Alps, feeding in colder air from Scandinavia and with unsettled conditions further precipitation is expected.
Temperatures
A cold weekend, but slowly turning much milder from the west by the start of next week, with a notable West-East split in terms of temps with the further West you go the milder the temperatures.

| | |
| --- | --- |
| Northern Alps | Germany, Northern Switzerland, Northern Austria |
| Southern Alps | Austria, South East Germany, North Eastern Italy |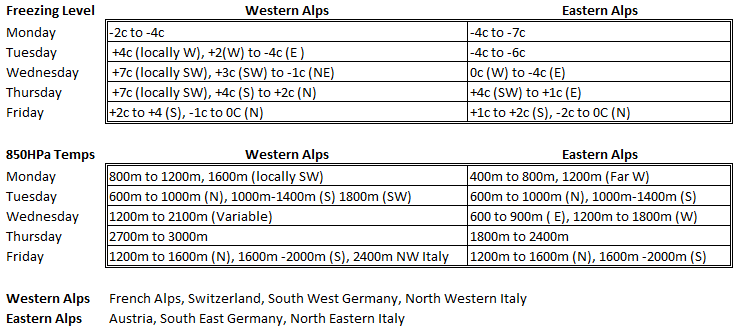 Precipitation Patterns
Weekend – precipitation seems likely in Western areas to start the weekend, this slowly edging eastwards into Austria overnight into Sunday. By Sunday Western areas look mostly dry, but further precipitation is expected in Austria this slowly fading later in the day.
Monday – a front is set to edge South Eastwards across the Alps, snow levels are set to vary between 800m-1000m in Austria, perhaps 1200m-1400m further West, but falling as snow to lower levels at times, and more especially into the evening.
Tuesday / Wednesday – Looking dry over the Western half of the Alps, any lingering precipitation fading quickly in the East on Tuesday, before further moderate precipitation edges into E Austria with snow to about 1000m.
End of Week – Further precipitation is possible as colder air potentially edges South.
Summary
A cold weekend with further snow over the Alps, turning milder around midweek, but some good skiing conditions possible, albeit with some slushy conditions, perhaps turning colder again before Christmas. Not perfect conditions but very acceptable especially given recent years.