Although we saw milder conditions move in across southern areas on Wednesday, we are not quite done with cold and wintry weather this week. Northern, central and western areas have seen snow overnight from wintry showers, as colder polar air moved in from the northwest across many parts overnight. It will stay cold on Friday and Saturday, as winds turn northerly for a time, with wintry showers near coasts but for many dry and sunny, clear skies leading to widespread frost overnight. It will turn gradually less cold from the west on Sunday though, with rain arriving in the north, with the general theme as we head into next week of mild conditions, with winds from the southwest, which will bring a lot of cloud.
Today
Following a squally band of rain, sleet and snow clearing east early last night, clearer skies over central and eastern areas and colder air following from the northwest have led to temperatures plummeting close to freezing leading to a risk of ice on untreated wet surface to watch out for this morning, particularly the Midlands and mid-Wales north. Although many eastern areas are starting clear this morning, frequent wintry showers continue to pepper western areas, falling as snow inland across Scotland and over the hills further south and driven through by a strong westerly wind, making for some atrocious conditions over higher routes.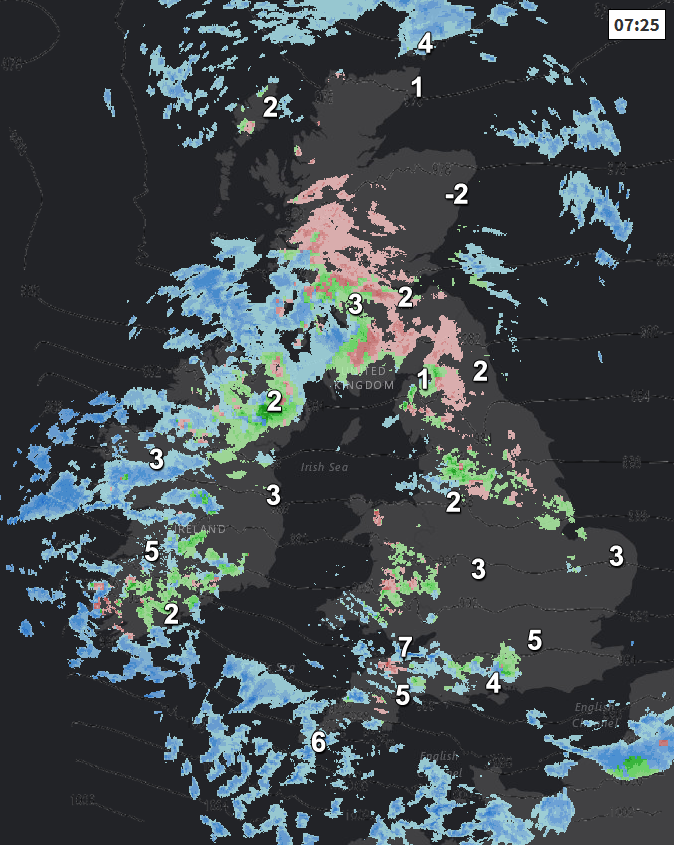 And pretty much this scene this morning will continue throughout the day, with further frequent wintry showers affecting western areas, bringing snow over the hills, with a few showers getting through to eastern areas too. Showers perhaps merging into more organised areas of rain, sleet and snow across central Scotland at times, which could bring some disruptive snowfall over higher ground. But for much of the eastern side of England it will be dry and sunny most of the time. A windy day, with gales across the southwest and later across NW Scotland. A colder day than Wednesday too, temperatures reaching 4-6C generally, lower where there is snowcover, perhaps 7C across far SW of England. Feeling colder than temperatures suggest in the strong wind.
Tonight
Windy in the west but winds easing towards the east while wintry showers generally become confined back to northern, western and eastern coasts tonight, as winds switch to a northerly. Under clearing skies a widespread frost will develop by dawn away from coasts. A risk of ice forming on untreated surface where showers have fallen today.
Friday
So, a cold and frosty start to Friday, for many it will stay dry and sunny but cold throughout the day, but there will be some wintry showers down North Sea coasts, across northern Scotland, coasts of Northern Ireland and down through the Irish Sea and west Wales. Perhaps not as cold as the last northerly we had, temperatures reaching 3-6C in the north and east, perhaps 7-8C across the far west.