Tonight will bring the peak of this year's Geminid meteor shower. You may glimpse 'shooting stars' on other evenings as this isn't an On/Off affair but Wednesday 13th into Thursday morning is when the highest number of meteor sightings is likely.
It is a bit of an ask, to sit out at night in December. I sat out in the Channel Islands in August to view the Perseids and saw a lovely show, but even that was a bit cold by midnight. You have to sit and let your eyes adjust and wait. An hour is ideal time, so put on a hat. Popping in and out of the house to warm up, means you could miss out. But when one streaks across the sky, it is incredible. And there is the likelihood that this Geminid show could be quite special. The Perseids come from ice particles in the tale of the Comet Swift Tuttle. The Geminids are linked to a more complex asteroid/comet object, 3200 Phaethon, known as a rock comet and is relatively near to the earth this time. There is some mystery surrounding the debris which causes this meteor show.
Around 70 meteors per hour are expected and 2am will be the peak. This meteor show is bright and energetic so although dark skies are preferable you could still spot meteors in towns and cities. The constellation of Gemini is in the eastern sky in December but having a wide view of the night sky helps more than direction. Some will be small and short-lived, if there is more than one of you watching then keep an eye on different sections and shout. Others are impressive, and move right across the sky with an apocalyptic tale, the one I saw had an orange tinge.
It is more likely people will see meteors on their way to work, or end of night shifts, in the few hours before dawn. There isn't a full supermoon like earlier in the month so that light won't spoil things, just a waning crescent and you may spot a planet low in the sky too, (Mars in the eastern sky).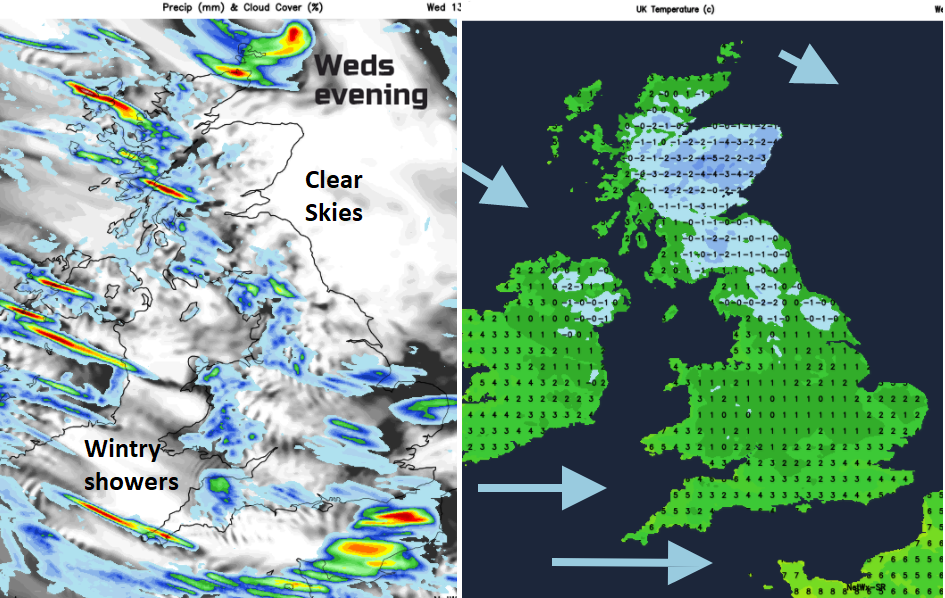 So what about the cloud cover? There will be a lot of clear skies but also showers coming in from the west. There will be a brisk wind, moving the shower on, so clouds will come and go but the breeze will add to the wind chill. Eastern Britain will always have the clearest skies, although early in the evening, a band of rain and wintry showers will pass over southern Britain. It's not the best night for viewing unless you have a sheltered spot, or just a great view of the sky from your home. It will be cold, windy and for western Britain and Northern Ireland mixed skies with wintry showers.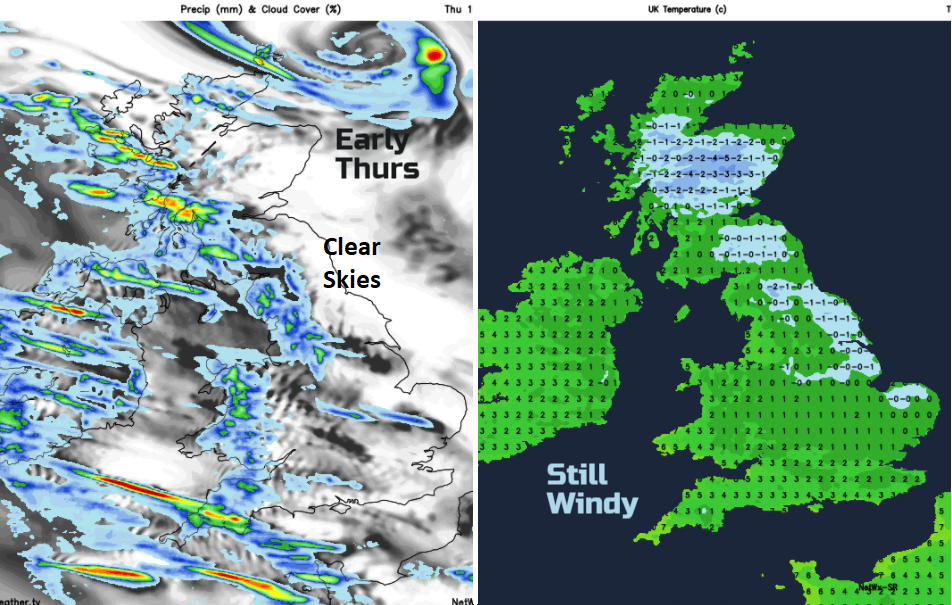 The Geminids are visible from 7th til 17th so if it is cloudy for you tonight you could look later in the week. Although the weather stays unsettled and cold, with a brisk cold wind from the NW, bringing more wintry showers but just to different areas. I think I may prefer summertime Perseid spotting, but this could still be a stunning show.