It's not as cold this morning, mild in fact for the far south and southwest. There is a lot more cloud around and rain from several frontal bands stretching north-south through the UK. Our weather is now heading in from the Atlantic, so it is blustery, unsettled and less cold for the middle of the week. However, colder air will return from the north by Friday, with a frost.
There is still some ice about this morning, mainly for NE Britain. There is more snow to come over the Scottish mountains, and the highest ground of northern England but overall it is mostly rain this morning with a brisk southwest wind.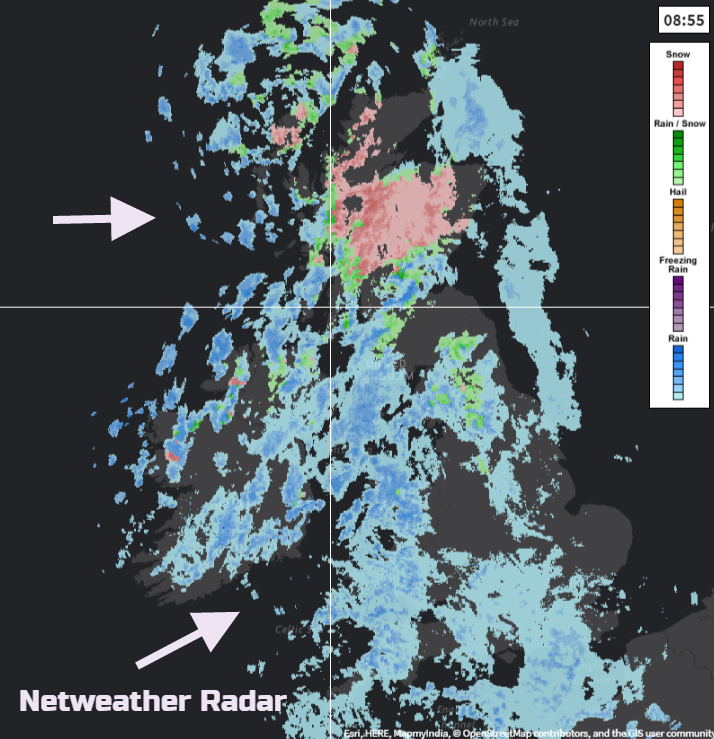 Western Britain and Northern Ireland will see the most rain today, whereas it will be more sheltered further east, especially for Grampian. With today's rain and melting snow there could be some flooding issues.
Local flooding is possible from surface water and rivers in parts of Wales and central parts of England on Wednesday into Thursday due to a combination of rainfall and snowmelt. Lands, roads and some properties may flood and there may be travel disruption.
Environment Agency
There will be a cold front moving through with the wind veering to a westerly. The winds will strength for SW Britain by this evening and with showers continuing to flow in from the west, more will have a wet, wintry mix with the chance of a bit more snow settling for Welsh mountains and Exmoor and the hills of Northern Ireland and flurries elsewhere. These showers will run over western Britain and Northern Ireland this evening as a frost returns to the northern half of the UK. With a fresh west wind, strong around the coasts it will feel cold for southern Britain even if temperatures stay at 2 or 3C.