There will be a cold front moving through with the wind veering to a westerly. The winds will strength for SW Britain by this evening and with showers continuing to flow in from the west, more will have a wet, wintry mix with the chance of a bit more snow settling for Welsh mountains and Exmoor and the hills of Northern Ireland and flurries elsewhere. These showers will run over western Britain and Northern Ireland this evening as a frost returns to the northern half of the UK. With a fresh west wind, strong around the coasts it will feel cold for southern Britain even if temperatures stay at 2 or 3C.
By Thursday the showers will be more scattered, still a mix of rain, sleet and hill snow with brisk west winds and rain lurking in the English Channel. Temperatures will be much lower, about 4 or 5C by day and in the evening the winds will begin to veer to the north.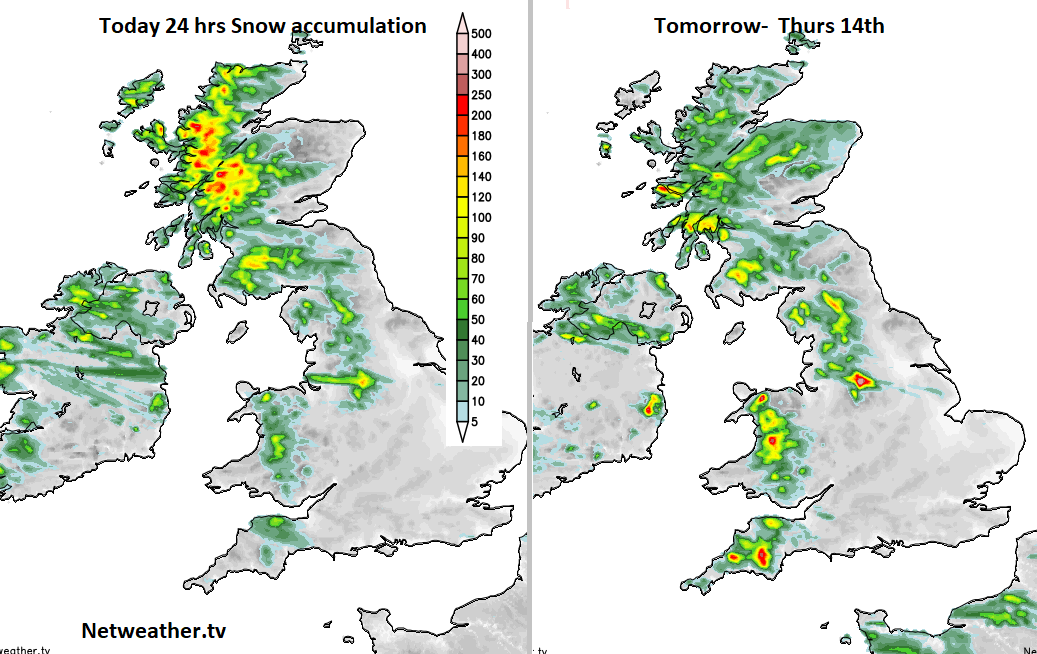 Lines of heavier snow showers may appear for northern Scotland and the wind chill will increase. Friday will be cold again, but the temperatures won't be as low as at the start of the week. There will be showers in the north flow coming down as rain, sleet and wet snow and the fresh NW winds will be noticeable.
A frosty Friday night and then pressure begins to rise from the west. This will subdue the showers and bring a good deal of fine sunny weather but there are signs of a front toppling over the high which could bring rain or snow in from the far NW. Don't rely on Saturday being completely dry. Sunday looks good as the winds turn to the SW and it becomes less cold for the end of the weekend.