Last night was officially the coldest night of the year so far, with a very cold -13.0C recorded at Shawbury in Shropshire, with most of the UK widely below freezing at dawn this morning. However, if you are dreaming of something milder on your cold journey to work, you will be in luck, as milder conditions spread in off the Atlantic for tomorrow, though with it some cloud and rain. However, the cold air returns to the north later tomorrow and through Thursday, before cold conditions with a risk of frost returns across all parts for Friday and the weekend – as winds turn northerly.
Today
So we start Tuesday on a very cold, icy and frost note, lowest temperatures of minus double figures over the snowfields of central, northern and western areas. Watch out for ice on roads and pavements on the journey to work, particularly where rain, sleet and snow has fallen over the last few days. Also watch out for some freezing fog patches across central areas. Many areas have clear skies, which have lead to the temperatures falling well below freezing, with just a few showers dotted around western and eastern coasts.
Through the morning and into the afternoon, showers will fade around coasts with most areas keeping clear skies with prolonged sunny spells throughout. But despite the sunshine, it will be very cold, with temperatures struggling to get above freezing where there is snow cover, elsewhere reaching 1-4C at best, perhaps up to 5-8C across the far west, where we will start to see a change as cloudier skies and outbreaks of rain and hill snow arrive from the west across N. Ireland this morning and eventually western Scotland by dusk.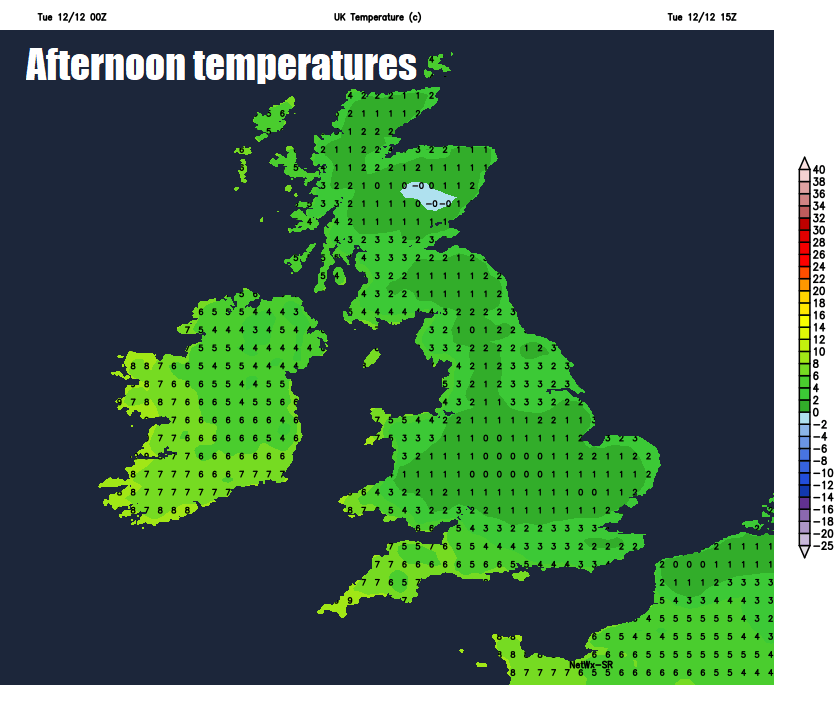 Tonight
Then through this evening and overnight, an occluded weather front will spread cloud and outbreaks of rain eastwards across all parts, less cold air arriving too, but not before some hill snow for Scotland, N. Ireland and northern England as the rain arrives. Skies may clear from the west for a time, as the rain clears eastern areas towards the end of the night, but likely staying frost-free, before more rain arrives across the far west.
Less cold air with rain moving in from the west tonight