Wednesday
So, a generally frost-free start to Wednesday. We lose one front with its rain from the far southeast first thing, however, after a brief dry and perhaps bright interlude, more rain and strengthening westerly wind will spread in from the west. The rain will be quite heavy in places, perhaps even with the odd rumble of thunder, falling as snow over the Scottish mountain but perhaps increasingly to lower levels in the northwest, as colder air returns. Gales developing across the southwest in the evening. Across southern England, Midlands and south Wales is will be a much milder day, with temperatures reaching 9-10C, but further north turning colder, with 4-6C at best by late afternoon.
Thursday
Quite a windy day and colder on Thursday, with the strong westerly or northwesterly wind driving in showers across northern and western areas and along southern coastal counties, falling as snow over the hills and perhaps to lower levels at times in the north. Gales around coasts in the southwest. Eastern areas perhaps staying dry and sunny. Temperatures reaching 6-8C across the south, northern areas reaching 3-5C at best.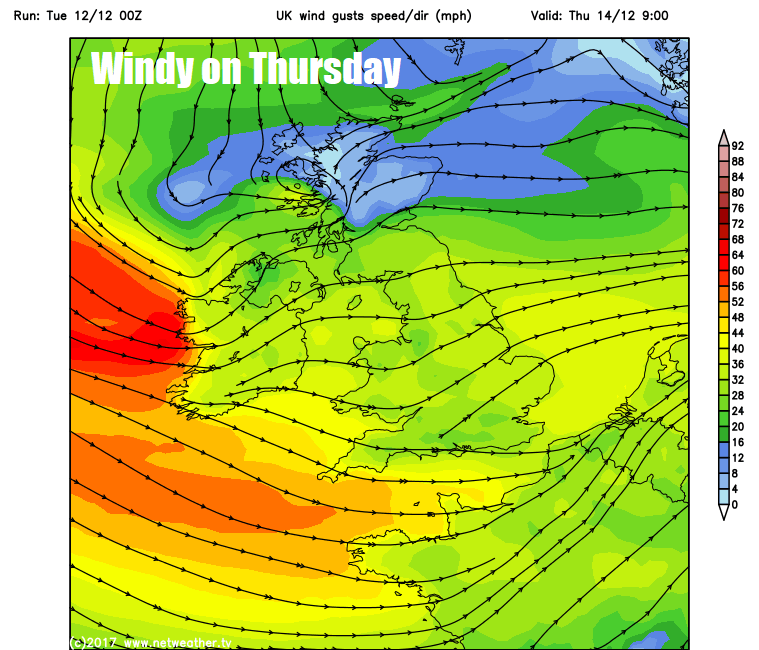 Friday
Then on Friday, winds turn more northerly with cold conditions in the north spreading south across all parts. Wintry showers affecting the far north and down along western and eastern coasts. Frost returning Friday night across most parts, as skies clear.
Weekend
The northerly wind and coastal showers easing on Saturday, with most areas enjoying a dry, sunny but cold day. Another mostly dry, bright or sunny but cold day on Sunday, though perhaps a little less cold in the south. However, across the far west, we may see cloud and rain arrive off the Atlantic across N. Ireland, western Scotland and west Wales by dusk.