Across South Wales and southern England, it's a totally different story. Here it'll be much milder, with temperatures in the range 8 to 10C. It'll be cloudy though and wet at times, with bursts of showery rain heavy in places at first. A South West wind will be fresh and blustery, with severe gales likely across parts of Dyfed, the South West and the Channel Islands where gusts in excess of 60mph are possible for a time before winds begin to decrease towards dusk.
After a dark, it'll be the turn of France to see some severe weather as storm 'Ana' moves in. This'll bring further rain or sleet to the far South and South East later in the night, and as winds turn into the North, the colder air will spread South perhaps bringing some snow to the Cotswold and Chiltern Hills by morning. Across much of Wales, the Midlands and to the East of the Pennines there'll be a few wintry showers and where skies break there'll be a frost, leading to widespread ice on any untreated surfaces. Remaining areas see clear spells and a moderate locally severe frost, with the North and West of Scotland and parts of Northern Ireland continuing to a scattering of hail or snow showers. Lowest temperatures in the South 2 to 5C, but -8 to 0C elsewhere depending on cloud cover.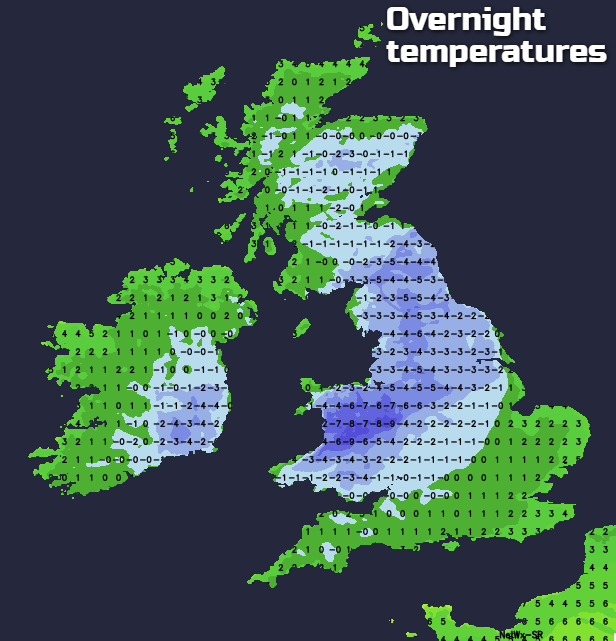 The very raw Arctic air returns South to all parts on Monday, on a freshening and blustery North wind. There could be gales perhaps severe through the Dover Straits and exposed areas of Kent for a while before winds moderate a little through the day.
East Anglia and the South East see outbreaks of rain, sleet and mostly hill snow, with wintry showers moving into districts bordering the East coast later. Scotland and Northern Ireland see a scattering of wintry showers, but elsewhere, you have a better chance of seeing sunny intervals. Further accumulations of snow are likely on hills especially in the North, with top temperatures no higher than 2 to 4C in the North and 5 to 7C in the South.
After dark, it should be a story of clear intervals and scattered wintry showers in a raw North West wind that'll slowly decrease. The showers falling mostly as hail, sleet or snow will be most frequent over northern Scotland and across Northern Ireland at first. Some will also come through the 'Cheshire Gap' to affect Manchester, Merseyside and the West Midlands, before fading towards morning as a transient ridge begins to move in from the West. There'll be a widespread frost again, with lowest temperatures mostly in the range -4 to +2C.