Winds
The strongest NW winds will move from Lewis across Caithness to the Northern Isles during today. Severe gales even storm force winds with gusts over 90mph are possible. This morning for the NW and this afternoon for the far NE. Gales and severe gales will affect Scotland with a wild westerly wind funnelling through the Central Belt this morning. Gales will also affect Northern Ireland and northern England with gusts around 60 to 70mph. Further disruption and cancellations to transport seem inevitable with power outages also likely. The gales continue overnight for the Northern Isles and for Shetland into Friday.
Around Orkney the Inshore waters forecast:
Wind - Southwesterly, veering westerly or northwesterly, gale 8 to storm 10, occasionally violent storm 11 at first in north.

Sea state- Very rough or high, becoming very high at times in northwest
Then the UK will be left in a cold Arctic NW wind throughout Friday and Saturday.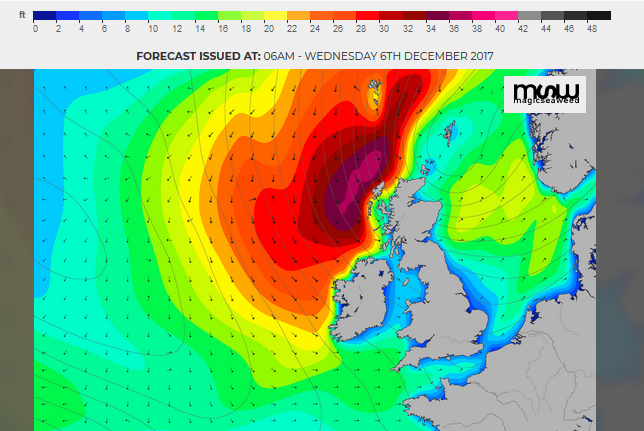 Water
The cold front has brought heavy rain this morning, and there has been coastal flooding in SW Scotland at High tide. There are more alerts and warnings from the various Flood agencies across Britain. A combination of more rain, high tides, a large swell pushed ahead of the low pressure means there will be dangerous conditions around some coasts,
SEPA - The greatest impacts are expected to be spray and wave overtopping which could see flooding to low-lying areas and at-risk properties on exposed sections of coastline. Thursday brings very large waves and a storm surge to coasts
Live flood alerts for Britain https://www.netweather.tv/live-weather/flood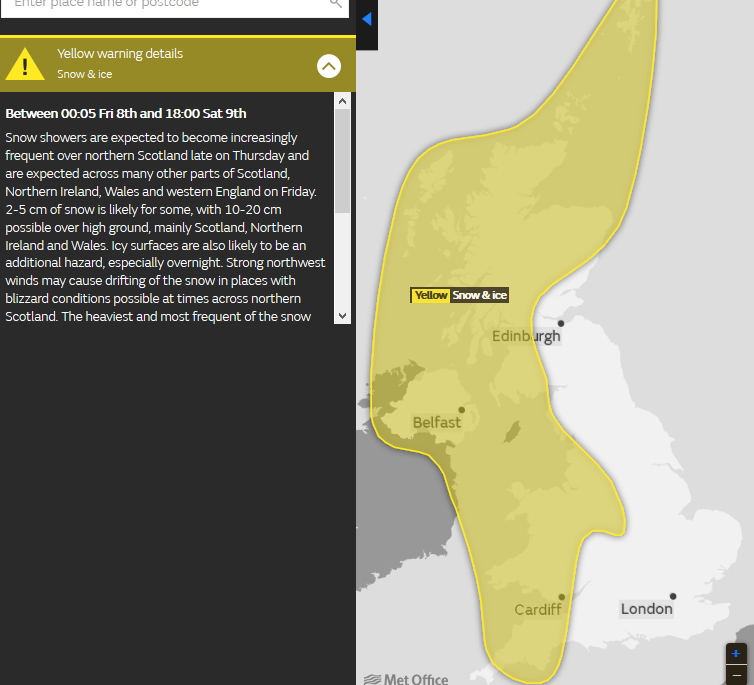 Cold air
After the extreme winds and high seas, it will be cold wintry conditions causing issues. Snow showers, blizzards, frost and ice.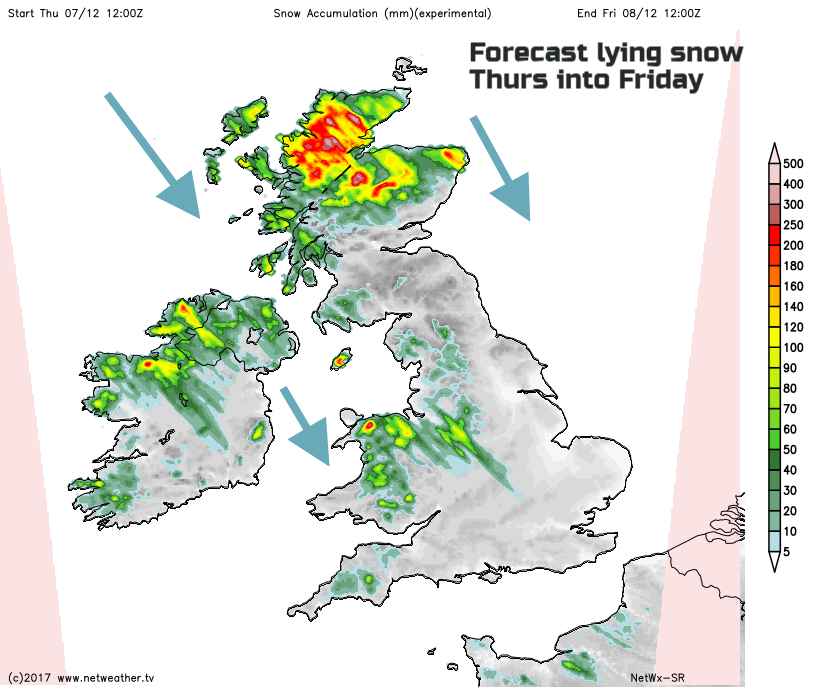 By the end of Thursday, NW Scotland will see the showers turning to snow and blizzard conditions. It will be bitterly cold as the wind chill increases; temperatures fall to around freezing. Northern Britain and Northern Ireland will have a severe frost with temperatures down below zero. Friday will reach +5C in the south and stay at barely +1C in the north. It will be areas exposed to the NW wind seeing the snow and hail showers.
Friday
By Friday the UK will be in a cold, unstable, NW flow with bitter Arctic winds. There will be a lot of fine sunny weather about, especially for central, southern and eastern Britain but also snow and hail showers. These will be blown along northern and western counties of Britain and Northern Ireland, with 10-20cms of snow possible for the high ground. In the strong winds, showers will make good progress through Wales, perhaps lining up through Cheshire and reaching the Midlands. In these situations, "Cheshire Gap", certain narrow sections of England can see significant snowfall. Whereas a mile or so down the road, nothing. Worth watching the radar in this kind of setup. They will filter through the North Channel and the Irish Sea, over the Isle of Man, SW Scotland, more of Northern Ireland and some will reach SW England. Northern Scotland continues to get hit by more heavy, blowing snow in areas exposed to the winds. There has been a signal for a heavier trough line to move down through Scotland on Friday evening, so that could bring snow to more areas.
Saturday
The winds and showers begin to ease on Saturday. It will still be cold with a frosty start but not as bitter without the strong winds. Snow showers will continue for northern and western areas but easing in the west as the day progresses. Showers will run into NE Scotland, but it looks like they should miss eastern England with the winds far enough to the NW to keep the flow offshore along North Sea coasts.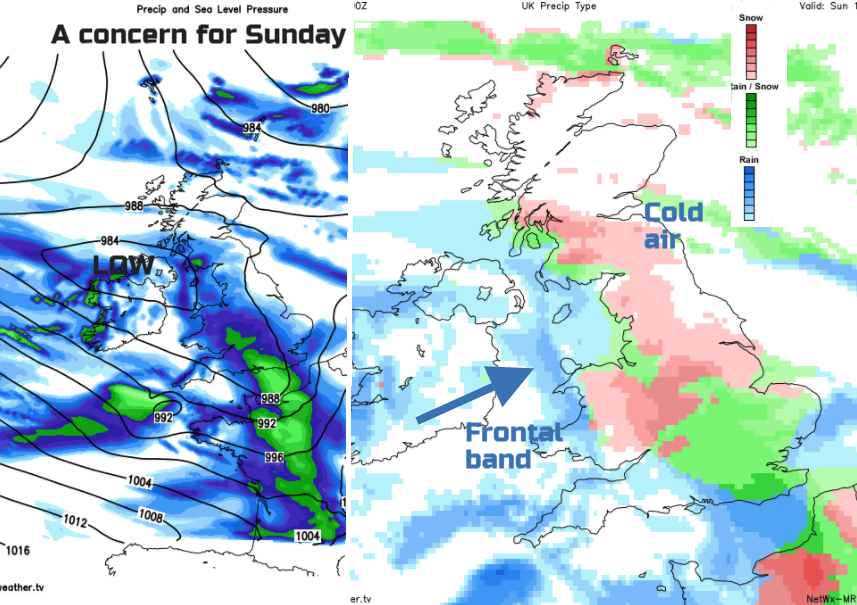 Sunday
There has been a lot of variation in the forecast for Sunday, thanks to a frontal system heading in from the Atlantic and potentially coming up against the cold Arctic air. The position of the low has reached from Northern Ireland across central Britain or just moved past SW Britain. It does seem there could be a spell of wintry weather for southern Britain Sunday maybe into Monday. Whether this is just sleet, wet snow and a cold, wet end to the weekend, or something white and sparkly still remains to be seen.