It will be a cold and breezy weekend in a northwesterly flow, but there will be plenty of sunshine on offer for central, southern and eastern areas. Northern and western areas will see showers which will be wintry in nature, with snow over higher ground during the day and perhaps lower levels at night. Wind and rain with less cold conditions will sweep southeast on Monday, before colder conditions return from the north on Tuesday, with northerly winds prevailing for the rest of the week, which will bring wintry showers to windward coasts while inland areas stay mostly dry and sunny. A risk of hard overnight frosts where skies clear.
Today
For now, it's a cold, crisp and frosty start for many – temperatures fell to -5.2C at Topcliffe in North Yorkshire and -4.9C at Benson in Oxfordshire. There have also been some wintry showers overnight pushing in across northern and western coastal areas, falling as snow and settling over higher ground, but snow also getting down to lower levels in heavier showers – with some of these showers filtering through across the Midlands too. Where showers have fallen and temperatures are close to freezing first thing, there is a risk of ice to watch out for on untreated surfaces. The Met Office has a warning out for ice this morning and tonight in these areas.
For the rest of the day, eastern Scotland, southern and eastern England will stay mostly dry and sunny. But showers will continue across northern and western areas, filtering through to central parts at times. These showers will fall as rain, sleet or hail at lower levels and snow over higher ground, but in the heavier showers, some flakes of snow can't be ruled out at lower elevations. The odd rumble of thunder can't be ruled out too. More persistent rain, sleet and hill snow is likely across northern Scotland, where gales are likely around coasts.
A chilly day everywhere in the blustery northwesterly wind, coldest in the north. Temperatures reaching 3-5C at best across Scotland, N. Ireland, northern and eastern England, perhaps 6-7C across southern England and south Wales. In the wind it will feel closer to freezing – especially in the north.
Tonight
A deep area of low pressure moving down along the Norwegian coast tonight will bring gale force northwesterly winds across northeast Britain overnight and the blustery northwesterly wind will continue to blow in wintry showers across northern and western parts of the UK, with icy patches forming on untreated surfaces where showers have fallen and temperatures fall close to freezing. Elsewhere, a widespread frost forming in rural areas, though with the stronger wind tonight, perhaps not as cold as last night.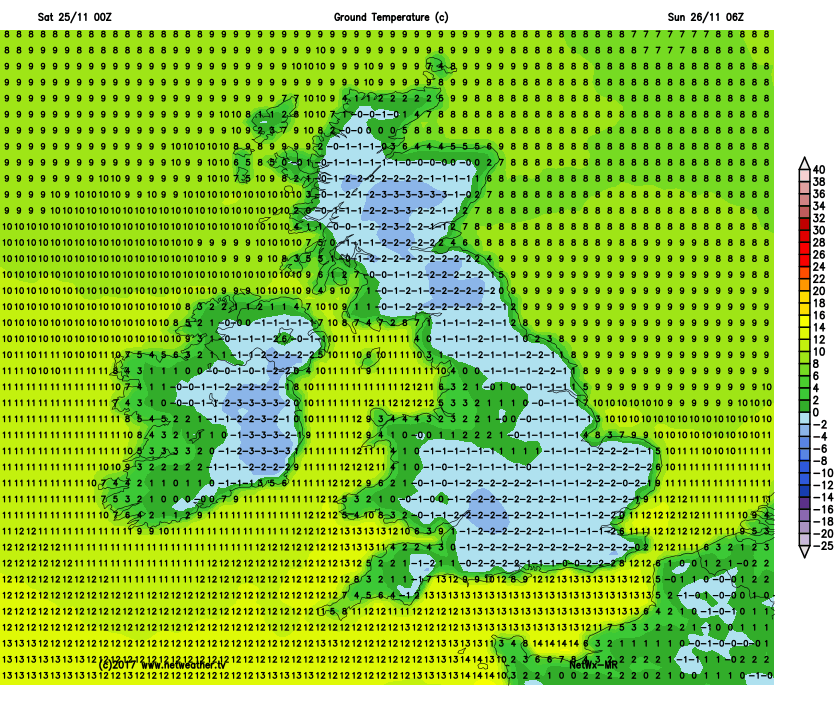 Sunday
Further wintry showers at first across northern and western parts on Sunday, perhaps falling as snow at lower levels first thing, before snow becomes confined to higher ground in the morning. An area of high pressure moving in from the west on Sunday will mean showers will ease and fade through the day though. Elsewhere, a mostly dry, cold and sunny day after a frosty start in places. Becoming cloudier towards the northwest by evening, with rain arriving from the northwest through the evening across northern and western areas, preceded by snow over higher ground. Temperatures reaching 4-6C in the north, 6-9C in the south, feeling a little less cold as winds ease through the day.