Well, that was a lively 24 hours or so. For those in flood-affected areas, the good news is that the worst of the rain has now passed through, although there will be some showers following into the northwest. The winds are still blustery, but they've eased back from their peak, and the heavy, persistent snow will clear northern Scotland this morning.
That's not to say that there's not a lot happening weather wise as we close out the week though. As is becoming traditional this Autumn (5th week running), the colder air already in the north is on its way south for the weekend. By first thing Saturday, it'll be right across the country.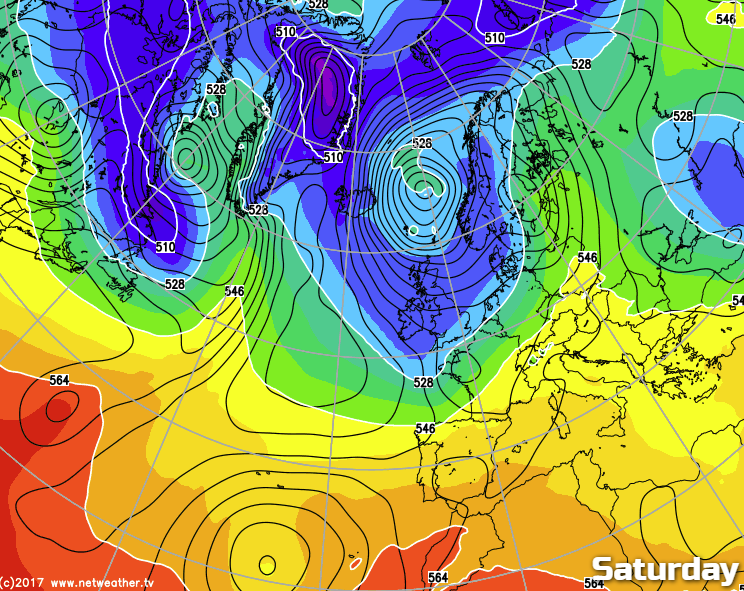 Back to the here and now, it's only the southeast left in the much milder air for now, as some places didn't drop below the teens overnight. The start of the cool down is on the way even here though, with temperatures falling back during the morning. Elsewhere, it's already colder with plenty of sunny skies in eastern and central parts, but also showers moving in from the west. The persistent snow which has affected Scotland overnight will clear to showers, these most frequent in the north and west, and still falling as snow over the hills especially.
For the northwest of England and southwest of Scotland, which have had a real soaking during the last 24 hours (see below), there's a little respite. But sharp showers will be moving through during today, which may serve to exacerbate any flooding issues.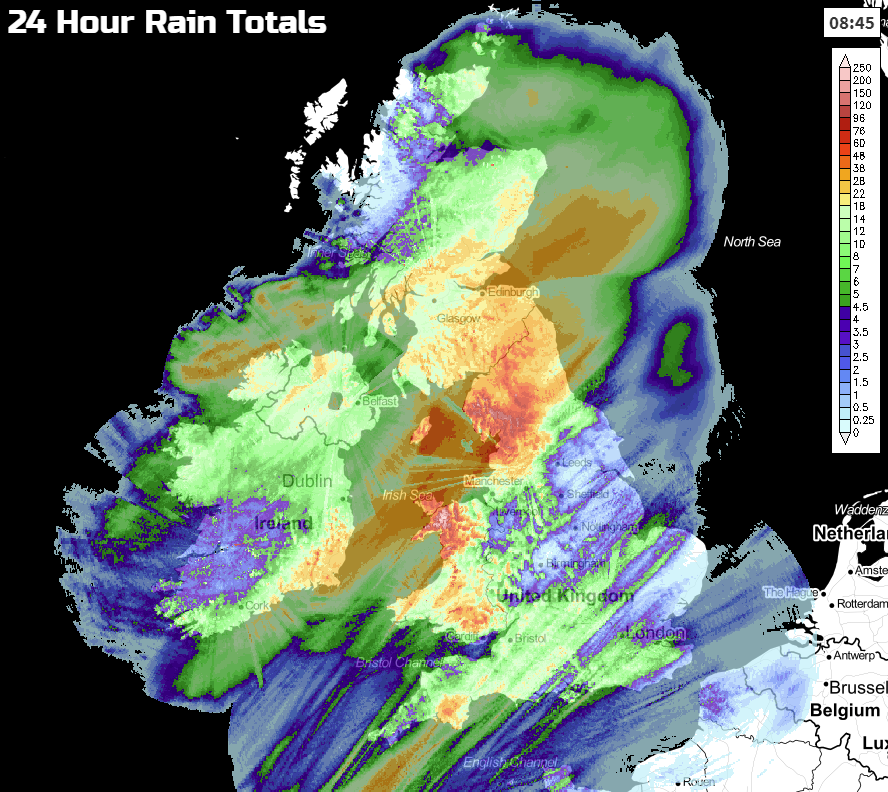 Track the latest rain, sleet and snow on the radar.
This evening and overnight, increasingly wintry showers will continue to affect western regions. There'll also be a widespread frost from the midlands northward, with some icy patches possible. Further south, some rain is likely to move up from the southwest, and as it meets the colder air edging down from the north, may turn to sleet and snow in places. There's some uncertainty over high far north the rain, sleet and snow will make it, so it may not make it as far north as shown in the animation below. But you can see it turning to snow up over the moors of the southwest initially, and with that rain, sleet and snow mix moving east overnight.