November has given just a little bit of snow, over the high ground of northern Britain. It has been cold with frosts but no sustained chill as the weather flips from mild to nippy and back again. The Netweather forum coldies are leaping on the new runs of the forecast models for signs of a Scandinavian High. An anticyclone to the NE of the UK which could bring us a dry, cold easterly winds, and the chance of proper snow to southern parts in a lingering cold spell; The Beast from the East.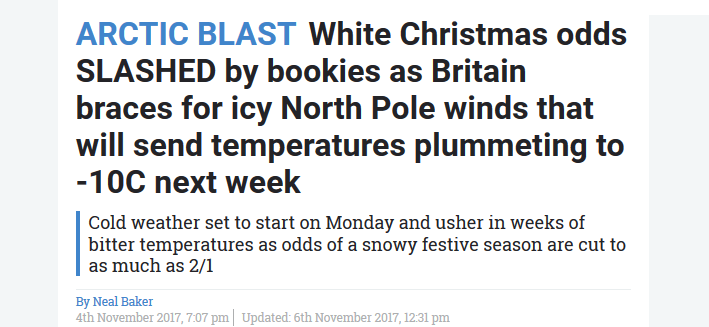 More likely to produce UK snow are wintry showers coming down in a northerly flow. Proper cold Arctic air, like on Remembrance Sunday bringing sleet and snow showers which will tend to clip northern and eastern coasts, sometimes finding their way down the west coast to Northern Ireland and along the North Channel. The chart below shows Met Office historical data of falling snow on Christmas Day. Snow lying on the ground doesn't count, there has to be a falling snowflake seen at the various official recording stations, which are usually Met Office observations from Airports.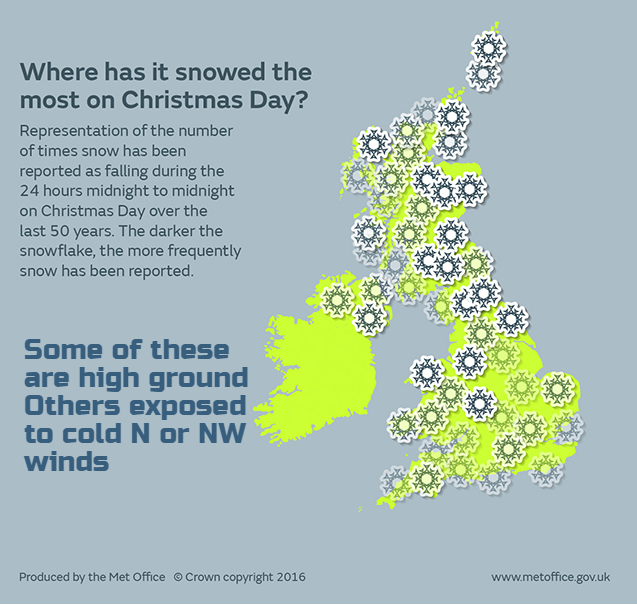 Another way which the UK can get snow is from a frontal band coming in from the Atlantic. It comes up against cold air over the UK and can turn to snow. This can be tricky to forecast, with small changes in timings and intensity resulting in "just rain" or winter chaos on the M5 at rush hour.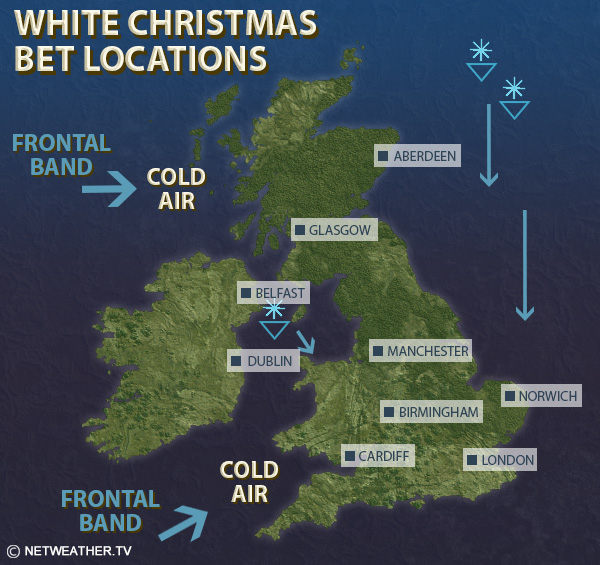 Notable White Christmases 2004, 2001, 2000, 1999, 1995, 1993, 1970, 1968, 1964 with many stations reporting falling snow. Years when there was also plenty of lying snow and so the Christmas card scene; 2010, 2009 and 1981. The deepest recorded snow on Christmas Day was in 1981 with 47cm, half a metre in Perthshire, central Scotland.The Yorkshire Dales had 43cm of lying snow in 2009 with two decent snowy winters to follow.