After a cold clear Bonfire Night, we have a chilly frosty morning. Temperatures in NE Scotland dipped to -6C at Aboyne with many parts of inland Britain down below freezing this Monday morning. A bit of extra time will be needed to scrape the windscreen but already changes are afoot from the NW. More cloud and some milder air beginning to creep in.
And this week we will see a lot of chopping and changing. Bands of rain with blustery winds and more cloud with short calmer, clearer lulls and a bit of frost. Overall, the far NW sees the most rain, through much of this week.
It looks like we will see a slow moving cold front move through Monday night and Tuesday, another frontal system Wednesday night and then a deeper area of low pressure might whizz past northern Scotland Thursday night. In between a bit of frost on Tuesday evening in the SE and more sunshine for Wednesday.
This morning, it is chilly for the SE half of the UK, there is frost and some mist and fog about. Yet it is a fine morning. For the NW half there is more cloud and outbreaks of rain in the far NW. The southerly wind is being to pick up too. The warm front brings milder air, but the main rain band will be on the cold front which will take its time to move SE. Scotland, Northern Ireland, western Wales and NW England become grey and damp, with heavier rain for western Scotland. Much of inland Wales and the rest of England have a fine day but quite cool at only 9 or 10C. Northern Ireland will feel milder in the warm sector at 13 or 14C but blustery. The winds will freshen and there could be gusts of 60mph for exposed western coasts, reaching the Irish Sea and North Channel this evening and overnight.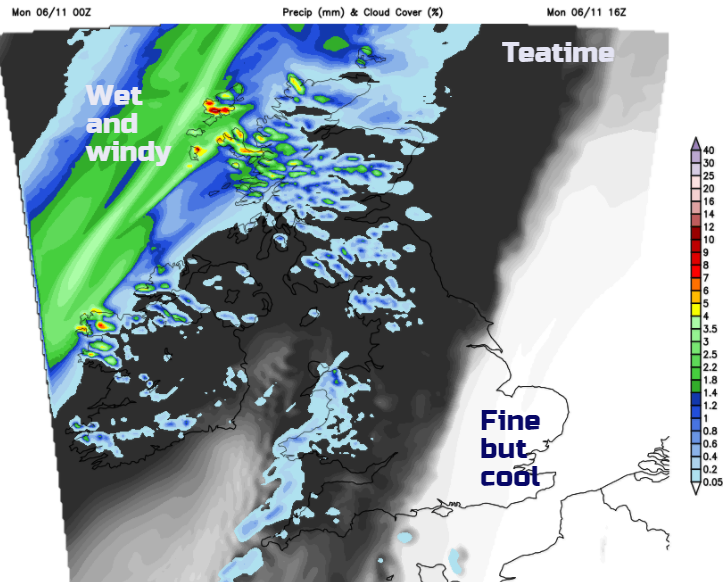 Ahead of the rain band there will still be a pool of cool air over SE England and maybe a touch of frost tonight in rural spots under clear skies with light winds. As the rain band moves across the Irish sea there will be a spell of wet and windy weather overnight with heavy bursts for western hills. Behind this will be colder air, so a chilly but sunny start for Northern Ireland and Western Scotland by Tuesday morning.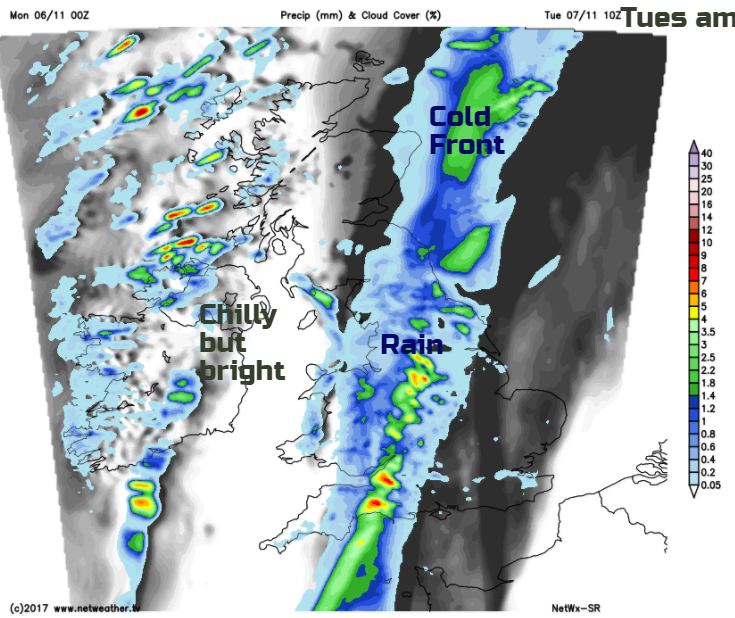 The rain soon clears from Wales and eastern Scotland on Tuesday morning but will take all day to move SE over England. It will be blustery and wet and feel quite miserable as the rain passes. Behind this the skies will brighten yet it will feel col and there will be showers in the far NW, wintry over the mountains,
Tuesday night then will be clear, calmer and cold. A widespread frost is likely.