By Thursday evening, the main band of rain should be over Northern Ireland and SW Britain with some heavy and persistent rain. We'll have to see if the pulse of rain clears off into the North Sea around Yorkshire or grazes along the coast right up into Aberdeenshire.
The winds veer from a southerly to a colder north-westerly as the frontal band moves across Wales and into England. The whole lot then heads off to Grampian and the Northern Isles by the start of Friday. The low pressure responsible for this bout of wet and blustery weather will take another band of rain across Britain on Friday morning, but this fades. So, we should see a spell of fair weather on Friday afternoon into the evening.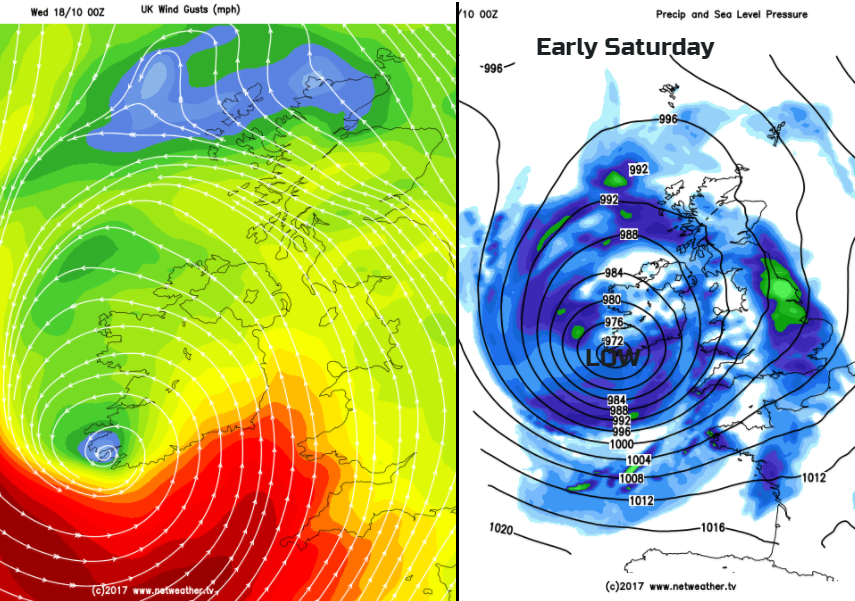 Stormy Weekend?
There are concerns already about the amount of rainfall the strength of the winds and large waves at the weekend. Depending on the developments of a deep area of low pressure out in the Atlantic we could see gales and high rainfall totals. Starting with SW winds Friday night into early Saturday with the potential for severe gales around SW Britain's coasts. If the low pressure does track right across the UK, it will be southern Britain which bears the brunt of the strong winds and gales, with rain across most of the UK. By the end of Saturday, if the low tracks off into the North Sea, the high gusts and rain will pull across a central swathe of the UK. There is still uncertainty about the actual track and the impacts of this low/storm, as it only just beginning to show its cold tops on the IR (infrared) satellite picture, right on the other side of the Atlantic.
If Met Eireann or the UK Met Office decides that the impacts of this low warrant an Amber (or Red) warning for Wind or Rain, then it will be named #StormBrian. Currently, there are no weather warnings from either bureau, a yellow Be Aware warning may be issued today to highlight the shape of the forecast for the weekend, but so far there is no name, and too many random people are jumping the gun. And after the real impacts and events of Ophelia (a former hurricane) this week, how helpful is the early/madeup naming of a Storm on social media? This being the third time, at least, that Brian has been named.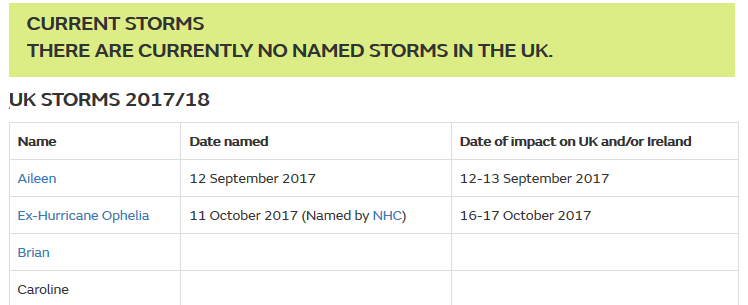 Yes, there is the potential for stormy weather this weekend but for now, keep an eye on the forecast and watch out if the warnings do appear. It is autumn after all.