The National Hurricane centre in the US continues to monitor Hurricane Ophelia, expected to become a powerful post tropical cyclone by midnight into Monday. Parts of Ireland particularly, but not just, the coasts will be subjected to damaging winds and dangerous seas during a stormy Monday 16th Oct.
Met Eireann have extended the areas under a status Red warning for winds.
This means
All unnecessary travel should be avoided on Monday, while the storm is passing..
Don't travel in Red level warning areas during the height of the storm unless absolutely necessary, and take due care if travelling in all other areas. Listen to local radio and national media broadcasts regarding the current weather situation.
Bus Éireann's schools transport services will not be operating in counties covered by Red level warnings. Because of the duty of care owed to children and to avoid the risk arising from travelling, the Department of Education and Skills is instructing all schools to act on the Department's advice and remain closed. Crèches and Montessori facilities should also remain closed tomorrow.
People are asked to check in on isolated and vulnerable neighbours today in advance of the oncoming severe weather conditions and again after the worst of the event has passed.
People are advised to remove patio furniture, rubbish bins and any loose items from around buildings, which can be turned into missiles by the wind.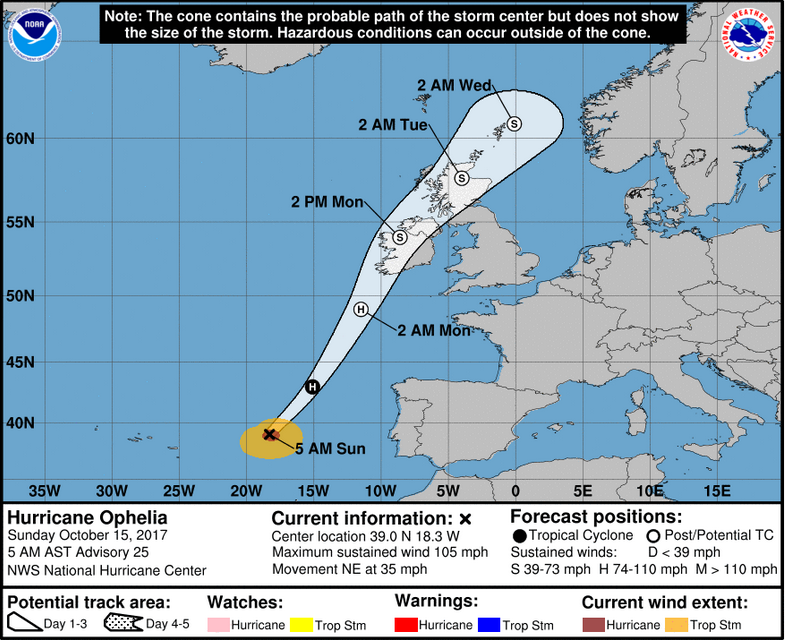 The track of this cyclone shows it changing from a real hurricane to an extra tropical (mid latitude) low. The circles change from black to white as it undergoes extratropical transition and leaves behind its tropical existence. It will no longer be a true hurricane by the time it reaches SW Ireland but it will still be a powerful low, capable of damage and disruption.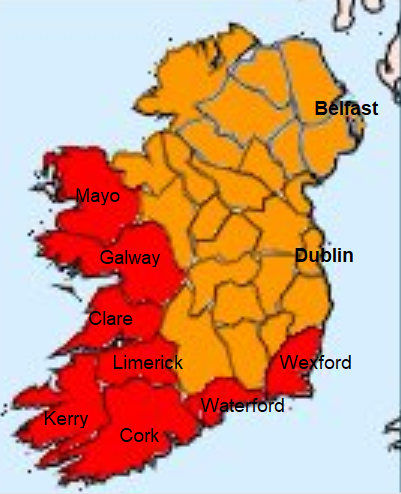 Warnings as 3pm Sunday 15th. Red and Orange alerts Met Eireann and Amber warning UK Met Office.
Early Monday morning the winds look to be from the northeast, with gale force ENE winds for the Mayo coast. The main force of southerly winds will then move up into the Irish sea, with gusts of over 80mph possible. The southerly winds veer to the SW with land gales and storm force winds along the coasts. Gusts over 80mph (130km/h) are likely.
An amber warning from the UK Met Office is out for late afternoon and evening for Northern Ireland including the evening rush hour, Be Prepared. This as gales are forecast to move further north in the Irish sea and affect more of the east coast.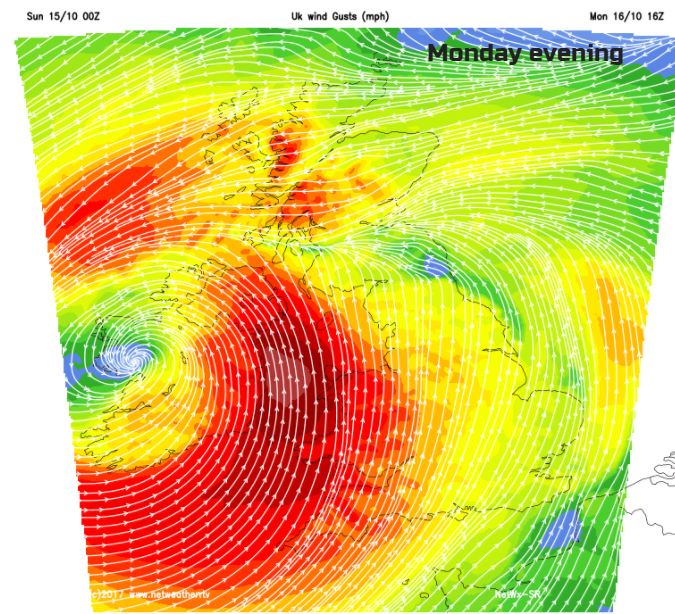 The gales continue across other parts of Ireland during the day, currently looking like being worse for eastern counties but there is still time for the track of this low to alter slightly so all parts should prepare and take care. Follow the advice and do realise this could be a very severe weather event.
Large swell above, spray, dangerous currents and waves. High seas. Advice is to stay away from coastal areas.
Irish Coast Guard Facebook
Coast Guard advises extreme caution to public as Met Eireann issues a severe weather warning bringing severe winds and stormy conditions to all coasts.
Public Safety.
Members of the public have been urged to heed the advice of the Coast Guard as Met Eireann has issued a severe weather warning Level Red to affect western and southern coastal counties tomorrow Monday with severe weather, storm force winds, very high seas and storm surges on all coasts tomorrow.
The Coast Guard strongly advises the public to stay away from exposed beaches, cliffs and piers, harbour walls and promenades along the coast tomorrow.
Remember to stay back, stay high and stay dry. If you see someone in difficulty in the sea, on the shore dial 999/112 and ask for the Coast Guard.
The winds will clear away to the NE through Monday evening, away by the small hours of Tuesday.
More weather chat and opinion in the Hurricane Ophelia thread and Ireland regional discussion area