Warnings as 3pm Sunday 15th. Red and Orange alerts Met Eireann and Amber warning UK Met Office.
Early Monday morning the winds look to be from the northeast, with gale force ENE winds for the Mayo coast. The main force of southerly winds will then move up into the Irish sea, with gusts of over 80mph possible. The southerly winds veer to the SW with land gales and storm force winds along the coasts. Gusts over 80mph (130km/h) are likely.
An amber warning from the UK Met Office is out for late afternoon and evening for Northern Ireland including the evening rush hour, Be Prepared. This as gales are forecast to move further north in the Irish sea and affect more of the east coast.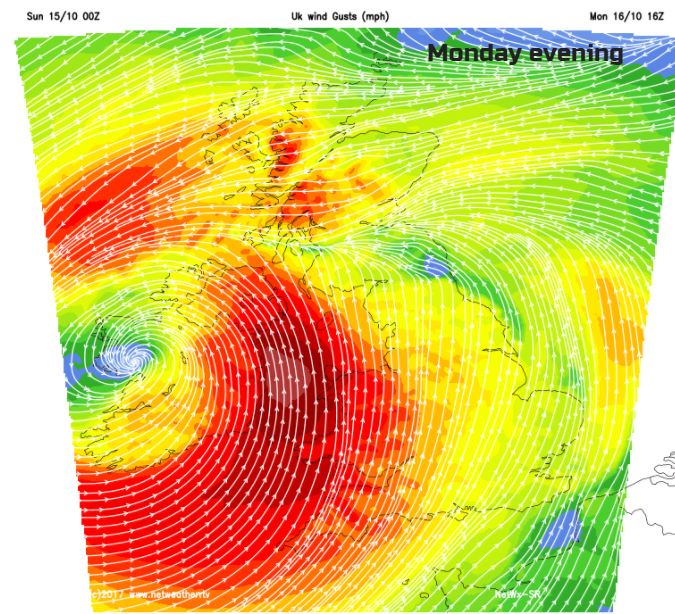 The gales continue across other parts of Ireland during the day, currently looking like being worse for eastern counties but there is still time for the track of this low to alter slightly so all parts should prepare and take care. Follow the advice and do realise this could be a very severe weather event.
Large swell above, spray, dangerous currents and waves. High seas. Advice is to stay away from coastal areas.
Irish Coast Guard Facebook
Coast Guard advises extreme caution to public as Met Eireann issues a severe weather warning bringing severe winds and stormy conditions to all coasts.
Public Safety.
Members of the public have been urged to heed the advice of the Coast Guard as Met Eireann has issued a severe weather warning Level Red to affect western and southern coastal counties tomorrow Monday with severe weather, storm force winds, very high seas and storm surges on all coasts tomorrow.
The Coast Guard strongly advises the public to stay away from exposed beaches, cliffs and piers, harbour walls and promenades along the coast tomorrow.
Remember to stay back, stay high and stay dry. If you see someone in difficulty in the sea, on the shore dial 999/112 and ask for the Coast Guard.
The winds will clear away to the NE through Monday evening, away by the small hours of Tuesday.
More weather chat and opinion in the Hurricane Ophelia thread and Ireland regional discussion area