Southern Britain and eastern England will manage to see the best of the weather. It will mainly be breezy and bright with sunshine. The rest of Britain and Northern Ireland will be windy with rain, heaviest in the west. The strongest winds do ease down this morning, although still with gusts of 50-60mph for exposed routes. Northern Scotland becomes brighter behind the front and will feel cooler at around 15C with gales returning for the Northern Isles. Away from the rainy parts, it will feel warm at 19 to 21C (70F).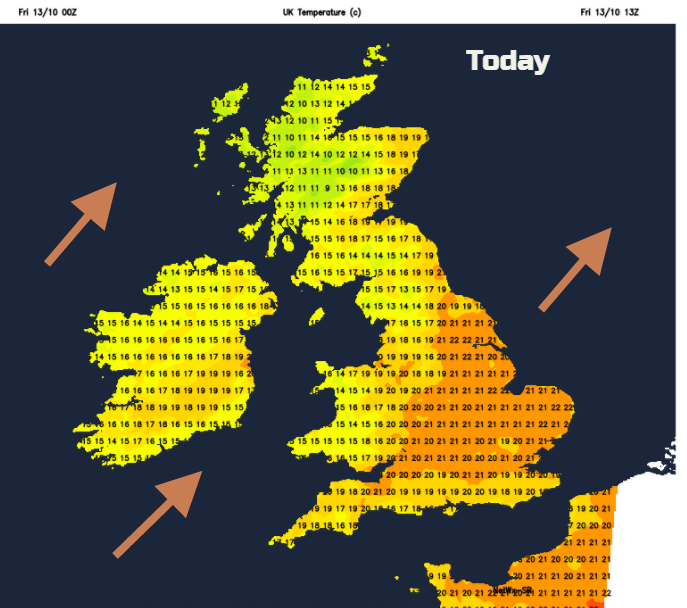 By Friday evening the frontal band of cloud and patchy rain should be across Wales, the Midlands, northern England and southern Scotland with damp conditions for western parts. Scotland turns cool overnight as much of England and Wales stays mild.
The low pressure bringing today's wet and windy weather will have moved over Iceland and be drawing away through Friday night. The frontal band begins to nudge northwards during Saturday. We have 3 parts, a fresher brighter area in the far north, the cloudy band with dampness and the real warmth and fine weather to the south. As the frontal band waves up over Northern Ireland and Scotland, the temperatures will rise here too. South to SW winds and temperatures in the high teens/low 20sC. We'll have to see when the front reinvigorates, as it could bring wet weather into Northern Ireland and Western Scotland during Saturday afternoon, or stay dry and the rain only moves into NW Scotland during Saturday night.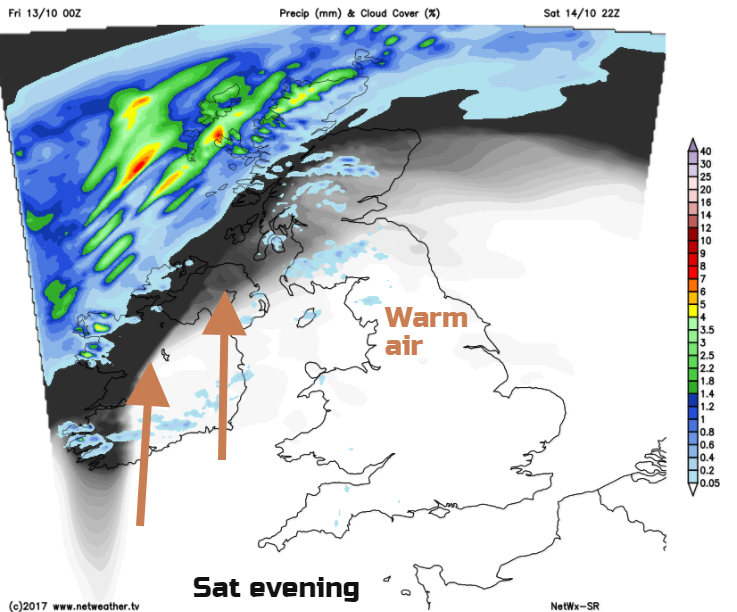 Sunday
A low pressure could develop away to the NW of the UK and bring more rain and cloud here. For much of the UK, Sunday looks fine and warm with a SW breeze and temperatures into the low 20s. The rain in the north could creep over more of N.Ireland and western Scotland during the day and pull cooler northwesterlies in. Overall it is looking quite lovely.
Ophelia
Then eyes turn to Hurricane Ophelia, this could move across Ireland and the UK at near hurricane strength as a post tropical hurricane. A technicality, that it will not be a real hurricane but still could bring stormy weather to the UK Monday into Tuesday.
Scooping up even warmer air, the temperatures on Monday could reach into the mid-20s if the sun breaks through, it will feel bizarrely warm.
Currently, there is still some uncertainty about the exact track and developments of this incoming low pressure, so it's not worth seeking precise strengths and timings for your location. Both the UK Met Office and Met Eireann have issued preliminary warnings about this, and NHC, the US National Hurricane Centre continues to monitor and advise about the progress of unusual Hurricane Ophelia.
Why will Ophelia not be a real hurricane when she reaches the UK.