Much better today after all that rain, 211mm (over 8 inches) recorded on the hill tops of the Lake District. It will get windy for a time, with more rain in the north but southern areas stay fine and get very warm. Temperatures reaching into the low 20s C with even more heat possible by Sunday and Monday. However, Hurricane Ophelia looks like she will head north for the start of the new week and her extra-tropical remains, still as a deep low pressure, will keep forecasters on their toes.
It's been clear and cool overnight so many places will have a fine bright Thursday. There has been more cloud over eastern England, a little bit of murkiness about and one or two sharp showers for Scotland, even with lightning in the far north. Overall today will be fair and bright but with a freshening SW wind.
There will be a more cloud about this afternoon with patchy rain for Northern Ireland and N&W Scotland as a warm front heads in. Temperatures ahead of the front will be between 13 and 18C.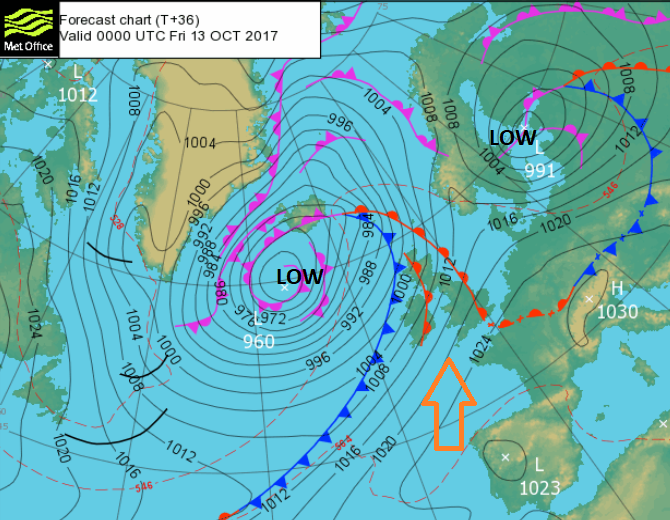 Through the evening the winds strengthen in the far NW, with gusts around 60mph. It will be windy overnight for N.Ireland, Scotland, northern England, particularly the Pennines and around the Irish Sea into north Wales.
Friday
Heavier rain arrives from the NW, along the cold front tonight. Again, wet for W Scotland and maybe Cumbria as the rain just continues to feed in from the Atlantic. Southern and eastern Britain will be bright and breezy and warm, up to 20 or 21C. Behind the cold front, skies will clear and it will be crisp.