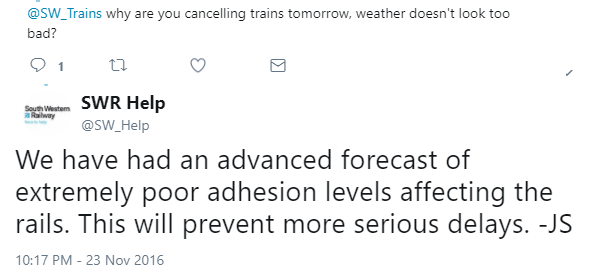 Drivers are given extra training for how to drive in the leaf fall season with defensive driving put into action. Brake earlier and harder than normal to assess the railhead conditions, you can visually see the condition of the railheads. There are know areas for low adhesion and drivers will report it if they experience any low adhesion. This is then passed on to other drivers via signallers or word of mouth.
For example, the first train from Glasgow to London Euston has to take it easy on a morning with a low adhesion warning in place. Steadily coming into stations on its way south, no abrupt breaking. Some trains have the equipment to spray ultra fine sand onto the rails as they move. The rail network has a number of leaf teams, engines which go out and clear and prepare the rails. There are water jets to wash off the leaf gunk and sprays of sandite.This sand based gel improves the grip between the wheel and the rail. Some areas have rail side applicators of the gel, to help in prone areas.
Train Operators sometimes alter their timetables to take account of the increase in journey times caused by the reduction in adhesion each autumn. This is more likely in the busier parts of the UK where services are barely minutes apart.
It can be very scary and unnerving driving through the leaf fall season - Michelle