We begin October with a particularly autumnal flavour of wind and rain today spreading from the west followed by sunshine and blustery showers on Monday accompanied by gales or even severe gales in the north during the morning. The stormy weather is being fuelled by the remnants of ex-hurricanes Lee and Maria which have been swallowed up by Atlantic systems, the upside is we will see some tropical air today making it feel humid.
However, despite the stormy start to the week, the weather should settle down from Tuesday for the rest of the week as high pressure builds in across the south. Though wet and windy weather returns Wednesday for a time on Wednesday in the north. It will turn slightly colder through the week too, as winds veer westerly then northwesterly.
Today
For now, it's a rather grey and murky start for many, but it is rather mild across England and Wales with the tropical air, temperatures already 16C along the south coast of England at 7am. In contrast, clear skies and cooler air across northeast Scotland overnight have allowed the temperature to drop close to freezing, in fact the coldest night of the autumn so far, with -1.8C recorded at Braemar.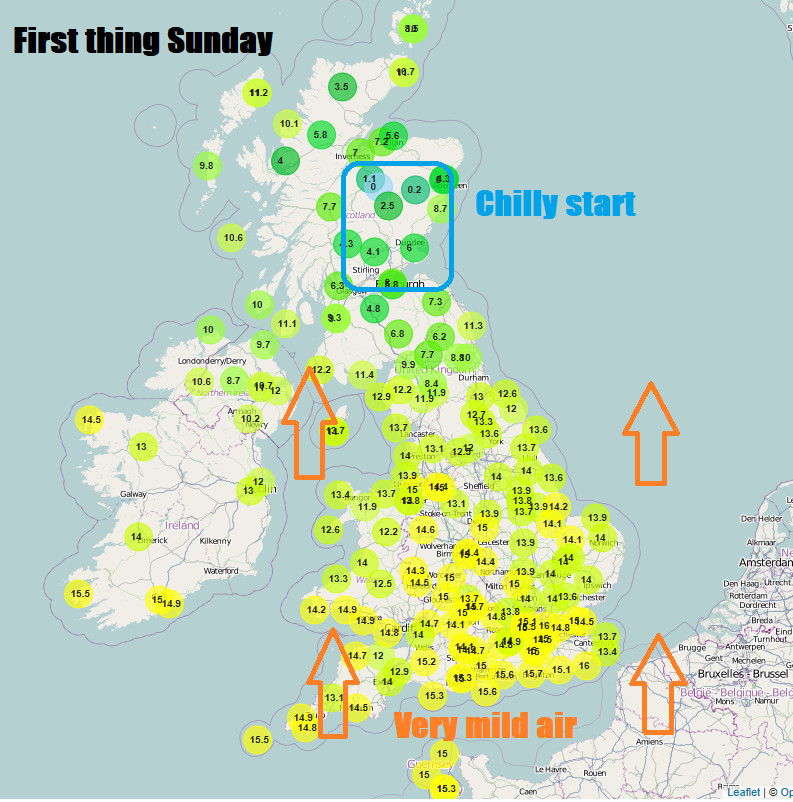 The cold and bright or sunny start across northeast Scotland will not last long, as cloud and heavy rain already across southern and western Scotland moves in from the west across all of Scotland this morning. The heavy rain band is also spreading east across northern England, with more patchy rain spreading across the rest of England and Wales through the morning. Staying cloudy and damp for many through the afternoon, with further outbreaks of rain, heavy across northern areas. However, we will see drier and brighter conditions moving in across the far west later this afternoon and early evening. Breezy for many and becoming increasingly windy in the west, with gales arriving in the northwest this evening.
A mild day though, particularly in the south – where it will feel humid. Temperatures reaching 15C in Glasgow, 16C in Newcastle, 17C in Belfast, Manchester and Cardiff, 18C in Norwich and 19C in London.
Tonight
The feed of tropical air bringing cloud and outbreaks of rain today will eventually clear off east across the North Sea and near continent later this evening, leaving cooler but mainly dry conditions with clear spells across the south, there will be scattering of blustery showers across the north – blown in by an increasingly strong westerly wind which will reach gale force, with severe gales possible for western Scotland by the end of the night.
Monday
So, we start Monday morning on a stormy note across the north, with particularly strong winds for the morning commute, with gusts of 50-60mph common across Scotland, N. Ireland and northern England, while we could see gusts of 60-70mph across western Scotland and through the central belt. Such strong winds may cause some travel disruption and interruption to power supplies.