Looking good for the UK today. We have very light winds and mostly clear skies, so it has turned quite chilly with patchy fog and mist about this morning. There is even a touch of frost in more prone spots and beautiful pink skies to start the day. There still is more cloud over East Anglia and parts of the SE with the odd showers still lurking along the North Sea coast. Overall though Tuesday is looking fine and bright with sunshine.
Temperatures this afternoon will reach 15 to 19C with light winds. Northern Ireland will see the winds backing to a southerly and picking up a bit. This is as cloud and damp weather nudge in from the Atlantic, the first signs of a change from today's fine picture to the more unsettled midweek theme.
During the evening and overnight the weather turns cloudy and damp for Northern Ireland and parts of Scotland. The southerly breeze freshens for western Britain with much of England and Wales, even eastern Scotland staying dry but seeing more cloud about. A warm front moves across Scotland away to the NE and then a straggling cold front waves about over Northern Ireland, then N&W Scotland early on Wednesday. This will then gather itself and produce heavier rain as it moves over Wales and SW England. A feed of rain will pulse up from the SW through the Bristol Channel and Irish Sea and areas nearby. Have this in mind rather than exact timings for rain from a weather app.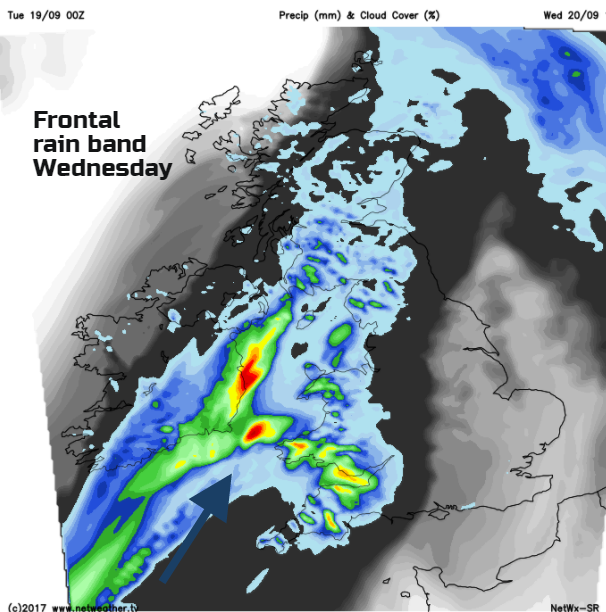 The cold front does its job with a cool air mass away to NW and light NW wins keeping temperatures around 12C. Ahead of the front, it stays warm with a moderate SW wind, eastern counties could see 20 or 21C.
The rain continues to just feed up, with larger pulses. There could be localised flooding as the rain persists. SW Scotland up into Perthshire, Cumbria, western Wales and the Moors of the SW will see a good deal of rain. Surface water on the roads and runoff from the hills will be the main problem. To the west, some counties of Northern Ireland will stay drier, although Belfast looks to catch more rain, and to the SE there won't be much rain either. It's in-between it stays wet into Thursday. Northern Ireland will be cold Wednesday night.
Gradually through Thursday the band of rain begins to shift SE'wards. This allows brighter skies with cooler air to move over western Britain and northern Scotland. The rain will take its time to reach SE Britain, maybe not reaching London until Thursday evening.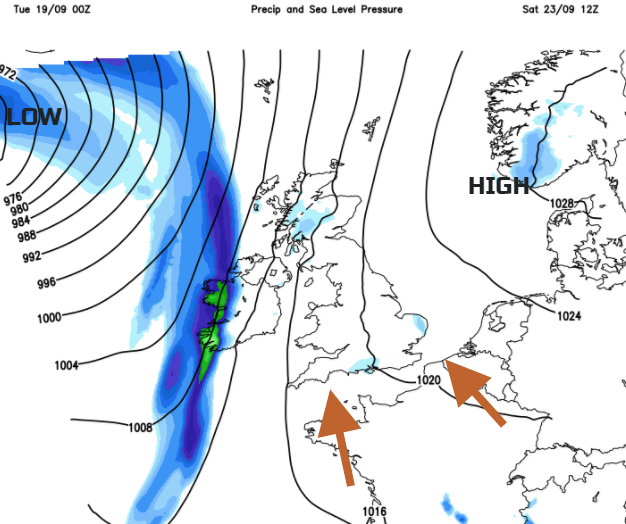 Friday starts off cool but sunny for Britain but another little area of low pressure looks set to nip in from the west. The weekend seems to be a balancing act between Atlantic low pressure trying to push in bands of rain, which means Northern Ireland and maybe western fringes of Britain could see some rain and possibly strong winds. The other part is high pressure keeping a lot of fine weather over the UK this weekend, so sunshine, lighter winds and with the flow from the south, rising temperatures. 23 or 24C could be possible in the SE to end the weekend (75F)