There have been clearer skies overnight in the west of the UK, allowing temperatures to dip down. We do have some patchy fog about for Monday morning with very light winds. There are still lingering showers, running into eastern England from the north in more of a breeze and thicker cloud with damp weather around the Irish Sea and the North Channel.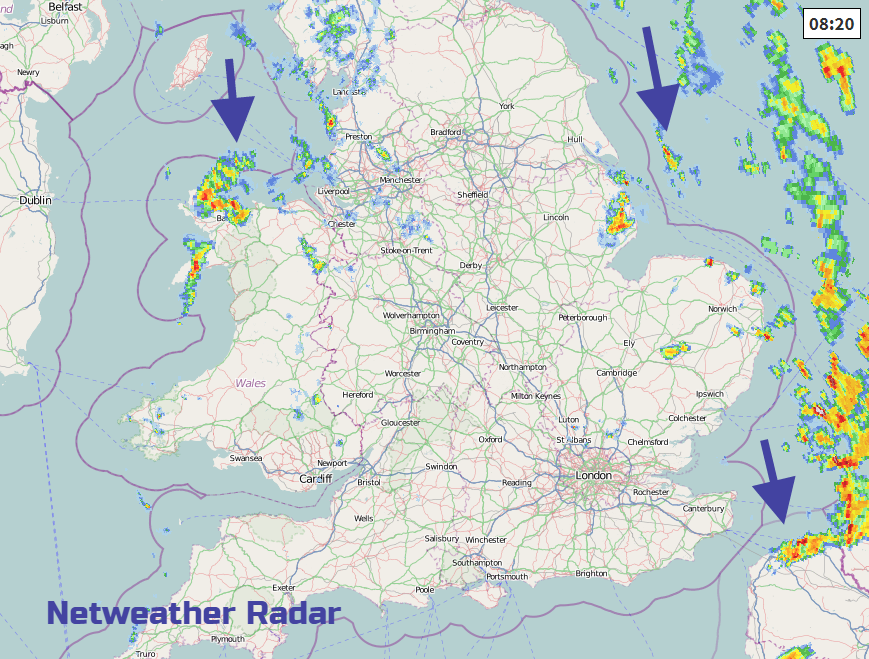 Temperatures today will only reach 14 to 17C. Overall, there will be a lot of fair weather about today, but again with a few lines of showers developing in the northerly flow. Areas under these lines will have a poor Monday and there is still the risk of thundery downpours for SE Britain. Generally, the skies across the UK are quite mixed with thicker cloud in the middle and more chance of sunshine for Northern Ireland, western Scotland and parts of SE Britain.
Through tonight the showers fade, last from southern England and then we are under the ridge of high pressure with plenty of dry and clear weather. With light winds and dipping temperatures, there is the chance of a grass frost and some murkiness/patchy fog.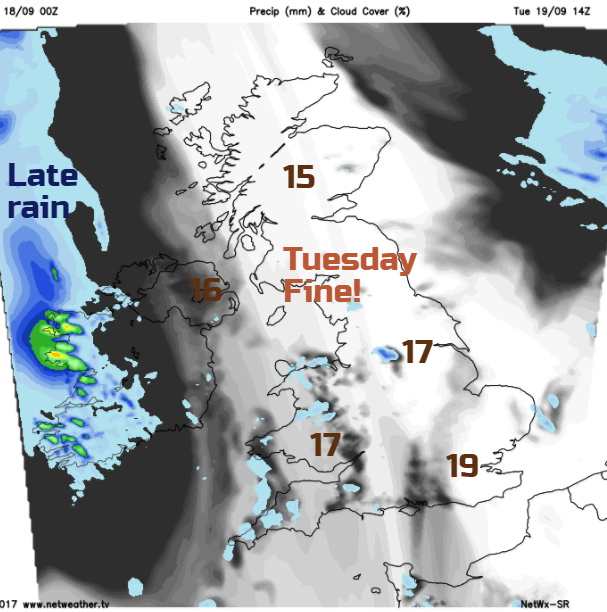 Tuesday looks good. There will be plenty of fine, bright and sunny weather about. It will feel a touch warmer with 16 to 19C forecast. A SW breeze will pick up in the afternoon for Northern Ireland with increasing cloud and then rain into Co Fermanagh by teatime.
Midweek
A rather complicated frontal system then pushes in from the west, bringing rain to western and northern parts of the UK but missing much of the SE half on Wednesday. It will be blustery for western Britain and Northern Ireland with a brisk SW wind. Temperatures in the east could lift to 20 or 21C (70F). The band of rain could bring over 30mm of rain to parts of Northern Ireland, SW Scotland, NW England or Wales in the middle of the week. It gets rather stuck and only on Thursday shows signs of moving right across the UK, allowing cooler air to move in again.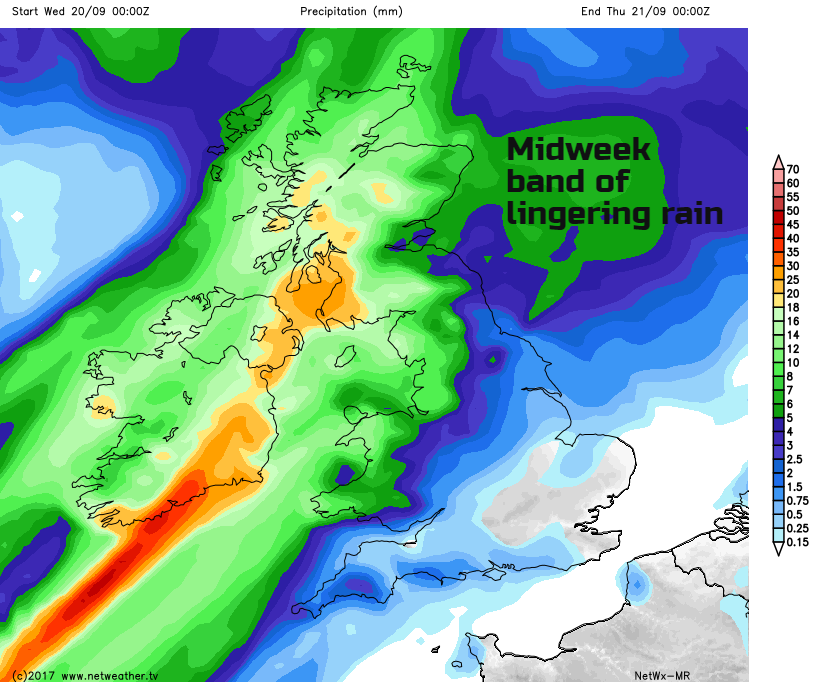 It looks like England will see a spell of wet weather on Thursday, still warm ahead of the rain band though, and then clearer skies behind. That means more sunshine by day but another chilly night into Friday.
The end of the week looks quite settled, although a developing large area of low pressure out in the Atlantic could throw cloud and outbreaks of rain over Northern Ireland with more of a breeze. For much of Britain, Friday and the weekend look okay.
More on Hurricane Maria and Jose