The second half of the weekend will bring fewer showers, more in the way of sunshine and it feel a little warmer too. The weather continues to improve for most as we start the new working week, with showers confined to central and eastern England on Monday, then on Tuesday most places will be dry and fine. Northern and western areas will see a change though from mid-week, with Atlantic systems bringing cloud and rain or showers, while towards the southeast it looks like it will remain dry with warm sunshine, though rain reaching here by Friday.
Today
For now, it's a nippy start to Sunday out there, rural areas have seen temperatures drop into low single figures widely low enough for grass frost in places, Tyndrum in the Scottish Glens fell to 0C, bringing the first air frost of the autumn. There is some fog around too across parts of the East Midlands and eastern England, dense in places and some are starting grey in the east elsewhere but for many it's a bright or sunny start.
The fog should eventually lift this morning, and for most it will be a dry and bright or sunny morning, but there are some showers already on the go across northern England and through the day slow-moving showers will break out further south across central and eastern England too, some heavy with isolated hail and thunder. However, much of Scotland will stay dry and bright or sunny today, just a few light showers towards eastern coasts. NW England, Northern Ireland, Wales and SW England also mostly dry and sunny today, though the odd light shower can't be ruled out.
Because of light winds it will feel warmer today, especially with any sunshine, temperatures reaching 14-16C in the north, 16-18C in the south.
Tonight
Most of today's showers will fade away after dark this evening, with clearing skies leading to another chilly night, with rural grass frost and patchy fog forming in places. However, with low pressure close by over the south North Sea, showers will continue down eastern coastal counties, perhaps heavy across Lincolnshire and parts of East Anglia.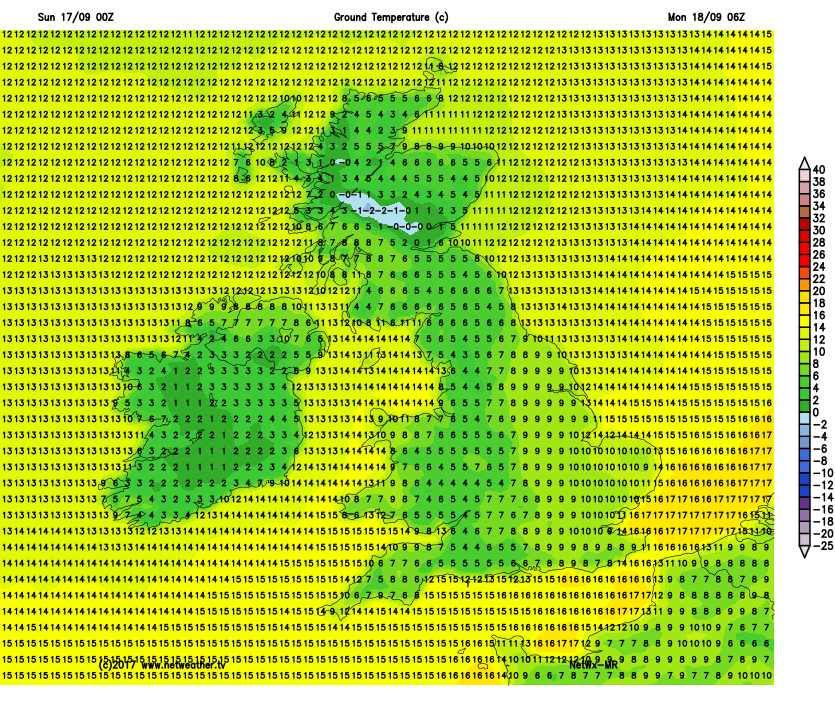 Monday
So, another cold start on Monday morning, temperatures at dawn in some rural areas away from the east coast perhaps only a few degrees above freezing, so don't be surprised to see a touch of frost on the ground. There may also be some thick fog patches to watch out for first thing. Otherwise many areas should warm up fairly quickly with most places dry with sunny spells through the day, thanks to high pressure building in from the west. There will be showers towards eastern Scotland and eastern England thanks to low pressure over the North Sea blowing them in on a northerly breeze, some showers may push down across Wales too. Feeling pleasant in the sunshine, temperatures reaching 13-15C in the north, 15-18C in the south. Coolest towards the east coast.