We currently have a partially 'blocked' situation that can make precise forecasting a little difficult. But one thing we can be sure about is that most parts will have a good deal of cloud today. The air mass across the country at present though is of tropical maritime origin, so it'll be quite warm particularly where you see any brightness. But this will be limited.

Satellite image from earlier this morning.
Monday morning sees a good deal of grey, misty weather across the country, with some hill and coastal fog. There's a fair amount of dry weather in quite humid conditions, but also patchy mostly light rain and drizzle. Through the morning the mist will lift except along exposed coasts and hills, with some parts brightening up. Otherwise, there'll be little change. Later, Northern Ireland and West Scotland may see some heavier bursts of rain, as a cold front approaches from the West.
It continues mostly cloudy into the afternoon, with further patchy drizzle. A few bright spells are expected though. With sheltered parts of East Wales and central southern England perhaps seeing a few sunny intervals. Meanwhile, Northern Ireland and North and West Scotland become wet, with the odd sharp shower breaking out over England and Wales later. Although most parts will be dry.
A light or moderate South or South West wind will become fresh, locally strong over exposed parts of Northern Ireland and North West Scotland. There'll be a somewhat muggy feel over England and Wales, with temperatures reaching 18 to 20C but 22 to 24C in the brighter spots. Across Scotland and Northern Ireland however, 16 to 19C is more likely.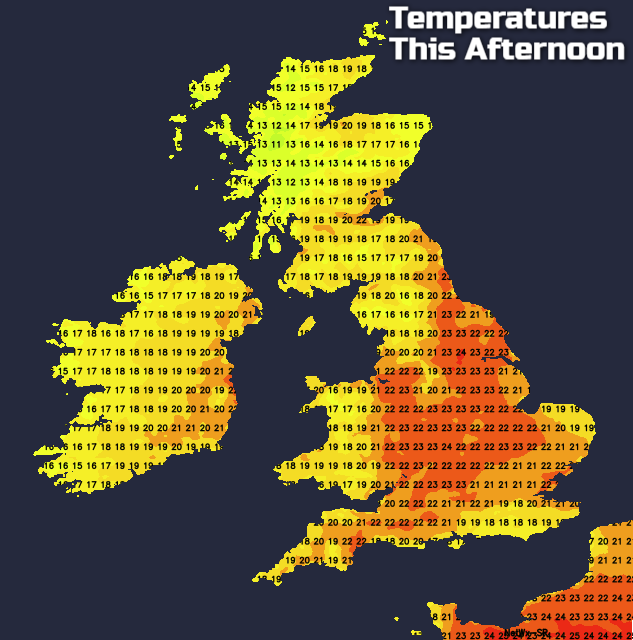 The South and East of Scotland turn wet during the evening, with North West England and the North and West of Wales joining in overnight. The rain will be heavy in places, making it misty with some hill and coastal fog, before clearing from most of Northern Ireland and North and West Scotland by morning. Remaining parts of England and Wales remain rather cloudy. But apart from patchy drizzle and the odd shower, it should be mainly dry, with skies perhaps breaking at times in the East and South.