Issued at 1500BST on Tue 29th Aug based on Tue 29th Aug 00Z Model Runs
Key Points
Showery few days ahead across the British Isles, markedly cooler than preceding days
A convective regime will develop on Wednesday and Thursday, turning more settled from Friday
Risk of more prolonged spells of rain though for parts of England and Wales on Wednesday
All areas becoming mainly dry and settled into the opening weekend of September as high pressure builds
Early September remaining changeable though with further unsettled conditions developing in time
Little or no sign of any sustained settled or late summer weather within the reliable time frame
Discussion:
Wed 30th Aug: Into Wednesday and in-keeping with the summer as a whole we look towards the W and SW of the UK for yet further complicated synoptic developments. An upper trough, origins over the far W of the N Atlantic, will be undergoing extension and this is forecast to interact with a ULL over Iberia. This process means that an increasingly cyclonic and frontogenetic environment is expected to develop either over or just to the S of England through the course of the day. Details of this development are somewhat uncertain, but long spells of moderate or heavy, frontal rain are certainly possible.
The exact location of this region of cyclonic development, even at this time frame, is uncertain due to some model divergence within the 00Z models. A cold front, of which will have undergone considerable frontolysis by early Wednesday is expected to be slow moving across the far S of England. It is immediately on and to the S of this weak baroclinic region that a surface low pressure is forecast to develop over France. A significant number of the GM and HRES models, do show that much of the heaviest precipitation, along with a convective threat, will remain over in the near Continent. However, there is equal evidence to suggest that outbreaks of light or moderate, locally heavy rain will affect at least some S and SE areas of England as Wednesday progresses. Using our HRES model as a guide, you can see that some SE areas of England may experience up to 20mm to 30mm through the day, perhaps half or more of this potentially falling within 6 to 12 hours from midday. As a result, some temporary surface water flooding is possible in urban areas in particular.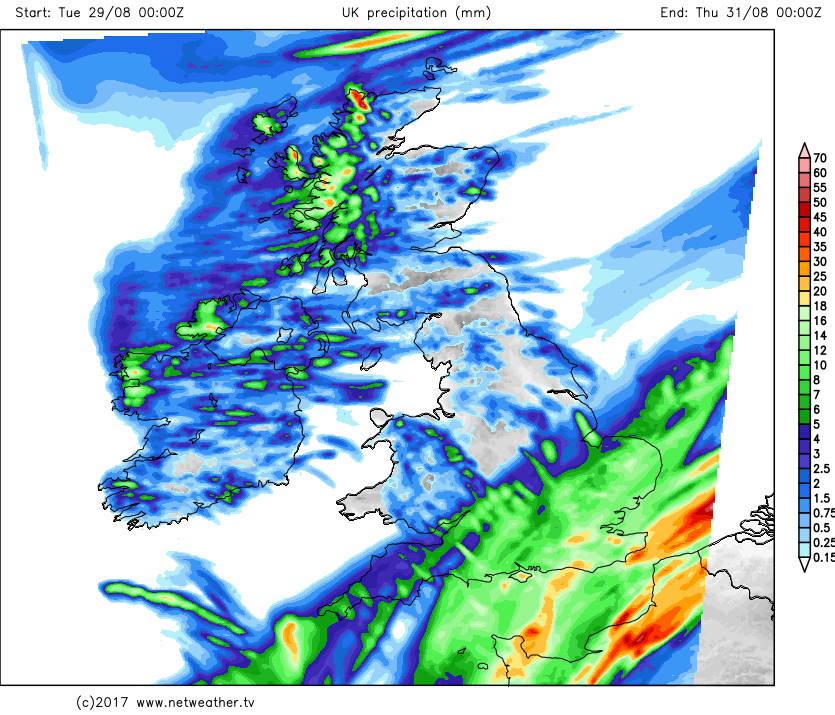 Across Scotland, Ireland and N England, then a far more simple mixture of sunshine and showers is forecast as a cold pool drifts into these more N and W areas through the day. Some locally heavy downpours are possible across Ireland, but otherwise, the showers, on Wednesday at least, will be well scattered.
Thu 31st Aug: Through into Thursday and the main surface cyclonic developments will have cleared away to the E and NE of the UK. The UKMO, ECMWF, GFS and GEM models are in good agreement for an area of low pressure, to be approaching S Scandinavia during the day, taking with it the risk of any dynamic, frontal rain. The main upper pattern over the UK through the course of Thursday is that of an upper trough, with a cold pool in evidence as well.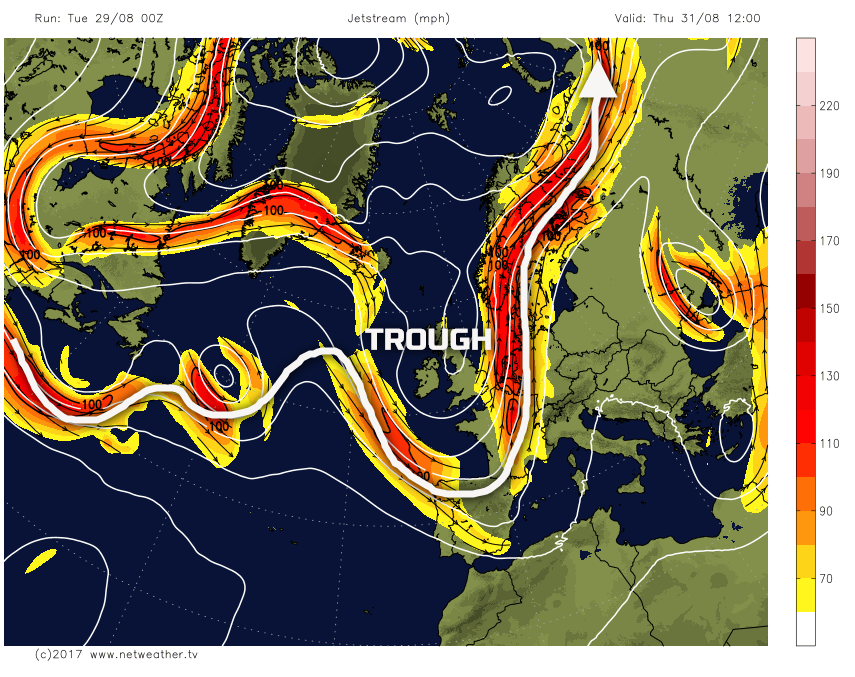 The weather across the UK will, as a result, be characterised by a mixture of sunshine and showers, in a convective regime. It'll be a chilly start, locally at least, given an unusually cool air mass will have combined with clear skies overnight and relatively light winds. Rising temperatures through the morning, even to just modest values (14C to 16C) will be enough to lead to an entirely unstable atmosphere developing. As is often the case the shower distribution will be dictated by the location of the lowest and coolest UL temperatures, along with some surface convergence zones, especially seeing surface winds will be particularly light and variable as the day progresses. The upper cold pool is exampled well by the 00Z GFS model at 1200Z on Thursday, with 500mb temperatures down to -22C to -24C, and it is within this cold pool that instability will be greatest.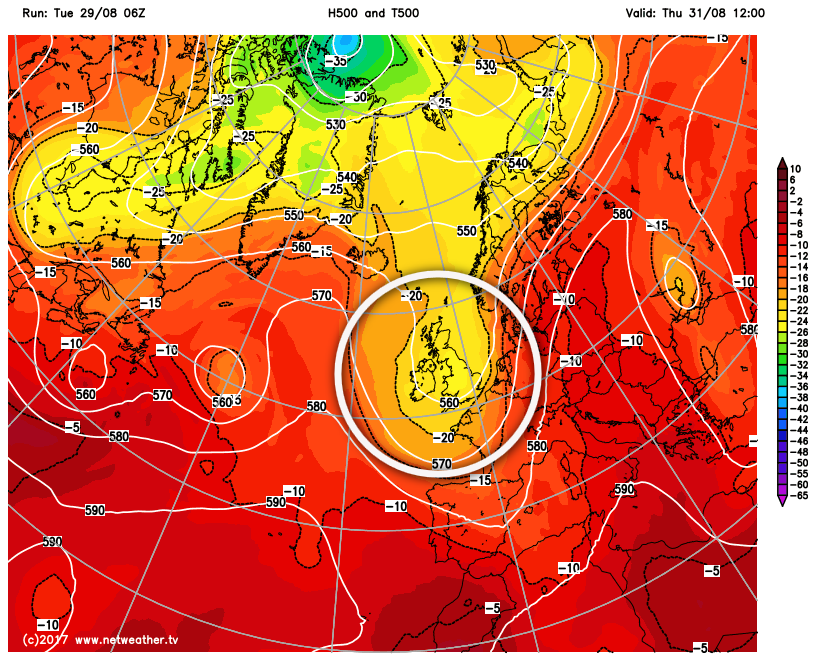 Forecast soundings, using Manchester as an example, show particularly steep lapse rates in association with the cold pool. Surface temperatures of around +15C or +16C, coupled with modest Td's, for late August, do lead to potential instability up to near 23,000ft. As a result, there's certainly the scope for locally heavy downpours, along with some isolated or scattered thunderstorms too. These are most likely to be across parts of Ireland, Scotland and N England, but potentially occurring elsewhere too. As the daily diurnal cycle comes to an end, then most of the showers will die away quickly into Thursday evening, and this will then lead on to another unusually chilly night on Thursday, with rural mist and fog patches too.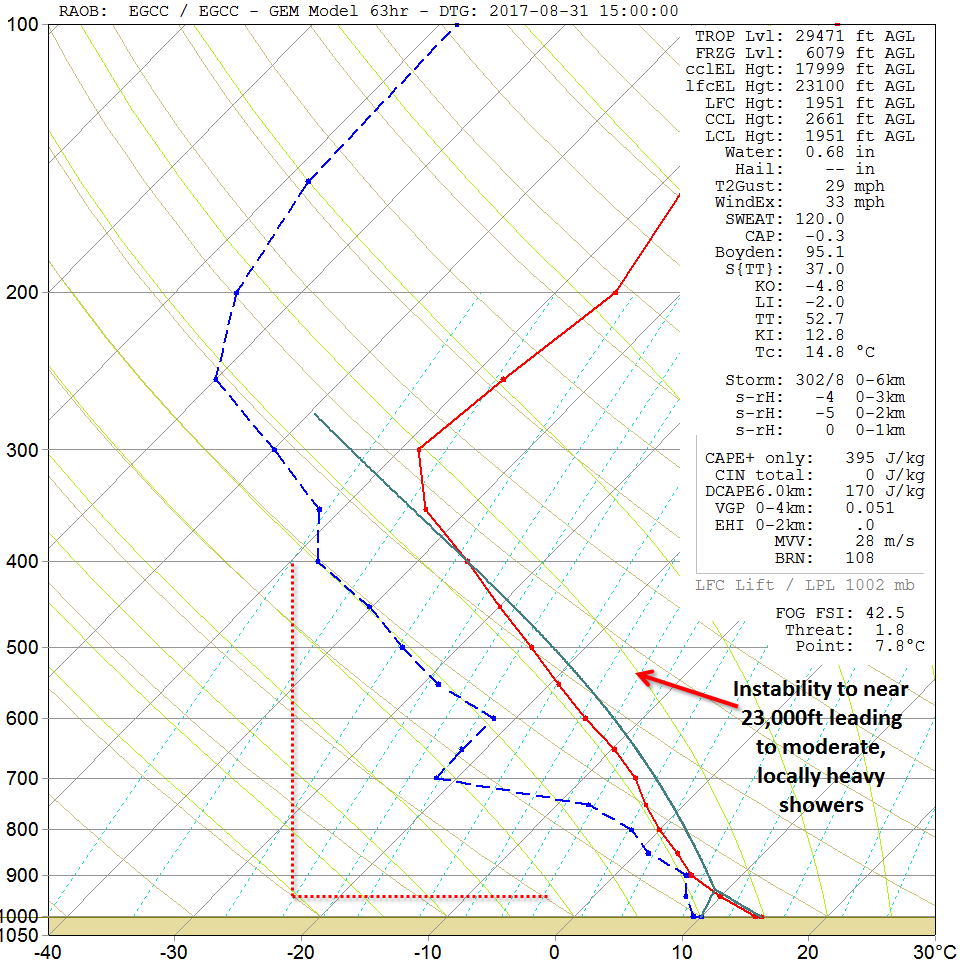 Fri 1st Sep: We move into the opening day of September and, meteorologically, of course, leave summer behind, with a steady improvement in the weather. The broader pattern across the N Atlantic is, overall, relatively mobile. As a result, the upper trough over the UK from Thursday will begin to clear away to the E, albeit slowly, through the course of the day. Upstream and cyclonic developments within the N Atlantic will mean that WAA takes place to the W of the British Isles and this will aid in developing an upper and surface ridge of high pressure. As a result through the course of the day and many N and W regions will begin to increasing amounts of NVA and subsided profiles, but instability will remain across parts of England and Wales, beneath the retreating upper trough. This evolution is highlighted nicely by the 00Z GFS for 12Z on Friday.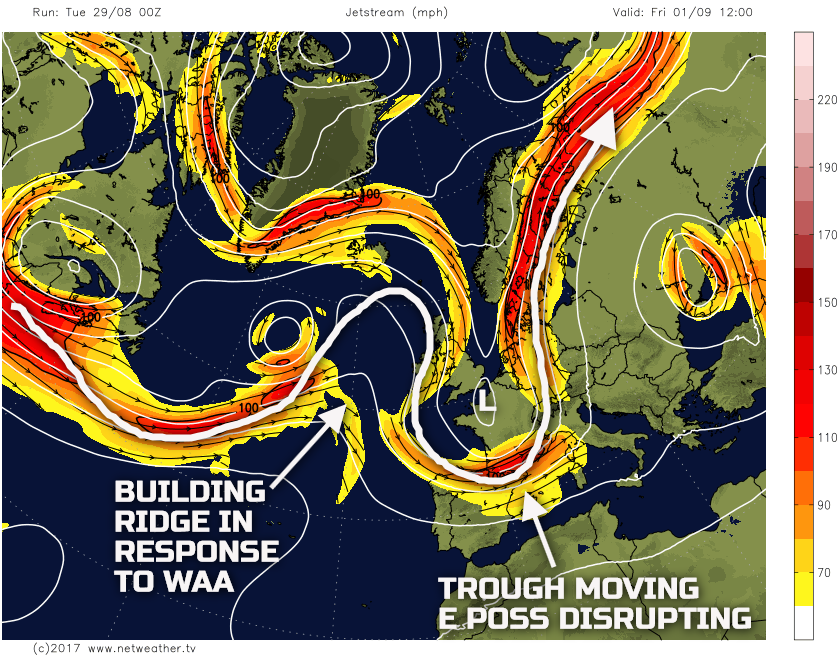 As a result of this evolving pattern through the day, it will be across much of Scotland and Ireland that the best of the weather will be. Bright or sunny spells are forecast, in particular through the afternoon, and it will be pleasant enough in light W or NW'ly winds too. However, forecast profiles are still more unstable across England and Wales, perhaps especially across some S and E areas of England through the afternoon. Once again, as is the case on Thursday, only modest surface heating will lead to instability and some moderate or locally heavy showers are certainly possible across S and E England through the afternoon, before these clear later in the day. Another chilly night is forecast on Friday, as the ridge builds in, with potential mist and fog patches.
The 00Z GEM model for 12Z on Friday highlights this evolution well. The model may well be lacking showers across S England, perhaps due to a more coarse model resolution.
Sat 2nd and Sun 3rd Sep: The opening weekend of September is, as a result, set to be fair across many areas. However, the main uncertainty over the evolution of the weather is how quickly this ridge and surface high pressure will transit across the UK, in what will still be quite a zonal N Atlantic pattern. Given the 00Z model, agreement confidence is high to suggest that Saturday will be a dry day for many areas. A locally fresh start mind, perhaps even with some ground frost in known frost hollows across the north of the UK too. Bright or sunny spells are likely through the day, despite some variable cloud, but it should be a pleasant day in light winds and the early September sunshine. The UKMO, GEM, ECMWF and UKMO models are in good agreement regarding this evolution through into Saturday.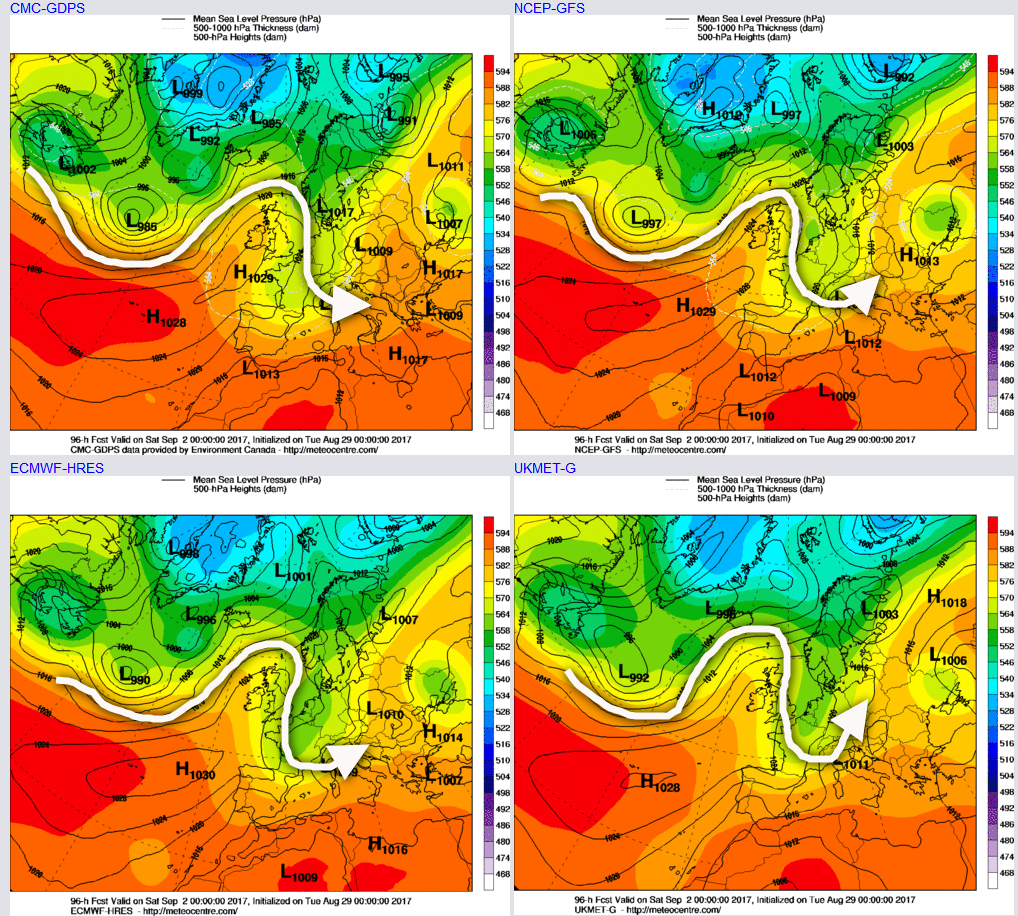 Into Sunday, and this is when there is some divergence over how quickly the ridge will move to the E. At the same time more cyclonic conditions approach from the W. It is, however, likely to be another chilly start on Sunday too, given a similar air mass over the UK to that of Saturday. Some bright or sunny spells are then likely during the day. It will potentially evolve into one of those days where the further E you are, so E Scotland and much of E England, where it will remain dry with bright or sunny spells for much of the day. However, across more western areas then cloudier, windier and more unsettled conditions will be moving in from the W.
Highlighting this uncertainty over the evolution though is the MR model, which brings more cyclonic conditions into the British Isles, from the W, far quicker than other models. At the moment this is deemed to be too fast, but it is worth highlighting this variation, in this range, which could well influence the weather on Sunday. For now, though, it's only likely to be Ireland, W Scotland, W Wales and SW England that see any wet weather on Sunday, the rest probably remaining mainly dry.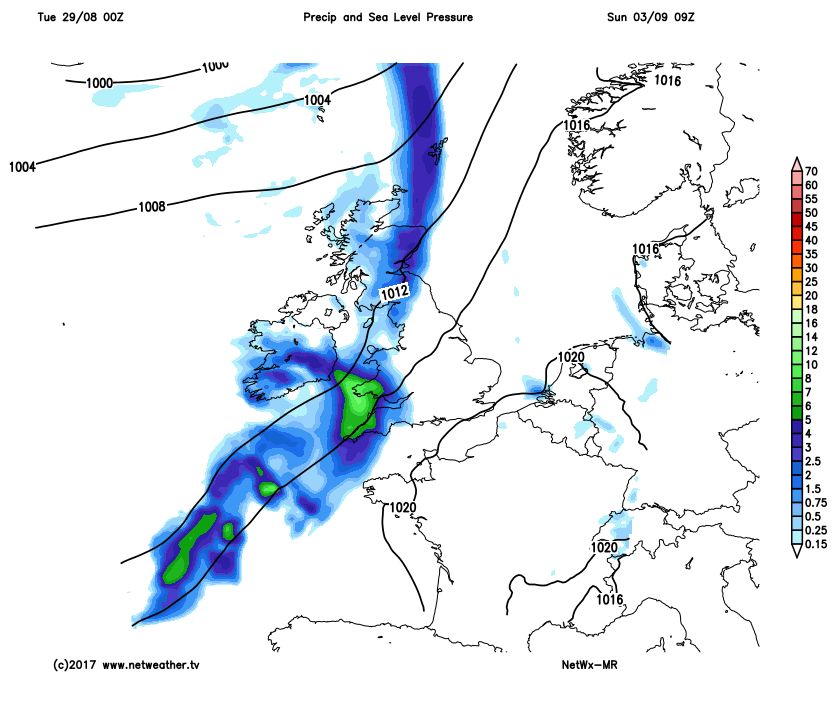 Medium and Longer Term 4th Sep onwards:
Looking beyond the opening weekend of September and, at the moment, it is the lower pressure that is more likely to become the dominant feature. There is model divergences mind over how much of a cyclonic pattern will develop over NW Europe. Many of the DET models, through to the 7th, for example, along with EC and GFS ENS support, do show low pressure becoming established through the first opening week of September.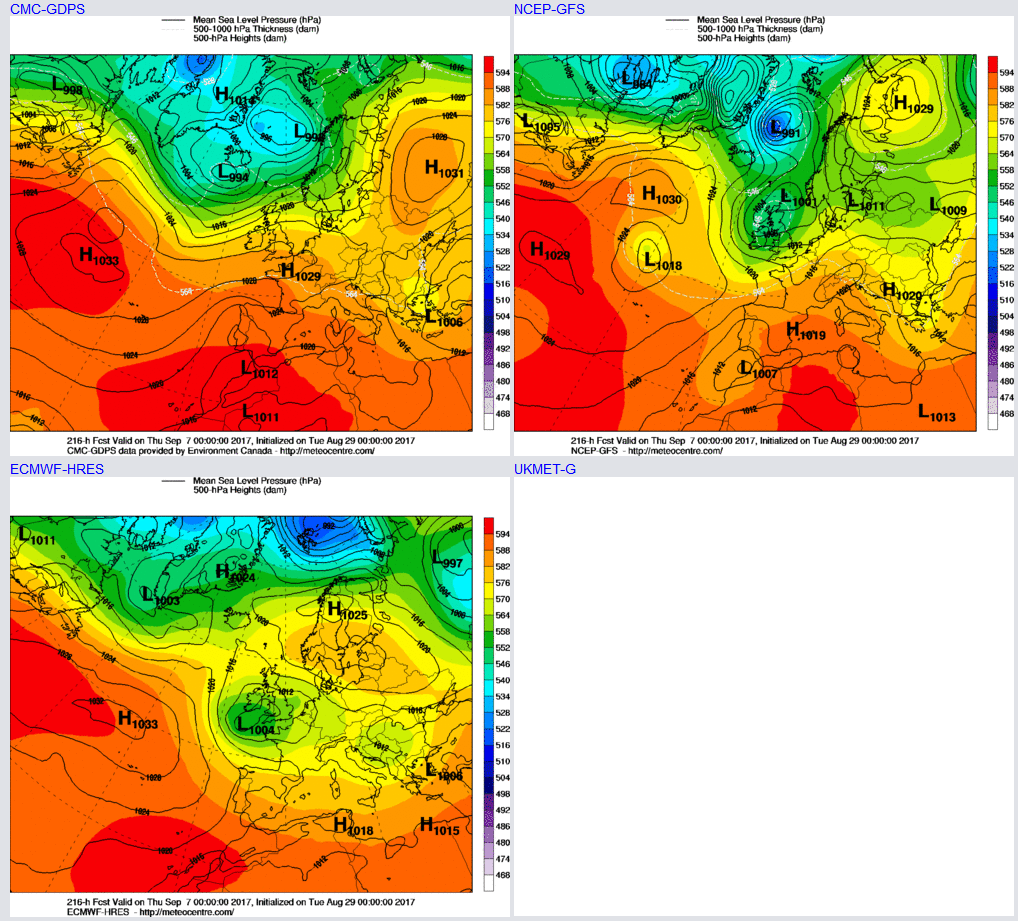 What is of worth to highlight at this stage is the significant variation in some of the primary synoptic features across the N Atlantic and Europe. The 00Z ECMWF is indicating the broad region of high pressure over Scandinavia, while the 00Z GFS shows nothing of the sort, while the GEM, in comparison to the GFS and the ECMWF, across the UK in this particular time frame, is far less cyclonic. However, for now, at least, there's little sign of any late summer weather returning into early September. We'll keep an eye on the extended range in the coming weeks and issue any updates as and when necessary.