If you do have an extra day off, enjoy!
Tues 22nd - Bank holiday weather- fills everyone with dread. This long weekend is often seen as the last opportunity to enjoy summer (not available in Scotland). The late August day off with potential for warm sunshine, days outdoors, a relaxed Sunday evening with a BBQ and no return to work next day. For the weather to be horrible, wet, windy or cold seems like robbery. You don't want to be seeing a line of rain symbols.

People want to know how the forecast is looking quite early on when a Bank Holiday is coming up. Out to 5 days ahead of the forecast, usually gives a good idea of what is coming up, with the 10 day outlining themes more than details. Yet there is a lot of uncertainty about the coming weekend with various changes possible as low pressure continues to feed in from the Atlantic. This past month has seen plenty of showery, unreliable, not so hot weather across the UK and that looks to continue through this weekend, although high pressure isn't too far away. It's this balancing act which is resulting in the low confidence.
And this often happens in the run up to Bank Holidays. Maybe it is just the extra pressure of more people wanting to know about the Bank Holiday. That makes the forecast seem extra tricky. If the low pressures run in from the Atlantic, they will bring more cloud, and bands of rain. Also fresher air, so lower temperatures. overall. If the High pressure manages to extend our way then the weather will be more settled, we could see more sunshine and be drier and maybe draw up warmer air.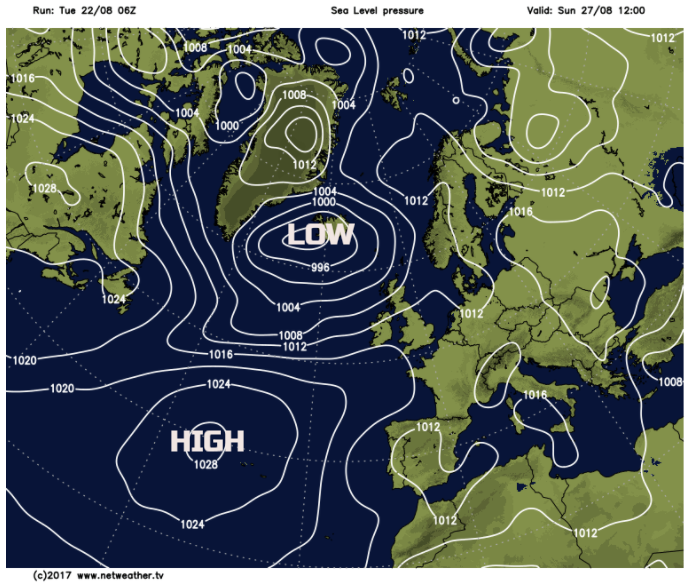 What can we tell you?
Winds - Saturday and Sunday don't look particularly windy but later Monday could be. So, for sailing or camping keep an eye on the winds later in the weekend.
Hot or Cold- Temperature forecasts have a wide variation over the weekend. There is the potential for some real warmth, with temperatures up into the high 20s, say 28 or 29C in the SE. However, this relies on more of a push from the south, and less of the Atlantic low pressure influence. This air would also be more humid, so it could feel quite muggy in the south.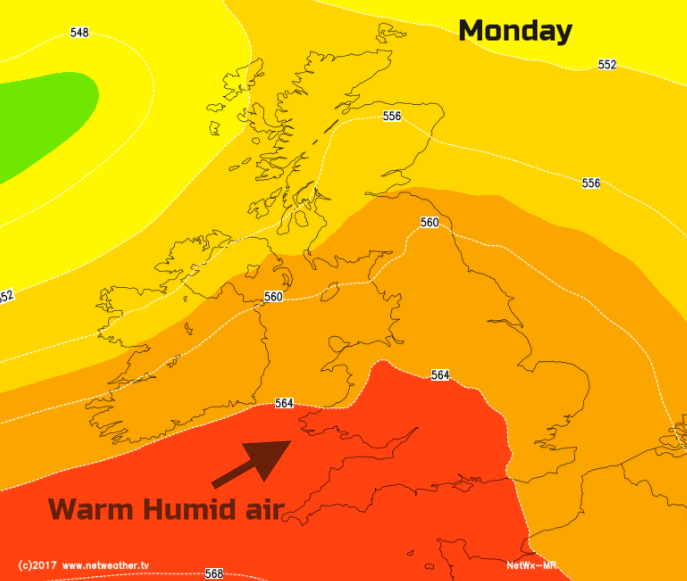 Areas, where there would be more cloud and rain, particularly the NW of the UK, would stay in the high teens at best. Northern Ireland and Western Scotland look like staying near average.
Rain or dry- The total rainfall charts are showing rain for N.Ireland and Scotland, particularly in the west.and north. There are also some concerns about heavy thundery downpours for southern or SE England. This will be something to watch out for on the Netweather radar, closer to the time.
Mist and Fog- For anyone travelling, early in the morning by road or plane, there could be murky conditions with light winds and slightly cooler nights.
Sunshine and UV. - The sun is still strong at this time of year and with quite changeable days, it is likely you could head out under grey skies but soon be seeing the sunshine. Slap on that sunscreen and remember it's not about the air temperature and you can still burn when it's cloudy.
My weather app says Rain all day. Is this Gert?
If the output on your app, is not what you were wanting to see, don't worry too much. The fine detail of the forecast will still take a few days to settle. Take these themes, cheer for the Azores High pressure to head our way, if you do want a more settled spell. Even if a frontal band of rain does come through, it has to clear at some point. Also, a shower symbol means there is the potential for a rain shower in that time segment. It doesn't mean there will be one each hour, or exactly on your head. It could be a mile down the road, on someone else.
Gert will be gone!
The remnants of ex-hurricane Gert, are dissolving away mid week. Our Bank Holiday weather is not linked to that, whatever newspapers say.
The apps can only show one output, for example like this, which would result in wind and rain from the west spreading across the UK during Bank Holiday.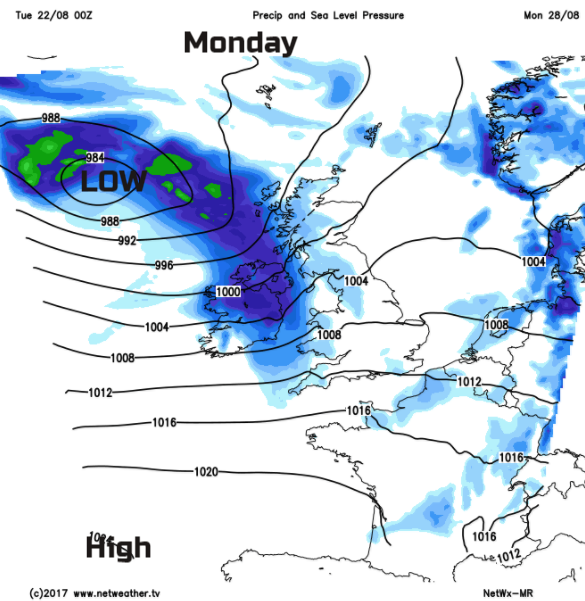 Actually, the forecast model output could have several solutions and it has only displayed one 'favourite'. Ensemble forecasting shows lots of solutions, where the initial conditions are altered just slightly, Different outputs are revealed and can be grouped into similar collections to show which scenario looks most likely. Even then, it may not be the most 'popular' which comes off. The ensembles for Monday do have rather a lot with rain from the NW.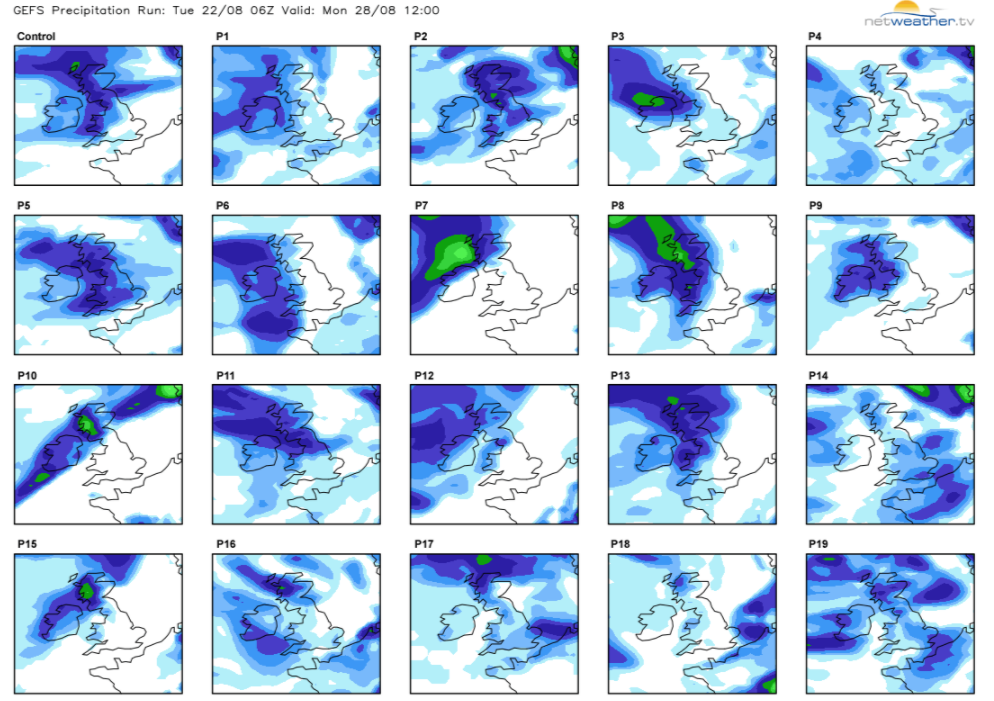 Sun Exposure, think UV radiation, not Heat
Will volcanic ash ruin my holiday flight?
Community Forum - Summer 2017