Today we have the remnants of hurricane 'Gert' approaching from the South West. Its winds have now died but what it will do in the next few days is introduce moist, extra-tropical air from the South. This'll make it very humid into the working week for a while particularly in the South, with Tuesday perhaps seeing some sharp showers before fresher air moves in from West by mid-week. For today though, a ridge of high pressure will give most parts an agreeable Sunday.
Many rural areas are waking up to a chilly start, but sunny spells will soon lift temperatures this morning. Across the far North East of Scotland, Orkney and Shetland, however, a North West wind is bringing a few showers, but as winds decrease, the showers will fade. The other exception to the fine start is Devon and Cornwall. Here cloud from the remains of 'Gert' is giving patchy rain and drizzle that will spread a little further North and East through the morning, giving poor visibility in the far South West and over the Channel Islands.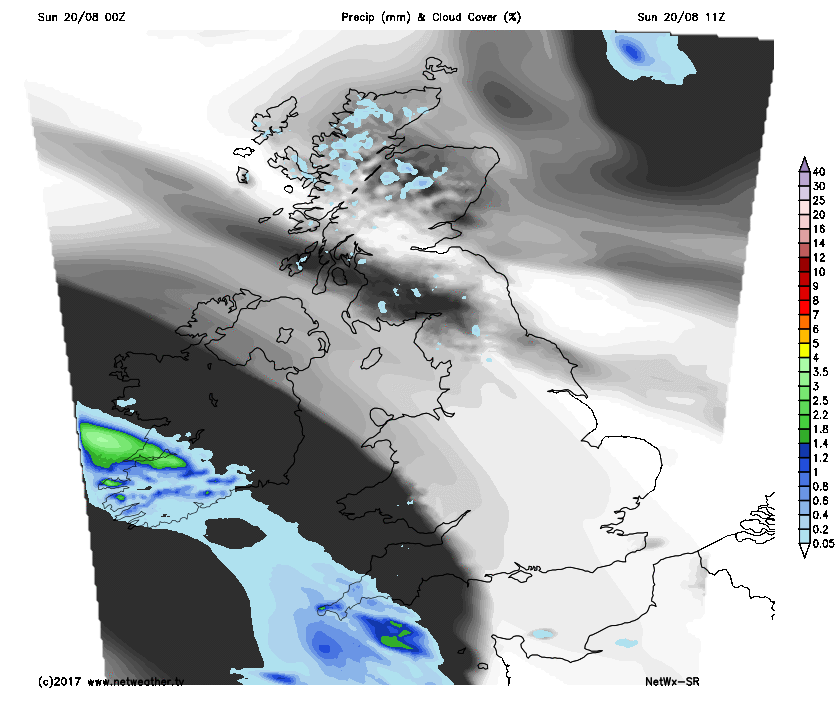 Most parts continue fine into the afternoon, with any remaining showers over the Northern Isles and around the Moray Firth soon fading. There'll be sunny spells, but South and West Wales, the West Country and parts of central southern England will become cloudy as patchy rain and drizzle continue to spread slowly North and East through the afternoon. A few heavier bursts are possible across the South West where it'll turn misty, with patches of hill and coastal fog. Winds generally will be light, becoming South or South Easterly in the West later. Although feeling pleasant in the sunshine, it won't be particularly warm for August, with top temperatures 14 to 17C in the North and 18 to 21C in the South.
Scotland and much of northern England see further sunny spells into the evening, followed by largely clear skies overnight. Light winds allow mist and a few fog patches to form later, but these will be short-lived. It'll also turn chilly in rural glens with lowest temperatures 5 to 8C, but 9 or 10C in towns and cities. Elsewhere it'll be turning more cloudy if it hasn't already done so, with patchy rain and drizzle much of it light, continuing to slowly move North and East, spreading to much of Northern Ireland, the South East, East Anglia and The Midlands by morning. It'll turn increasingly misty, with hill and coastal fog patches in the West and South. It'll be much a milder night here though in a mostly light South East or southerly breeze, with temperatures falling no lower than 11 to 15C and 16 or 17C in the South.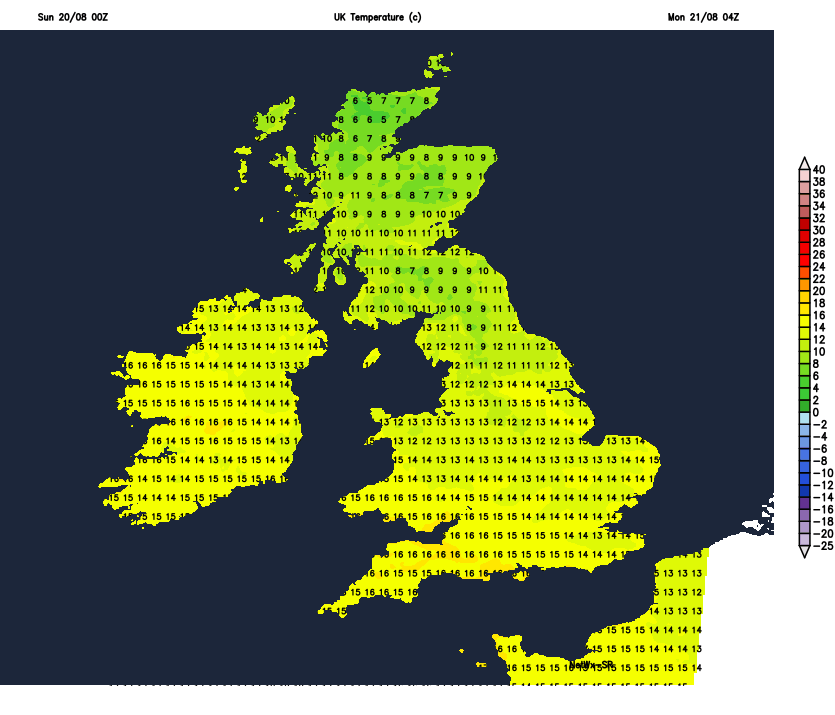 Monday sees the best weather over Scotland, where there'll be sunny spells. It'll stay dry, but probably with more cloud South of the Forth and Clyde valley later. England, Wales and Northern Ireland after a misty start will be rather cloudy, with further patchy rain and drizzle. Some heavier bursts are likely particularly in the West, with a few places South of the M4 perhaps seeing brightness by the afternoon and maybe a few sunny intervals. It'll feel humid in the South in a light southerly breeze, with temperatures reaching 19 to 22C, but 24 or 25C is possible where you some sunshine. Scotland will be fresher, but it'll feel pleasantly warm in the sunshine with top temperatures here 15 to 18C.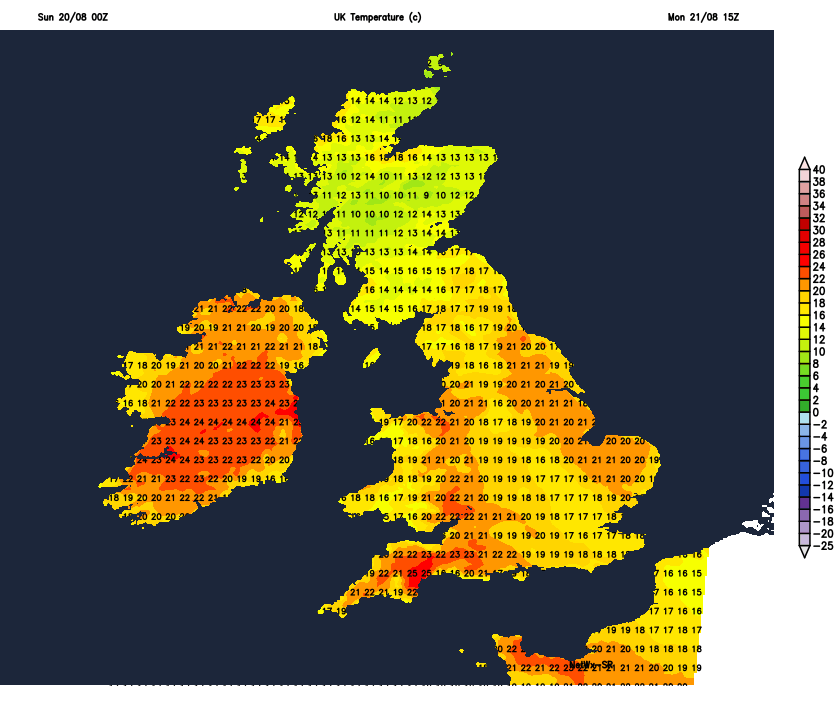 Patchy rain or drizzle with heavier bursts spreads to all but northern Scotland after dark. Northern England and Northern Ireland also see patchy rain and drizzle particularly in the West in a misty evening and night with patchy hill and coastal fog. Elsewhere apart from patchy drizzle mostly in the West, it should become mainly dry, with skies tending to break from the South. Here to It'll become misty with patchy fog forming in a light South Easterly breeze. It'll be a humid 'sticky' night in the South with lowest temperatures16 to 18C but fresher in the far North, where a cooler 9 to 11C is more likely.