Extreme heatwave, which has seen temperatures between 40-45C across southern Europe, will ease across Spain, SE France and Italy, but will continue for the Balkans and Greece.

Trough moving in across western Europe bringing in cooler air to western and central Mediterreanean will also bring some very wet weather to parts of NW Europe over next few days, bringing a risk of flooding.
Record heatwave Lucifer, probably worst heatwave since 2003
As you have probably heard in the news, parts of southern Europe have been experiencing a relentless heatwave over recent days, which has sent temperatures soaring to record highs, causing at least two deaths and prompting authorities to issue red weather alerts. Although it is usually hot across southern Europe in August, the past seven days have seen temperatures significantly above average for the time of year, for example, temperatures in much of Italy have been 10C higher than average for the time of year.
Maximum temperatures across southern Europe last Saturday
Unusually hot weather, named heatwave 'Lucifer', also spread from southern Europe across Hungary, Romania and as far north as southern Poland. Last Wednesday, temperatures reached 44C in Sardinia, on Thursday Rome reached 43C, while Sicily recorded 42C. On Saturday Cordoba in Spain recorded 44C. As far north as the Czech Republic, 38C was recorded. The extreme heat has built up because of an unusually strong ridge of high pressure and dome of heat extending northeast out of northern Africa, probably a result of an unusually strong 'zonal' jet stream further north across northern Europe and deep low pressure over NW Europe strengthening the high pressure ridge to the south, which normally settles over the Mediterranean in summer, but not so strongly.
Strong jet stream and deep low pressure over NW Europe pulling very hot air out of N Africa across southern Europe, causing high temps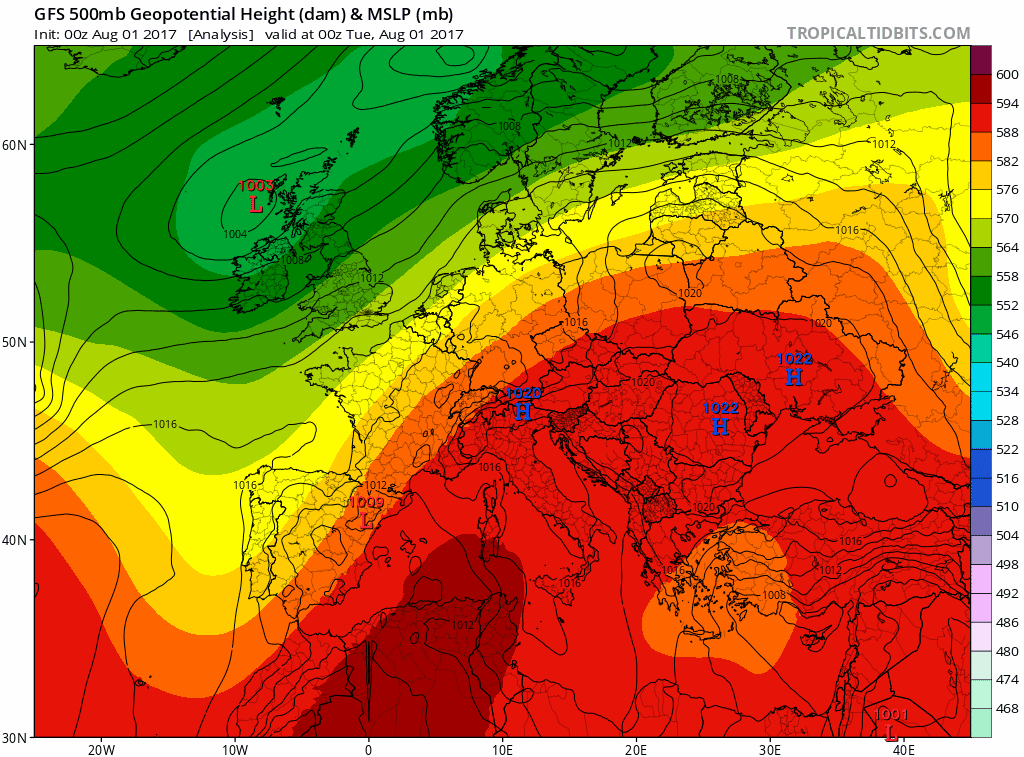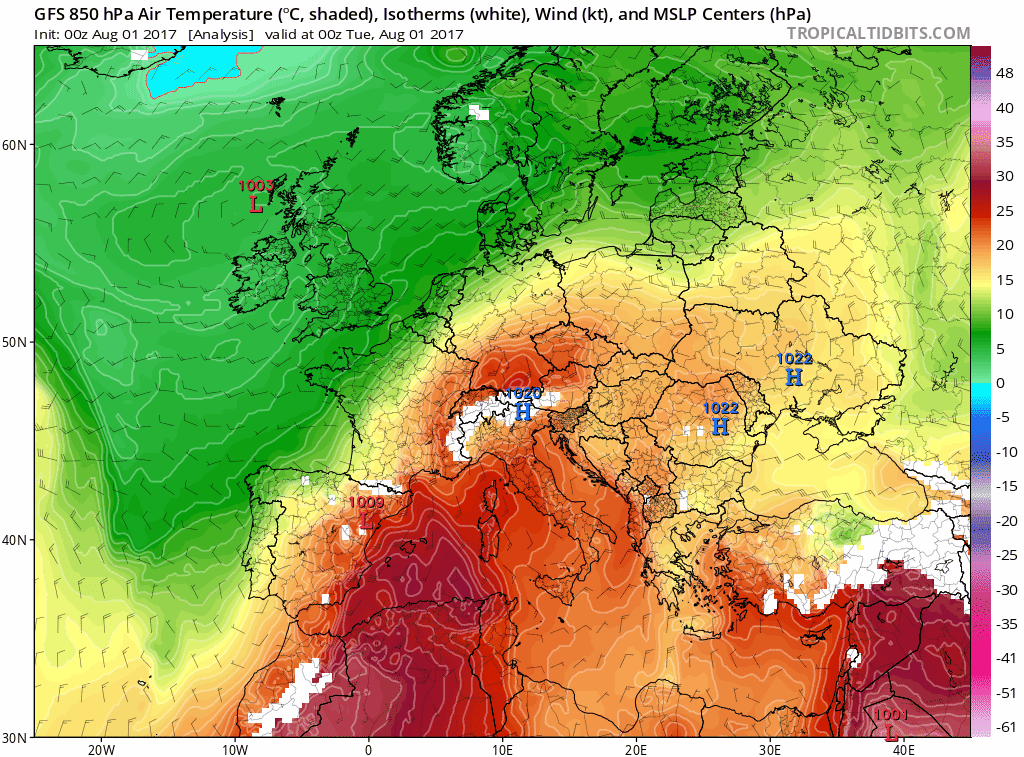 As well as the effects on peoples' health and well-being, the extreme heat has led to dozens of wildfires, damaged cereal and horticultural crops with wine growers in Italy having to harvest their grapes several weeks earlier than usual, apparently never as early, due to the heat. The heat and humidity triggered a huge demand on power and water consumption – with water restrictions in some parts of Italy – where rivers and reservoirs have been drying up after weeks of no rain combined with hot weather. Authorities in some areas issued traffic restrictions and banned work in the open in the hottest part of the day as temperatures reached more than 40 C.
However, the jet stream over northern Europe which has been flat or 'zonal' for a while now shows signs of developing some waviness from the west this week. The first of these waves or troughs in the jet will move east into western Europe over the next few days, introducing somewhat cooler conditions from the Atlantic - easing away the extreme heat across Spain, the far south of France and Italy and pushing the extreme heat further east across the Balkans and Greece.