A bit of a change today with more sunshine and longer dry spells. It's not going to be as windy for Wales and the West Country but still blustery for much of England. There is a front over Scotland bringing morning rain, and this will continue over some parts into the afternoon. There will still be a few showers about, for SW Britain and maybe into Northern Ireland but overall there will be more fine weather as low pressure slips away towards Norway.
The winds today will be from the west or NW, so a fresher direction as we lose the slightly humid feel to the air. It will be windy over northern England with a brisk west wind, so Pennine ramblers take note.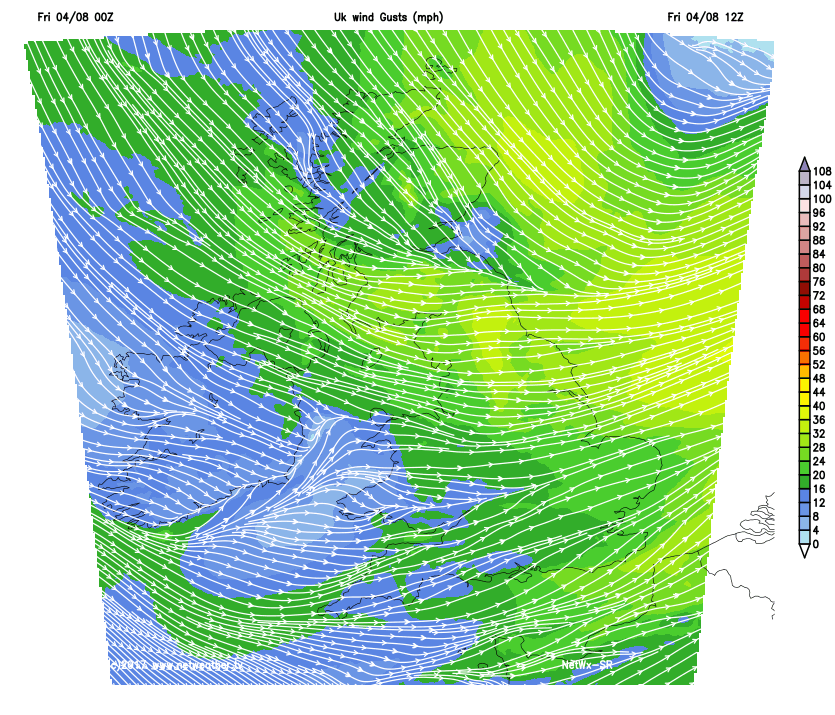 Coastal location in the west will only reach 16C with the wind off the sea, but inland temperatures will reach the high teens with eastern Britain feeling pleasantly warm at 21-23C. The next few nights, over the weekend, will bring a nip in the air.
There are signs that the rain could turn heavy in the north later today with Lothian and the Borders looking prone, particularly down the A1 ready for Friday evening rush hour traffic.
Saturday is quite mixed across the UK. Again, there will be areas seeing plenty of fine, bright weather but showers for other spots. It looks like there will be a feed of heavy showers over Wales into the Midlands, with some reaching East Anglia in the afternoon. This feed could also clip Northern Ireland as it edges in from the Atlantic, with Co. Down looking prone in the south.
Scotland will also see more cloud and a scattering of showers from the west, but eastern England starts off sunny and promising. I think we know by now that a blue sky isn't going to last and keeping a brolly or raincoat to hand is part of this summer.