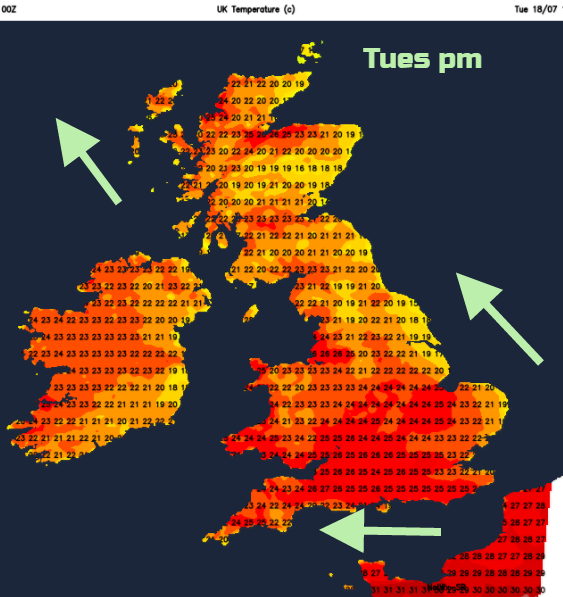 Inland it will feel hot, as the more humid air flows up from the continent. Inverness or Manchester could see 26C. Gradually showers will appear over SW Britain. These will include heavy and thundery downpours and there will be gusty winds.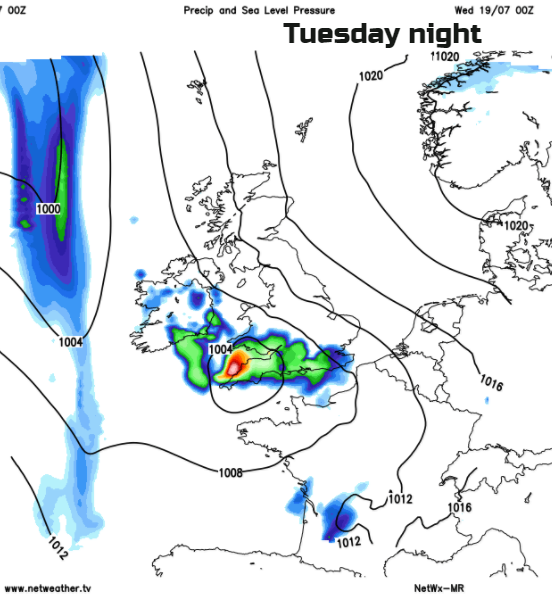 If you are looking at location forecasts, say the 7 day one, it will show showers or thunderstorms yet this is just the potential for a downpour. As always with showers, there will be some areas getting drenched and others seeing little rain. The main areas for Tuesday evening/night are southern Britain and Wales with the threat moving northwards through the Midlands. There is low confidence about how far west/east the storms will sway, so Northern Ireland could see heavy rain overnight for western counties with the cluster over Wales heading into the Irish Sea by Wednesday morning. This then moves up through northern England, more of Northern Ireland into southern Scotland. By midweek, an Atlantic frontal system will be edging in bringing outbreaks of rain but nudging all the lively showers across to NE Scotland later on Wednesday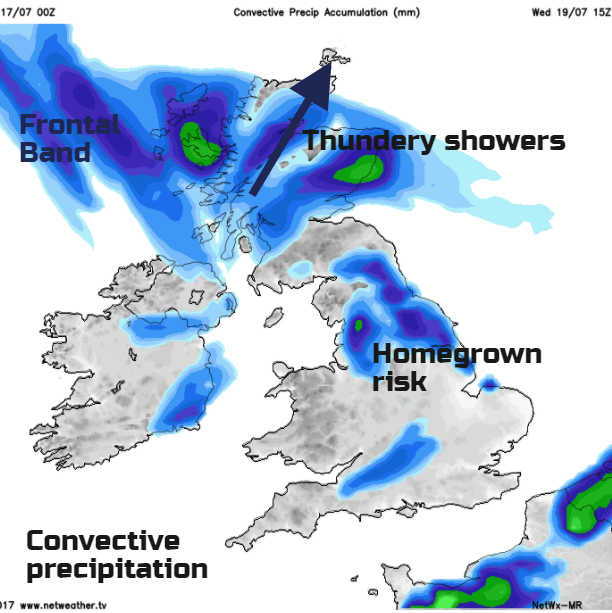 So, midweek does have this threat of rain but heat will remain over eastern England with temperatures in the high 20s, even low 30s Celsius as it continues to feel muggy and humid here. The temperatures will soar in any sunny spells and there is the risk of a few more thunderstorms, with NE England looking prone
The weather steadies overnight into Thursday with a brief nose of high pressure. Thursday looks to be a fine day with sunshine, feeling more comfortable and fresh before low pressure appears from the Altaic with rain for Northern Ireland. This low will then bring a wet and blustery end to the working week, although the frontal rain may fade before reaching London and the SE on Friday evening.