This evening and overnight, any isolated heavy showers that have developed will soon die away, and much of the country will be dry with clear spells and variable cloud. It will, especially across many central and southern areas of England and Wales, be another uncomfortable night for sleeping. Minimum temperatures will be no lower than 15C or 16C in some instances, locally higher in urban areas. But it will be markedly cooler across Scotland and N England, with temperatures perhaps even falling low enough for some ground frost.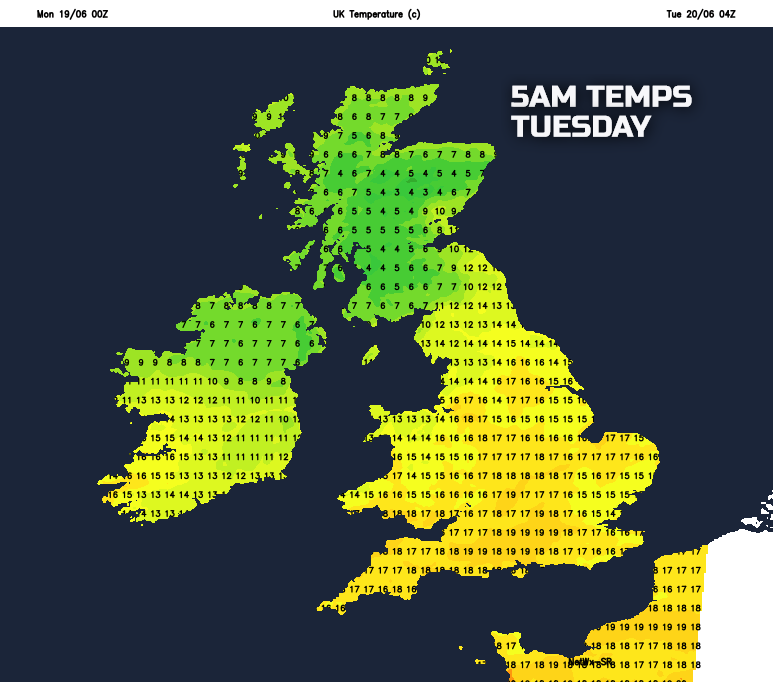 As we move into Tuesday, it is high pressure that will continue to dominate across many areas of the British Isles. A few isolated afternoon downpours may develop across some central and southern areas of England and Wales, but the emphasis is on another settled day for many. Further prolonged bright or sunny spells are possible, but with variable amounts of cloud too.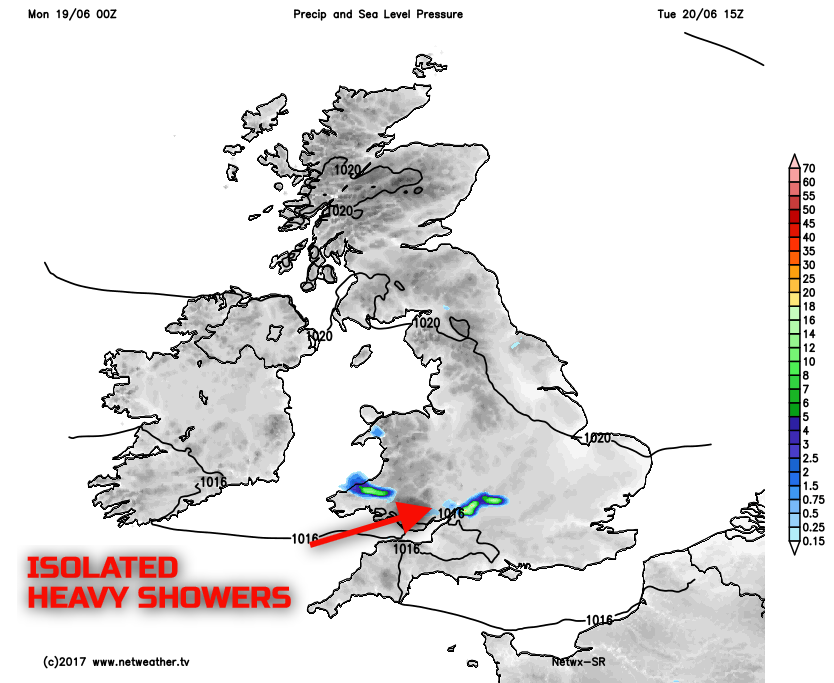 Temperatures on Tuesday will be much lower across N England than compared with Monday. This particularly noticeable across some eastern and north-eastern areas of England where low cloud may also develop. Further high temperatures are to be expected though in many central, southern and south-western parts of England and Wales, along with parts of Ireland. The variation between the north and south of the UK will be particularly noteworthy, with parts of Scotland and N England perhaps having maximum afternoon temperatures near 14C to 18C, but across S England, temperatures will be nearer 24C to 28C.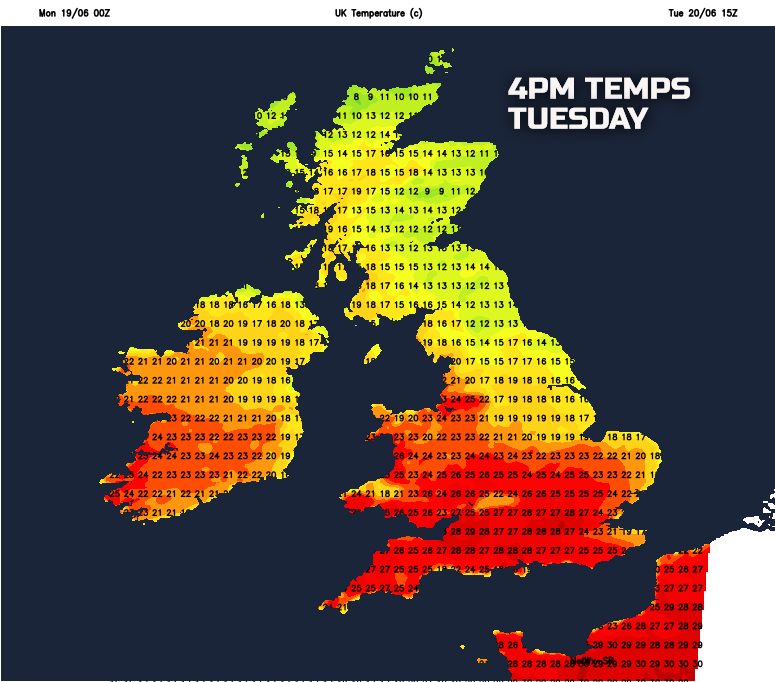 Looking further ahead and we finally see a more noticeable change in the weather during Wednesday. While the details are still uncertain, an area of low pressure will approach and track just to the north-west of the UK. As a result, there will be an increased risk of some rain and showers. These especially across parts of the north and west, perhaps with the risk of some heavy and thundery downpours as the spell of summer weather comes to an end for many regions.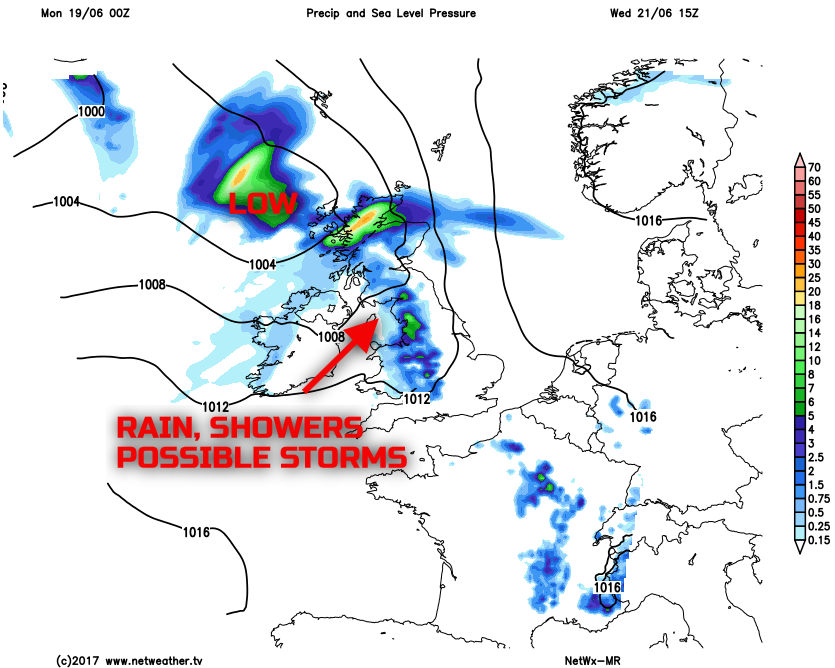 By the time we get towards Thursday and Friday and many areas of the British Isles will become cooler and more unsettled, as the heat and humidity are displaced eastwards into mainland Europe. Low pressure is set to become the dominant feature and introducing a cooler and fresher W'ly weather type off the N Atlantic. There is likely to be a risk of further rain and showers at times to end the week, especially across parts of the north and west.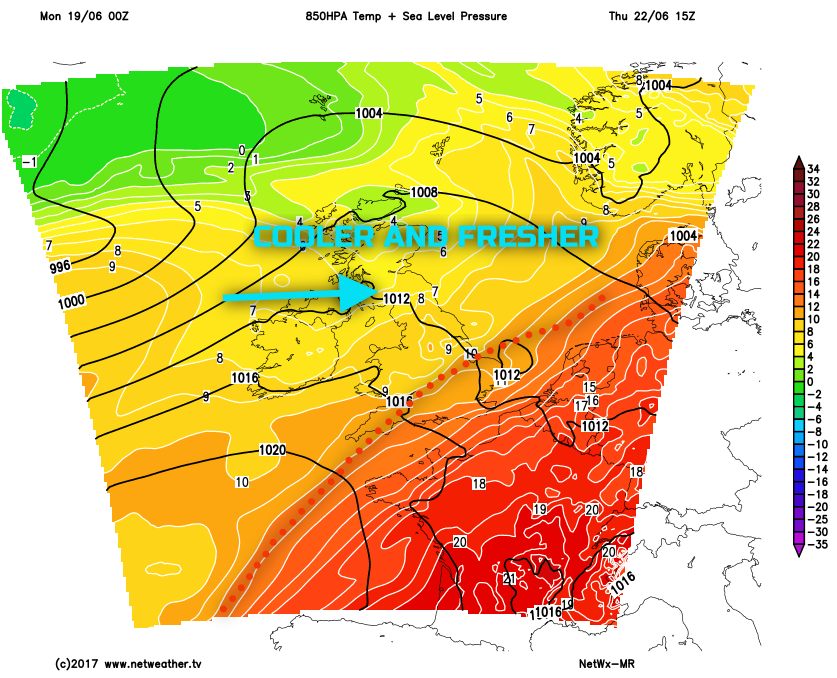 So, if you're a fan of the heat and humidity then a case of enjoying the coming few days. But, if the high temperatures aren't for you, then change to cooler and fresher conditions will arrive later in the week and through next weekend.