Hottest day of the year so far today, reaching 30.2C in west London

Hotter still on Sunday and Monday, when we could see some spots in the SE reaching 32C, perhaps locally more.

Much of England and Wales seeing 25-28C inland away from far north of England over next 3 days, risk of isolated thundery downpours triggered by heat in the afternoons.

Fresher and cooler conditions spreading south across Scotland and N. Ireland early next week, briefly reaching the south on Wednesday.

Heat and humidiity returns on Thursday, with it, a risk of thunderstorms across some parts

Heat easing next weekend as cooler and fresher conditions spread east off the Atlantic
Today has officially been the hottest day of the year so far, with Teddington Bushy Park in west London recording 30.2C this afternoon.
100 years ago today, Reading, Greenwich and Great Massingham recorded 33.9C, not quite as hot as this today, but we could see temperatures reach 32-33C degrees centigrade over the next few days, with temperatures likely reaching 31C on Sunday and 32C Monday across London and the Home Counties. Coupled with heat and humidity during the day, nights will be uncomfortable for some, with temperatures falling no lower than the high teens with high humidity in towns and cities.
Sunday, Monday and Tuesday look like being very warm or hot across England and Wales, with temperatures reaching 25-28C widely inland away from coasts and the far north of England and high as 31-32C across SE England.
Despite high pressure, the high temperatures, humidity and convergence inland from sea breezes against the synoptic flow could trigger some isolated thundery downpours in the afternoon – especially on Monday across central and northern England and Tuesday across eastern England.
At the same time, a weakening cold front slipping south across the far north looks to introduce cooler and fresher conditions across Scotland and Northern Ireland, this front then slipping south across England and Wales Wednesday morning, so not quite so hot across the south mid-week as previous days and with an easterly breeze picking up across eastern England - making it fresher here, the highest temperatures look to be across SW England rather than the SE.
Fresher conditions (lower dew points/humidity) spreads down from the north briefly mid-week. Credit: wxcharts.eu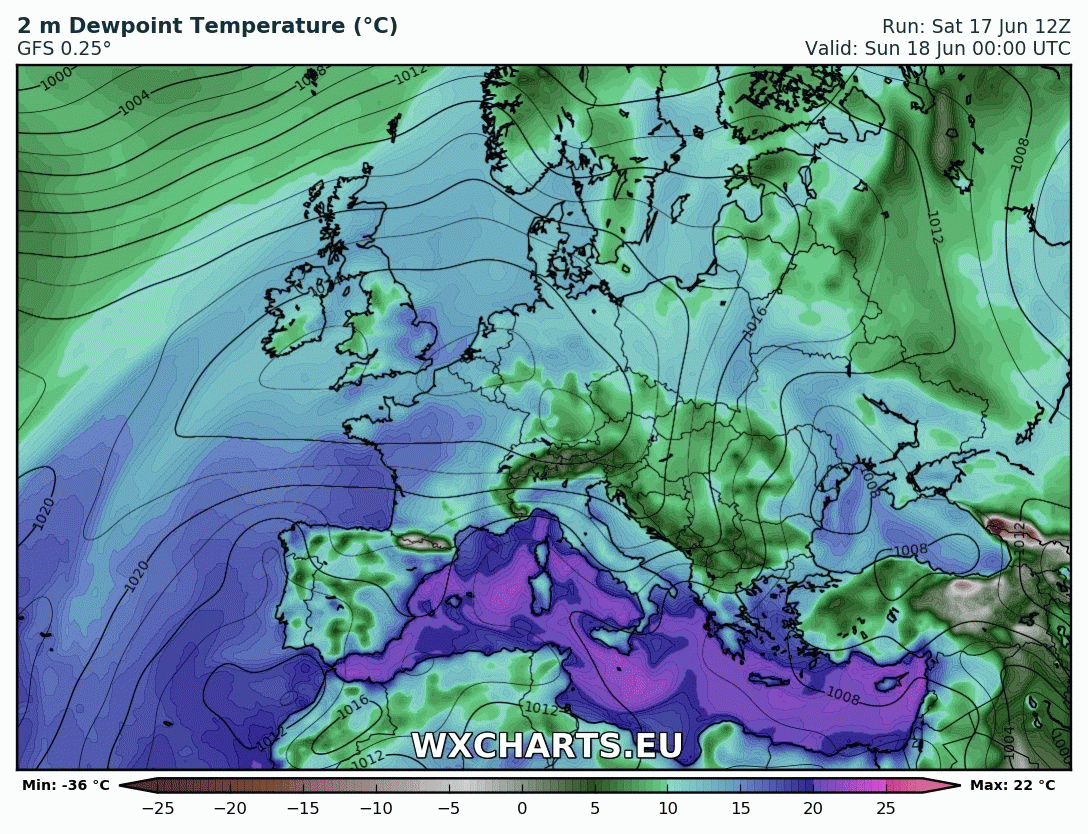 But the southern half of Britain could turn hot and humid again on Thursday, as winds turn southerly, but with pressure falling from the west and surface convergence developing, we could see some thunderstorms develop across central and eastern England in the increasingly unstable airmass. The heat perhaps hanging on across SE England and East Anglia on Friday, but cooling off and fresher from the west elsewhere.