To start the weekend, High Pressure over North Western Europe spreading over Northern Europe this drying things up for Austria which starts the weekend with some overnight precipitation. Weak High Pressure over the Alps for Sunday, but still with the chance of some showers popping up more especially into the afternoon.
The Pattern for next week is for low pressure over Scandinavia, feeding in colder air at times for NW parts of the Europe and the Alps. This is also likely to bring in precipitation from the North with fronts edging down from the North.
The coldest of the air will struggle to push south at ties, but it will still be cooler than recently more especially for the Northern half of the Alps.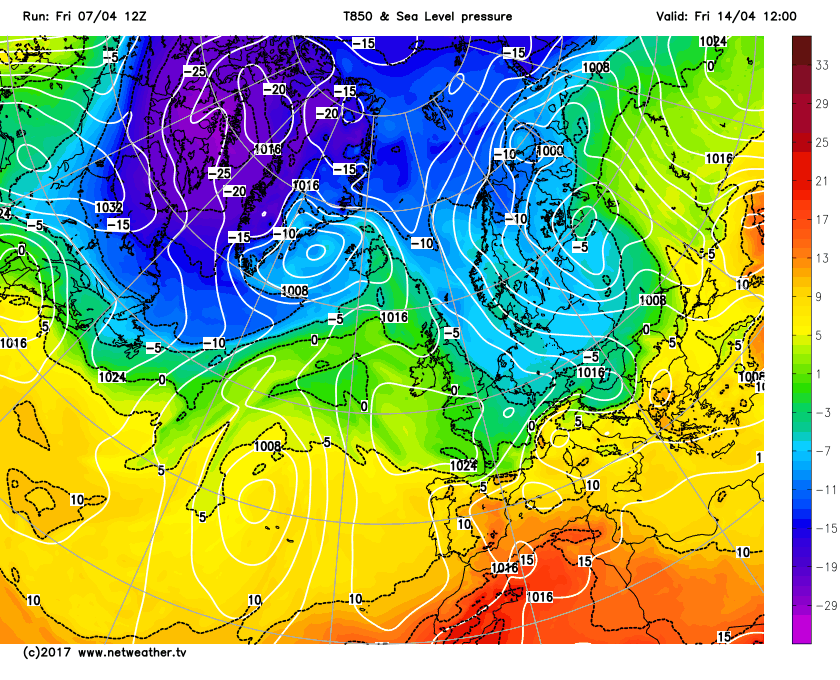 Temperatures
Generally mild over the Alps this week, especially for Southern and Western areas. It does look like turning colder at times from midweek onwards, so perhaps winter is not over quite yet.
Precipitation

Any early precipitation quickly drying up from the West or Austria on Saturday.
Afternoon showers developing from the South West on Sunday, some sharp in places, any snowfall very limited to over 2500m.
A Cold front edging south over the Alps on Monday and Tuesday, ahead of the front, mild air means any snow will be limited. However as colder air moves in overnight Monday, snowfall is increasingly possible to around 1000m from the front for a time early Tuesday before the front edges Southwards later. Some moderate snow is possible over Austria, with lighter falls also possible for Southern Germany and Eastern Switzerland.
It is currently projected that another cold front will edge south on the early hours of Thursday morning, initially bring rain to the eastern half of the Alps for Thursday daytime. The snow level dropping during the evening and overnight initially to 1500m and possibly to lower levels later. So above 2000m or so there is the chance of some moderate to heavy snowfalls in parts of Austria this week. Below 1000m and quite a lot of rain is possible.
Summary
So another mixed week as we approach the end of the Snow season.
Next week will the final forecast blog, before a final retrospective looking back at the Snow season after the Easter break.