A mild start to Friday across most of England and Wales, primarily due to a lot of cloud, but watch out for some mist and fog patches in places this morning, this will bring some poor driving conditions at times. Some patchy light rain and drizzle are in evidence too across some parts of England and Wales, but otherwise, it is a dry start to the day across many areas. Clearer skies overnight across the north of the UK have led to a colder start for Scotland with minimum temperatures sub-zero in a few places and generally low enough for some slight frost too. This general north and south divide in temperatures this morning can be seen well on our observation map below.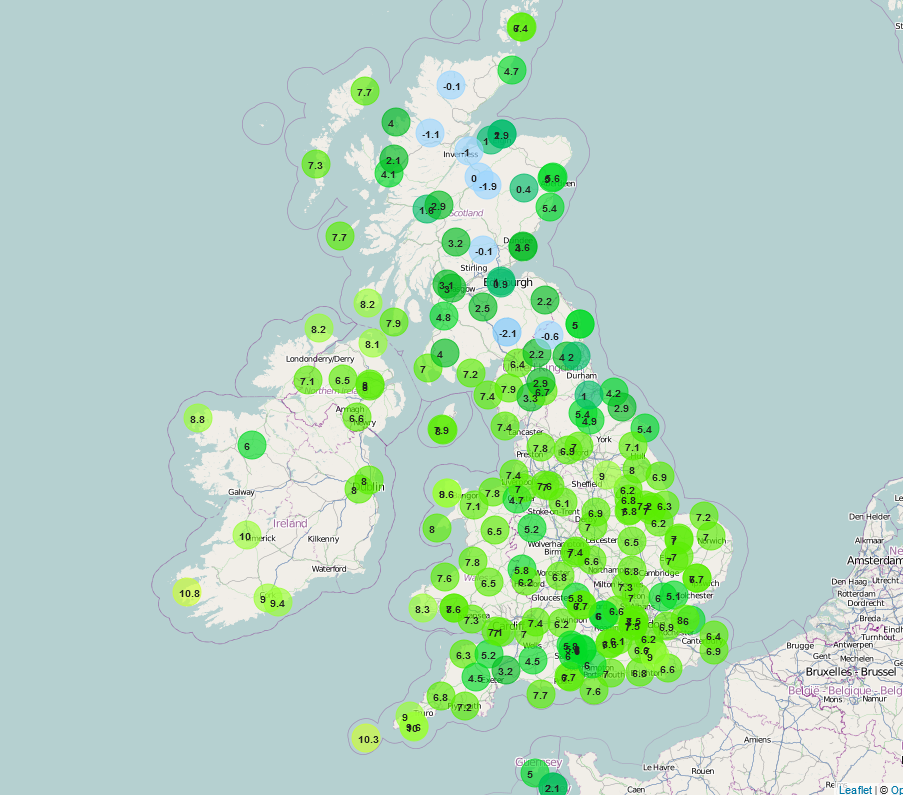 Check the latest temperatures here.
Through the remainder of Friday and the weather across the UK will, primarily, be dominated by a ridge of high pressure with atmospheric pressure widely above 1020mb and generally above 1024mb across most of England, Wales and Scotland. This, as a result, means a relatively quiet and benign day of weather for many areas. All areas of the UK will have a mild day and feel quite pleasant given lighter winds than compared with on Thursday and with some sunshine too. Best of the sunshine is likely to be across more eastern areas of Scotland and England, whilst elsewhere quite a lot of cloud is to be expected. During the afternoon and into the evening and approaching weather fronts will bring some showery outbreaks of rain to Ireland and then more generally to some western areas of the UK into the overnight period.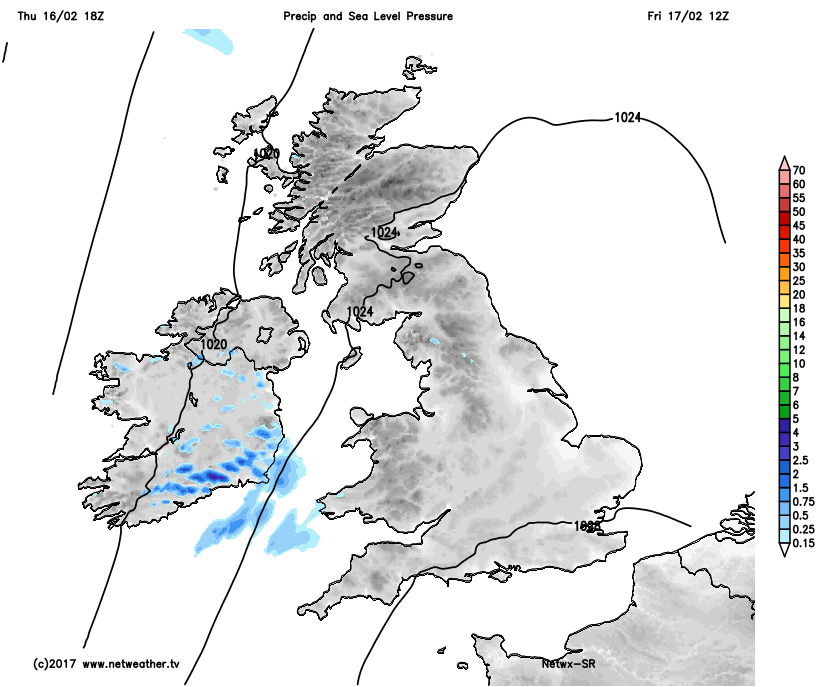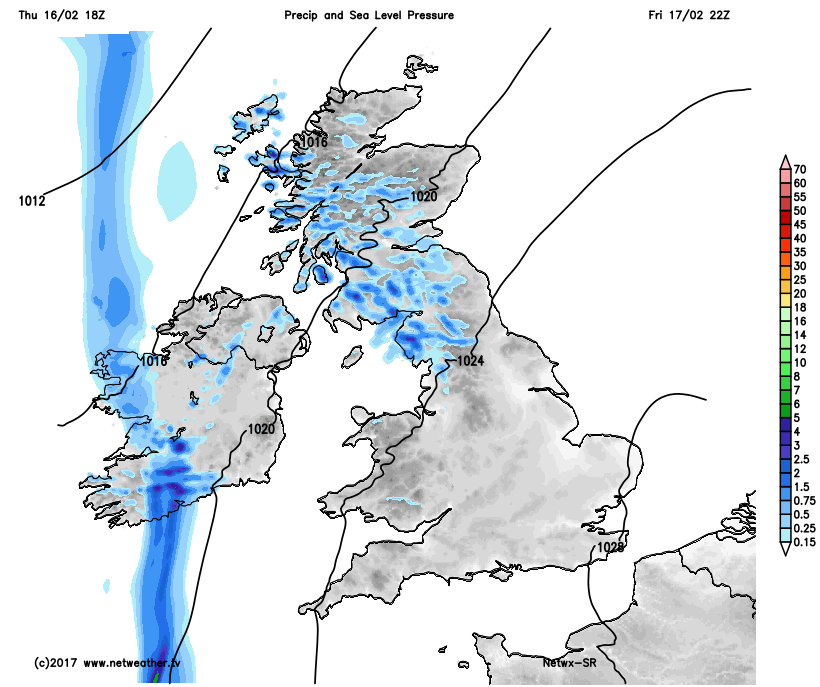 As indicated it will be a mild or very mild day for many and especially where any sunshine develops through the day then there will certainly be a spring-like feel to the weather. Temperatures will be lowest across high ground of Scotland where maximum temperatures of around 4C to 8C are likely. However, as the below graphic highlights for most areas of the UK 'double figure' maximum temperatures are possible and potentially up to 12C or 13C across parts of England, Wales and Ireland, of which is well above average for the middle of February.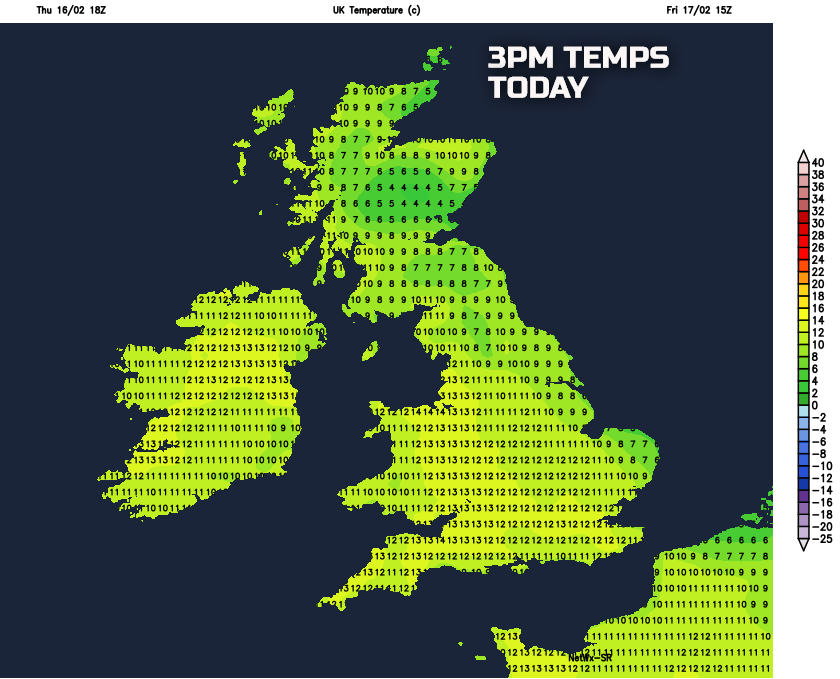 So, we move through into the weekend, and after a mild night for many tonight it will be quite a grey and damp start across Scotland, Ireland and eventually parts of NW England and perhaps N Wales too. The weekend's weather will, overall, be dominated by an awkward mixture of high pressure across England and Wales, but with weather fronts trying to move into the UK over the top of the high pressure to produce more unsettled weather for more northern and western areas. This mixture of weather system's often brings some uncertainties over the details and that applies to the upcoming weekend. Overall though many northern areas of the UK, so N England, Scotland and Ireland will have a rather cloudy and breezy day on Saturday with some showery outbreaks of rain at times, whilst many central and southern areas of England and Wales generally maintain mainly dry and settled conditions with variable cloud and with some bright or sunny intervals too.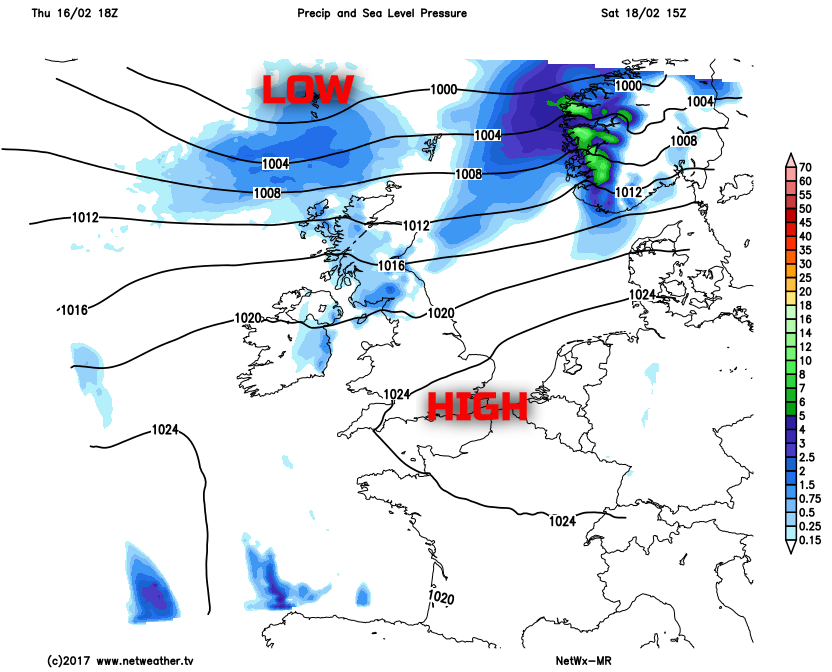 Through into Sunday and, overall, it is a repeat performance. High pressure will maintain a lot of dry weather across England and Wales, perhaps Scotland too for at time at least, but weather systems are forecast to move into the UK off the Atlantic through the day, over the top of high pressure situated just to the south or south-west. As a result as Sunday progresses many areas will become increasingly overcast and grey with some patchy light rain and drizzle spreading from the west to affect western hills of the UK in particular through the day. Some extensive low cloud and hill fog is possible too and it will end up being a mild or very mild day as well.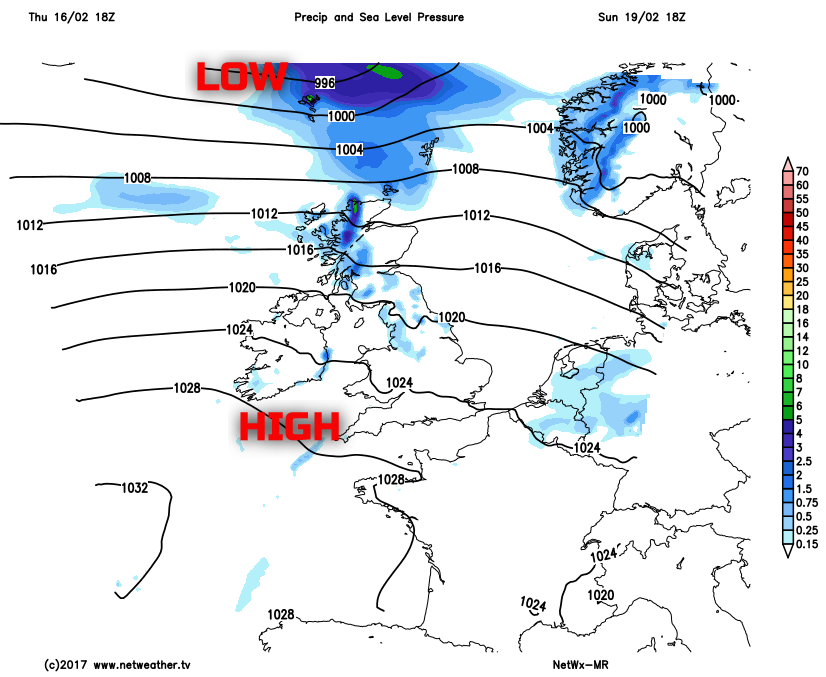 Temperatures this weekend will generally be above or, more locally, well above average. The relatively high temperatures will be offset at times though due to overcast and grey conditions, but generally for the middle of February it will be a mild or very mild weekend.
Maximum temperatures generally ranging between 8C and 12C, but 13C or locally 14C seems possible across some areas to the east of high ground. Minimum temperatures will, as would be expected, remain several degrees above freezing across most areas of the UK. The generally overcast, mild and damp weather is set to continue into the start of next week too but perhaps when temperatures may even reach 14C or 15C across eastern areas of England on Monday.