Stormy weather is heading towards the UK, as the next named storm "Henry" edges closer to northern Scotland. Rail and ferry services are already being cancelled in Scotland with further disruption expected through the second half of Monday and into the start of Tuesday. The gale force winds and strong gusts are for N.Britain and N.Ireland although all of the UK will become windy during Monday.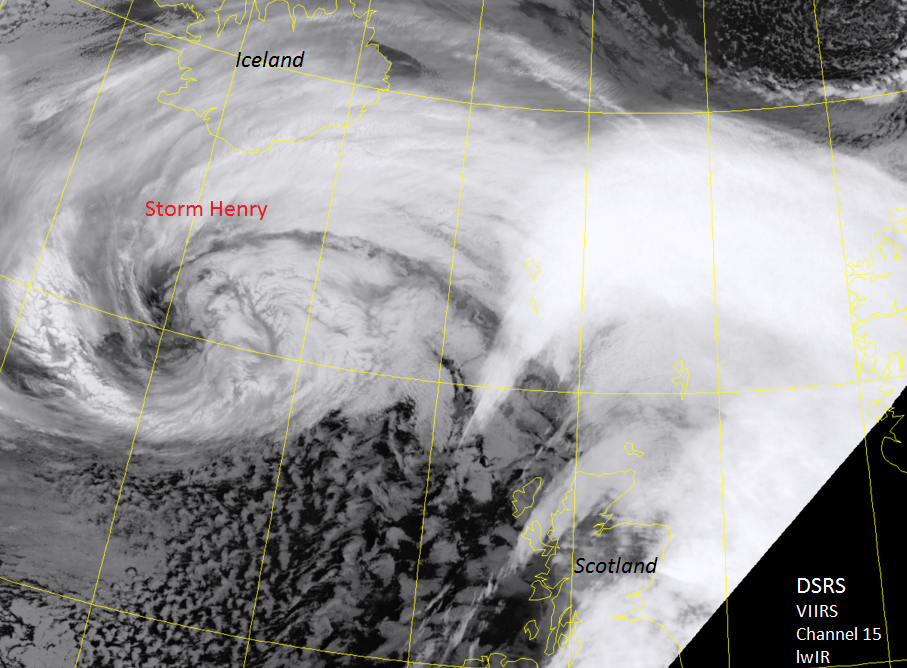 For much of the UK it is a mild start to Monday although already a blustery one. Temperatures are into double figures with a moderate to fresh SW wind. There are strong gusts particularly to the east of high ground. These lee gusts will reach 60 to 70mph this morning causing difficult conditions on the roads particularly of NE England, SE Scotland, east of the Pennines and for NE Wales. Much of England and Wales is dry although quite cloudy. Gaps have appeared in the cloud cover east of the hills with sunny spells for eastern Wales, West Midlands and NE England. NW England has thicker cloud and outbreaks of rain whereas Scotland and N.Ireland have brighter skies but with a scattering of showers whizzing in from the west. There are heavy bursts of rain for central and NW Scotland
N.Ireland will lose the mild air and temperatures will dip to 7C this afternoon. It will be bright with just a few showers from the west. Wales will stay mild, up to 12C inland in the sunshine. Western parts will have more cloud and some damp weather at 9 or 10C. Southern Britain keeps some cloud with bright spells and temperatures up at 10 to 12C. Eastern England will be sunny but cooler air will have moved into northern areas through the afternoon with the showers over NW England and the Pennines turning sleety over the hills. Eastern Scotland will be bright with sunny spells reaching 6 or 7C as the wet weather in the west turns more wintry through the day over higher ground.
Storm Henry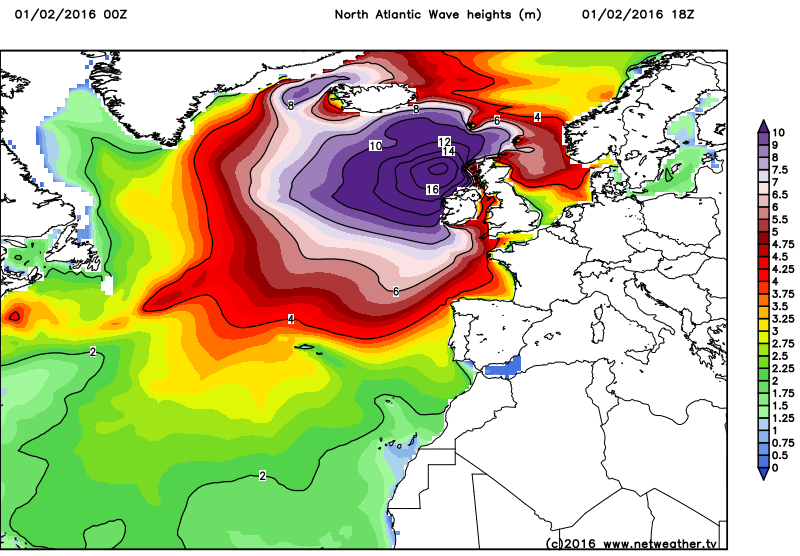 The UK is in for a very windy spell of weather with heavy rain for western Scotland, huge Atlantic waves battering north and west Ireland and western Scotland. This is thanks to Storm Henry, the next named storm of the winter heading near to northern Scotland, a deep vigorous low pressure.

Through Monday afternoon, the strong SW winds pickup to gale then severe gales force with gusts of 60 -70mph. By Monday evening, the core of strongest winds with the huge waves will begin to batter W. Scotland and the north coast of N.Ireland. Gusts of over 90mph are possible for the Western Isles and west coast, with storm force winds.