More wind and rain over the next few days. It's still blowing a gale (severe for Islands) in the far north of Scotland as the first low of this week clears away. Then we have quite a complicated setup as a procession of low pressures move across the UK west to east. The next one of main interest is heading towards N.Ireland this afternoon as #StormBarney. That will bring heavy rain to N.Ireland, Wales, W England and southern half of Scotland today. Later today, the strongest winds and gales look like moving from Eire across the Irish Sea to Wales, Midlands, NW England towards East Anglia, with windy weather across southern England too.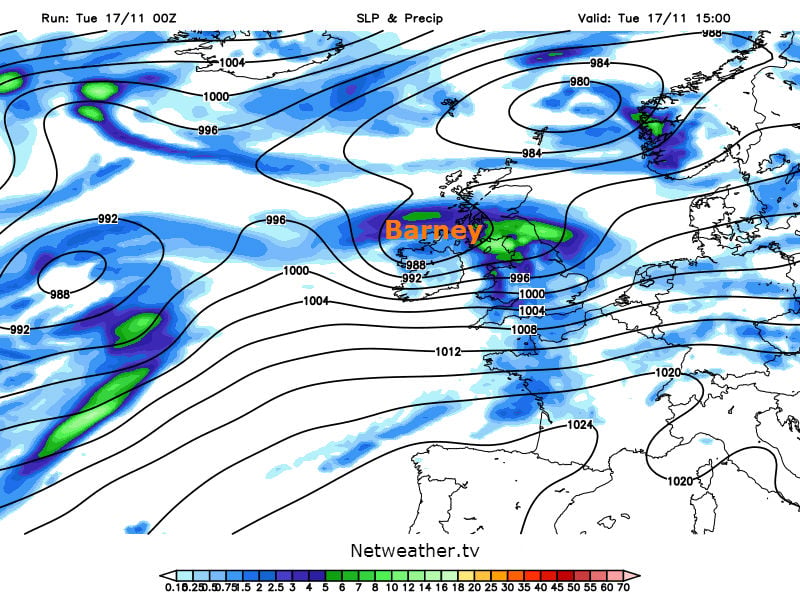 After a brief lull the winds pick up again through Wednesday as a another low pressure skirts past NW Scotland and could bringing disruption to the Central Belt of Scotland Wednesday evening/night. Autumn is truly whirling through.
Rain
For a time this morning there will be a lot of dry weather across Britain as the stormy weather clears from the Northern Isles with a scattering of showers still over the far NW. Northern Britain will manage some bright spells but cloud will increase over southern Britain and N.Ireland. The rain from Barney will approach N. Ireland this morning and also arrive over SW Britain. So turning wet for N.Ireland with some heavy burst and a band of rain passing through Cornwall then Devon and south and west Wales. After a wet lunchtime for N.Ireland, Wales and western Britain, the band of rain will sweep right across England centring across the far north of England and southern Scotland, particularly the central belt for the evening rush hour. Another inch of rain could fall for areas that still have flood warnings.
Rain totals for today - track the latest rainfall on the radar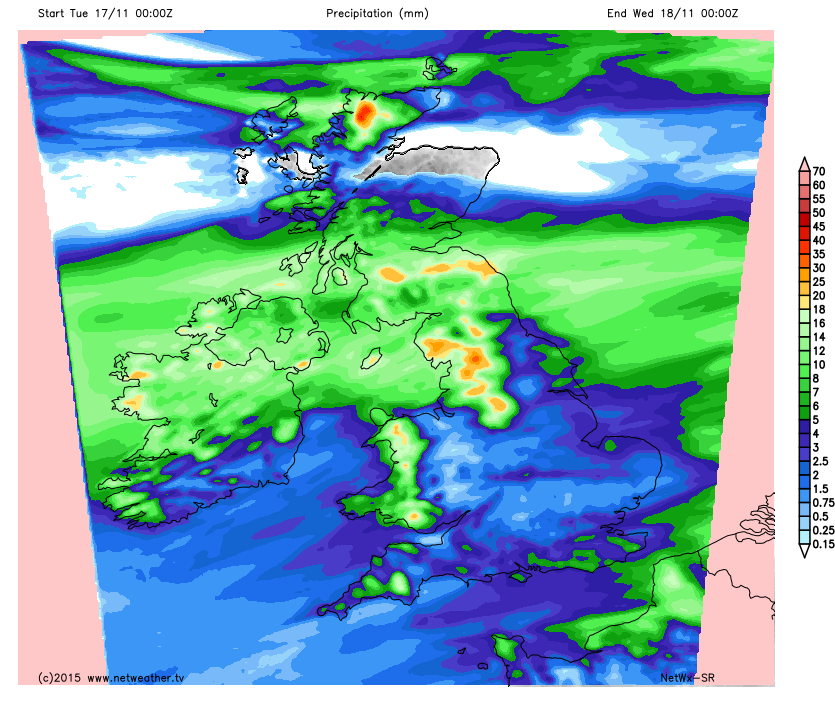 Wind
Many parts will become windy by lunchtime in England and Wales (far NE of England and also N.Ireland get windy later). However, the strongest winds are for this evening, clearing eastern England around midnight, as Barney approaches Denmark.