Another lovely day to come, during our fine settled week. There is some mist and fog about once more this morning, mainly for the central swathe of Britain through N.England and S.Scotland. Porthmadog in NW Wales reached 20.8C yesterday (70F), the highest temperature in the UK. Edinburgh, Cardiff and London reached 19C and Belfast 17C yesterday.
More autumn warmth to come this week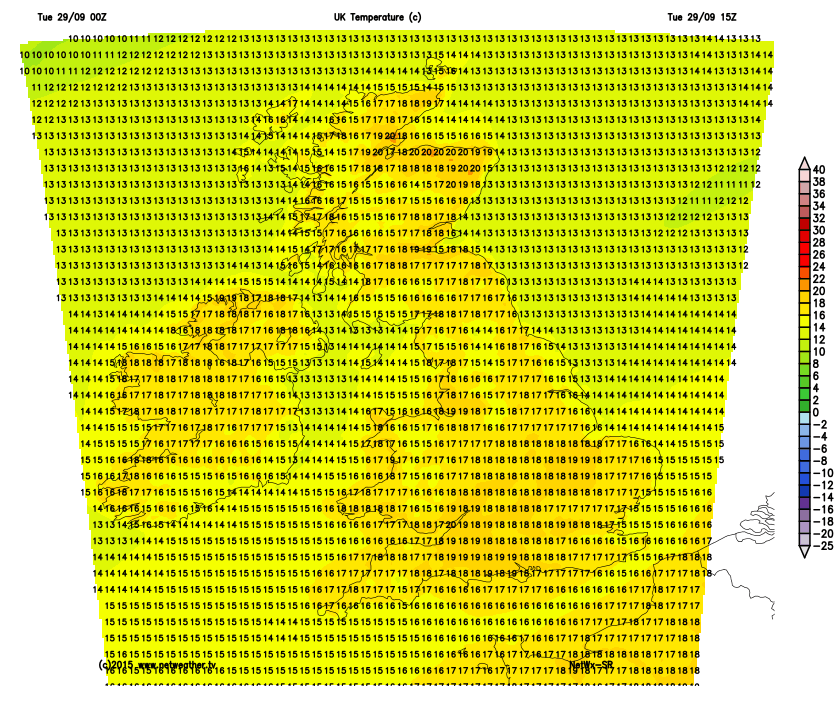 Tuesday will be another fine, dry and sunny day after a nippy start. The high is centred over Denmark today, far enough away that a weak weather front will sway over the Scottish Isles later on, bringing a lot of cloud and some patchy rain to Shetland. Here there will be a brisk SW wind. For much of the UK there will only be light winds but again southern England will have a blustery East wind.
Once more temperatures will rise into the high teens with the Moray Firth looking very warm at 20C. Belfast today 17C with a light SE wind. Edinburgh 18C, calm in the sunshine, Manchester bright at 19C, Cardiff 19C with a moderate E wind and London 19C with a brisk east wind and a bit more cloud. So feeling warm by day, especially in the sunshine and light winds over N.Britain. Some of the fog over eastern England could be a bit stubborn today and so it stays cooler until this clears.
Any rain confined to the far north of Scotland, windy in the south of the UK