High pressure looks set to dominate the weather this weekend and through next week, so most will enjoy a fine and settled end to September, after what has been a mixed month on the whole. It's a shame that such a stubborn area of high pressure was absent in summer 2015, as it would have brought some prolonged summery weather. But, alas, the kids are back at school and the days are shorter. It's the weekend at least, with the prospect of pleasantly warm sunshine by day for most, but some rather chilly nights.
Saturday is off to a mostly dry start across the UK. Clear skies overnight across central and southern areas have brought a sunny but chilly start, with temperatures falling as low as 0C at Sennybridge in Wales and 1C in a few other spots across Wales, central and western England. There are a few fog patches around, but these should quickly burn off.. It's a cloudier and milder picture this morning across northern England, Northern Ireland and Scotland, the cloud thick enough for the odd spot of light rain over the hills. The cloud across northern parts should eventually break-up in most places to join areas further south to a fine and sunny day. Feeling pleasant in the sunshine and light winds, temperatures reaching 18C in London, 17C in Cardiff, 16C in Manchester, Belfast and Edinburgh, 15C in Aberdeen.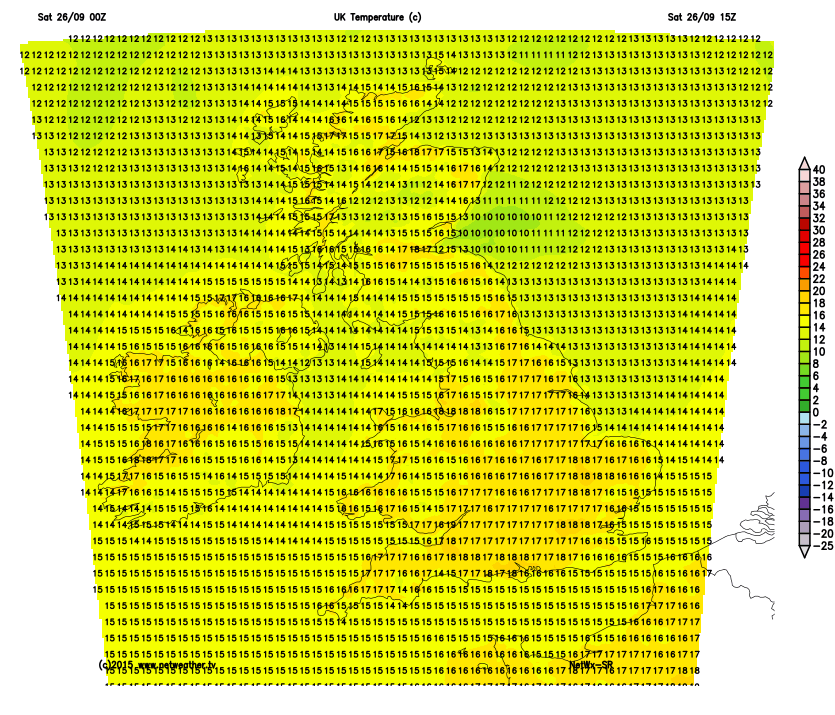 Mostly clear skies Saturday night will mean it will turn chilly again, temperatures falling close to freezing in rural areas inland, so a touch of grass frost possible in places in the countryside. The exception to the clear and chilly conditions will be across NW Scotland, where it will be cloudier and milder - with perhaps the odd spot of rain by dawn.
Then for Sunday, any early mist and fog patches should mostly clear to a mostly fine day with plenty of sunshine across much of the UK. The exception will be across NW Scotland, where it will stay cloudy with a chance of rain across the Western Isles. Temperatures similar to Saturday, reaching 15-16C in the north, 17-18C in the south. Another dry night with mostly clear skies to follow, so a good chance to see the Super Moon and the Lunar Eclipse in the early hours of Monday morning, 1am to 3am the best time to see the moon turn coppery red.
The fine weather continuing through much of next week too across most places, with sunny days and chilly nights. It will be cloudy across NW Scotland at first early in the week and perhaps more in the way of cloud and cooler across eastern England from mid-week as an easterly or northeasterly breeze develops.